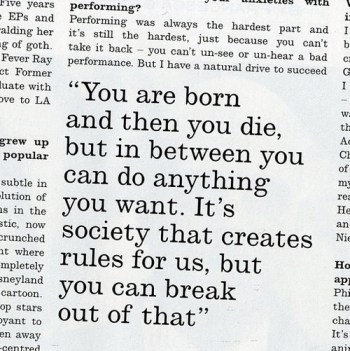 HELLO and welcome to the 35th installment of Things I Read That I Love, wherein I share with you some of the longer-form journalism/essays I've read recently so that you can read them too and we can all know more about Dennis Rodman! This "column" is less feminist/queer focused than the rest of the site because when something is feminist/queer focused, I put it on the rest of the site. Here is where the other things are.
Dennis Rodman: From Basketball Bad Boy to Dubious Diplomat (May 2013), by Terrence McCoy for The New Times – Dennis Rodman drinks and drinks and calls his female companion a bitch all the time and says Kim Jong Un is a good guy, and you can read all about it! Jesus. Rodman was a huge presence in the '80s, I mean I was super into basketball then, The Bulls three-peat and all. I still remember his book being on the front tables at Border's and trying to sneak a peek to see what he said about sex and Madonna.
Three Trials For Murder (November 2011), by Nicholas Schmidle for The New Yorker – A murder of a woman and two children in 1985 leads to Army sergeant Tim Hennis to be arrested and convicted, but then his conviction is reversed, but then he gets arrested and convicted again by a loophole related to the military. I read this last week and was very glued to the page.
How Long Can You Wait To Have a Baby? (July/August 2013), by Jean Twenge for The Atlantic –  Well, this was an encouraging bit of news regarding the fact that the information we get about declining fertility with age is based on really problematic research, some of it conducted centuries ago. Especially after that other article I read that basically convinced me that if I'm ever gonna have a child, I will need to find an 18-year-old sperm donor for a chance in hell!
The Fight For Wilcox County's First Integrated Prom (May 2013), by Max Blau for Buzzfeed – Obviously it blows my mind that segregated proms are still a thing in some places, so finding out how in the world this school was that way was intriguing.
Journey Through The Checkout Racks (Spring 2013), by Lauren Vanderkam for City Journal – I'm usually not a big fan of this publication, but I thought this piece was really good and interesting — it's about how women's magazines have evolved/devolved. They used to be really big! And sometimes talked about important things! But also had retro gender roles! So many things.
Vassar Unzipped (July 2013), by Laura Jacobs for Vanity Fair – "Shocking, titillating, and acid-laced, The Group, Mary McCarthy's 1963 novel about eight Vassar girls, turned the feared and revered literary critic into a wealthy, world-famous author. But the backlash was brutal, not least from her Vassar classmates. Laura Jacobs explores why the book still dazzles as a generational portrait, falters as fiction, and blighted McCarthy's life."
Superstar Eccentric Nathan Rabin On The Magic Of Phish And The Glory of Insane Clown Posse (June 2013), by Janet Potter for The Awl – Obviously they had me at "Phish."
The Expendables: How the Temps Who Power Corporate Giants Are Getting Crushed (June 2013), by Michael Grabell for ProPublica – This is really good and thorough. Lots of history, lots of numbers, lots of visual aids, lots of information, you should read it. "The day after Thanksgiving 1960, Edward R. Murrow broadcast a report called "Harvest of Shame,wp_postsdocumenting the plight of migrant farmworkers. Temp workers today face many similar conditions in how they get hired, how they get to work, how they live and what they can afford to eat. Adjusted for inflation, those farmworkers earned roughly the same 50 years ago as many of today's temp workers, including Rosa. In fact, some of the same farm towns featured in Murrow's report have now been built up with warehouses filled with temps."
Fog Count (April 2013), by Leslie Jamison for The Oxford American – The author met Charlie Engle at an ultramarathon in Tennessee, and now she's visiting him in prison in at the Federal Correctional Institution in Beaver, West Virginia. It's a really beautiful piece with a lot of feelings about West Virginia in it.
In Defense of Kanye (June 2013), by Heben Nigatu for Buzzfeed – "If you chalk up his "we don't care what people saywp_postsattitude to simply his ego, then you have missed the point entirely. This isn't about ego; this is about boldly asserting yourself in a world that is not meant for you. This is a vanity that is rooted in bringing the community up with you. To the ire of some who are so wrapped up in the anxiety of respectability, the message he gives the kids (in front of all these white folks who are listening to his music!) is not to be modest but to unapologetically laugh in the face of a world that does not care about them. The joke's on you, white America. We made it, and we don't even have the decency to be grateful. We're laughing. We dare to laugh."