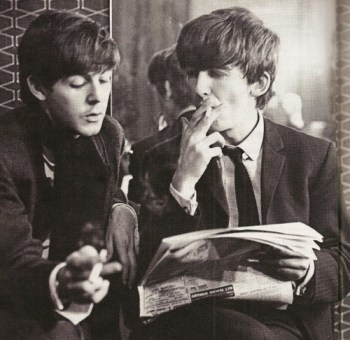 HELLO and welcome to the 100th installment of Things I Read That I Love, wherein I share with you some of the longer-form journalism/essays I've read recently so that you can read them too and we can all know more about farmer's markets! This "column" is less feminist/queer focused than the rest of the site because when something is feminist/queer focused, I put it on the rest of the site. Here is where the other things are.
The title of this feature is inspired by the title of Emily Gould's tumblr, Things I Ate That I Love.
Today is our 100th birthday! This is a huge deal, and so I'm celebrating by publishing not one BUT TWO Things I Read That I Loves today.
The other is massive and contains so many things I've read and loved with y'all over the past 100 weeks.
I Almost Joined A Queer Sorority, by Megan Lent for Vice – I wish this article had been about actually joining a queer sorority, but alas I will settle.
Orders of Grief, by Lisa Miller for New York Magazine – This left me feeling weirder than I expected it to. "As mourning came to Newtown, so did an outpouring of sympathy and money. Which has sometimes made the mourning even harder."
A Brief History of the Salem Witch Trials (October 2007), by Jess Blumberg for The Smithsonian – How the fuck did this happen, etc.  Always an interesting story! I've visited at least three wax museums on this topic but I fell asleep during the movie even though I really enjoyed reading the play.
The Intervention (November 2013), by John Heilemann & Mark Halperin for The New Yorker – I really liked this, mostly because i sometimes relate to stories about Obama when he is trying to find a compromise between the Right Honest Authentic Smart Way To Do Things and What The People Want to Hear or What Will Give You Success? It's about how the first debate sucked and how they prepped for the next one.
Jay-Z Has The Room (November 2013), by Lisa Robinson for Vanity Fair – "Everyone knows Shawn "Jay Zwp_postsCarter is smart, talented, and wildly successful, his Roc Nation empire continually expanding: the new sports agency, a fragrance launch this month, a luxury-goods partnership with Barneys. What's fascinating is the way a drug dealer turned rapper turned mogul and family man became the cultural force he is today—by claiming his past, and all it taught him. With unprecedented access, Lisa Robinson gets Jay talking about the rumors and the reality."
She Used My Work and Now Her Reputation was in Tatters (2004), by Malcolm Gladwell for The New Yorker – Gladwell wrote an article about psychologist Dorothy Lewis who studies murderers, and some of it was lifted by Bryony Lavery for her Tony-nominated play "Frozen." That situation the jumping-off point to discuss intellectual property laws in general, copyright, how music is different than literature and how lives and style are different, what plagiarism really is, how to define it when it comes to artistic work, or somebody's life, or music. His conversation with Lavery near the end is really interesting especially for anybody who is a writer, especially about how Lavery did credit and discuss some of the material she used with its source, but viewed Gladwell's material differently.
Farm Confessional: I'm an Undocumented Farm Worker (November 2013), by Lauren Smiley for Modern Farmer – A new feature on agricultural workers "whose stories aren't often told" kicks off tiwth the story of Odilia Chavez, a 40-year-old undocumented migrant farmworker who has been working since she was 12 and came to the US when she was 26.
The Hand That Feeds You (July 2011), by Nicole Pasulka for The Morning News– It may not surprise you to hear that a lot of people presently shopping at Farmer's Markets are very entitled and neurotic? It's also about foodies and privilege and how health shouldn't be a privilege and how fresh food is important and other things like that.
One Man's Epic Quest to Visit Every Slave Dwelling In The United States, (October 2013) by Tony Horwitz for Smithsonian –  "Americans tend to focus on the 'big house,' the mansion and gardens, and neglect the buildings out back,wp_postshe says. "If we lose slave dwellings, it's that much easier to forget the slaves themselves."
Center of the Universe, (September 2013), by Jay Roberts for The Orange Coast -This doesn't end up going where you think it's gonna go."I was a young Marine scout sniper, definitely his type. And for a single, unforgettable afternoon, Orange County's most notorious serial killer coaxed me into a place from which many didn't escape." Whatever you do, don't wikipedia Randy Kraft and then read his entire Wikipedia entry afterwards.
Looking Back In Anger (Summer 1997), by David Kirp for Dissent – "In distinguishing hemophilia sufferers from other people with AIDS, and claiming they were uniquely entitled to compensation, the activists were doing more than practicing interest group politics; they were also making a judgment about who was and wasn't deserving. The international federation nurtured. these efforts, even as it tiptoed through the social minefield of guilt and innocence."