Ashley (the poet) and Marine (the scientist) met at A-Camp, fell in love and set off into the sunset – on a budget. These shoestring-travel enthusiasts are hitting every major city between Boston and Los Angeles on a country-wide tour and staying with as many Autostraddlers as they can find. Ashley just released a book of poems and is promoting it on the road, while Marine is keeping things organized and on budget. This is their journey.
---
After our Halloween in Seattle, and the start of our international tour, we were hardly ready to pack up and head back to the states. On our last day in Vancouver we stopped and grabbed all you can eat sushi for lunch. This was a marathon and not a sprint. We tried a little of everything and both endured major food comas afterward.
Despite the urge to lie down and succumb to the food baby inside, we decided to walk to Stanley Park instead. The park was incredibly beautiful with all the fall colors scattered on the trees by the Vancouver bay. It was a perfect way to walk off some of our sushi.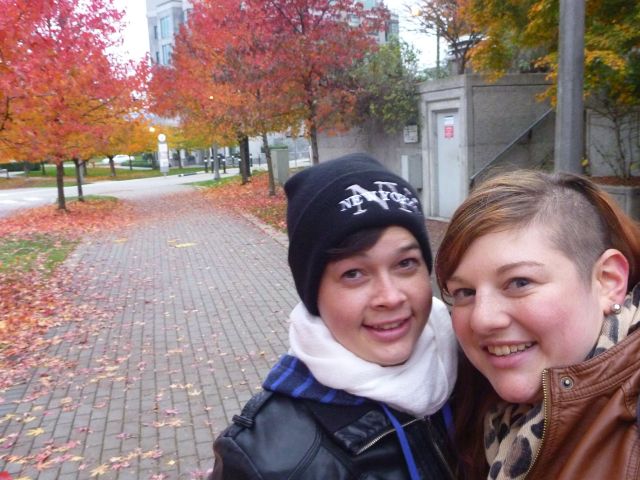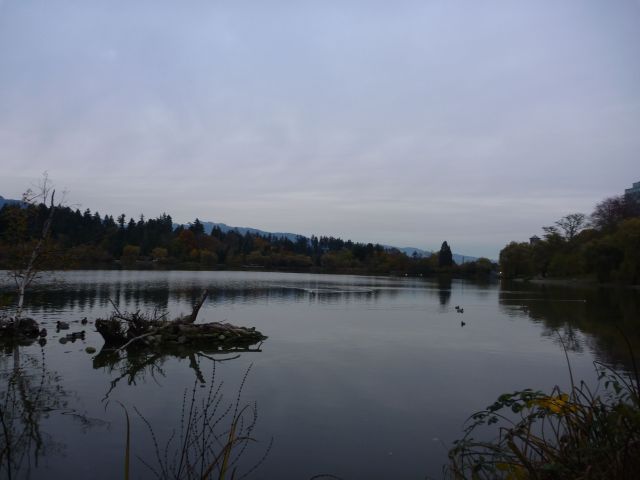 After the park we decided to head to Commercial Street, which we heard was queer, artsy and full of poetry. We went in search of Vancouver's Van Slam, but were saddened to learn that the venue was closed. We later learned we had gone to the wrong venue; it turned out to be at Café Deux Soliel and not Café Du Soliel, so confusing!!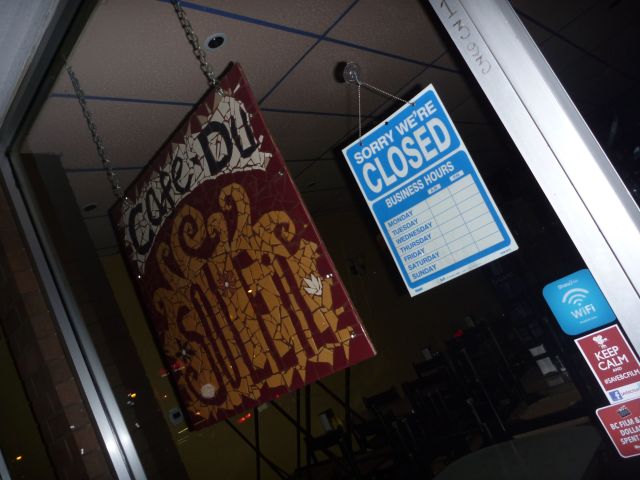 Mishap aside, we ended the night strong with pizza and Dexter on Netflix. In the morning, we had to say goodbye to Canada and head back to Seattle, where Hannah and Tiffany were waiting to greet us again! The four of us grabbed dinner on the waterfront, and went to a free production of Les Miserables in Issaquah.
We spent the next day being uber tourists when we visited the Chihuly Garden and Glass museum and the Seattle Space Needle.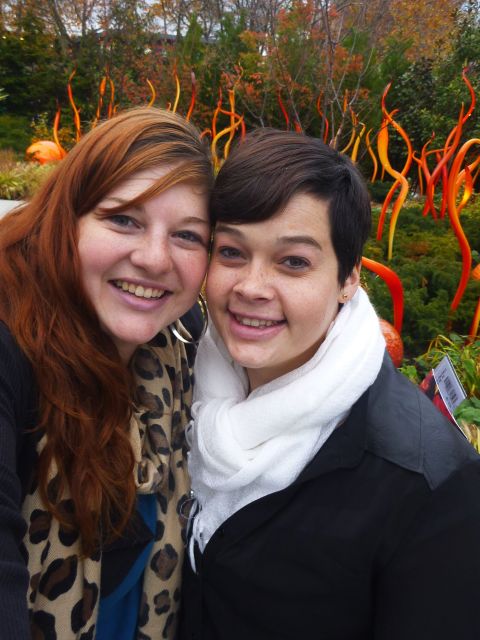 The glass blowing museum was incredible and it was truly spectacular to see what could be created with molten glass and human breath. It was hard to determine which of the two attractions were the most breathtaking.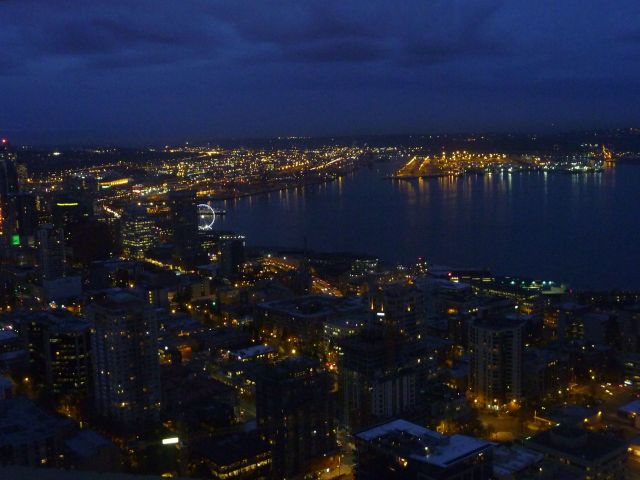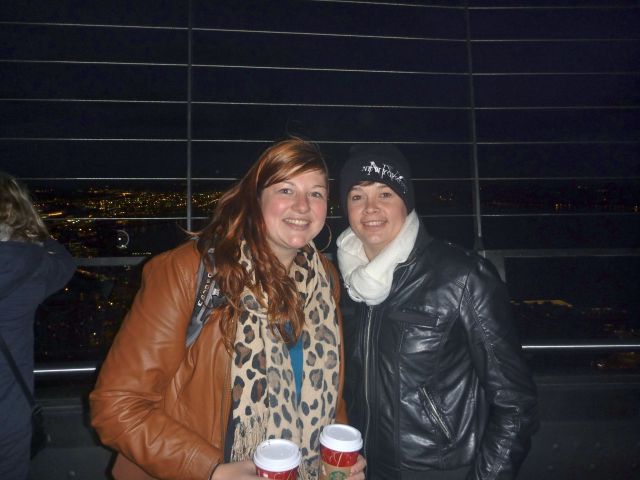 As the sun went down, we started heading towards Scratch Deli for the Rain City Slam. The venue was intimate, but powerful. They packed the house and the poets were incredibly talented. The audience was live, appreciative and supportive. Poetry lovers in Seattle should make it a point to stop by and check out this venue!
Our stay in Seattle was wonderful, but there was only more magic to come as we headed south to Portland, Oregon to visit our A-Camp cabin mate, Andie! The first night we arrived it was her birthday! We grabbed dinner at a local Indian restaurant, and a lot of her friends made an effort to make it kind of boring because the next night, we were planning a surprise party!
While Andie was distracted with a fancy date night, the rest of her friends gathered with booze, streamers, cake and a creepy but awesome birthday banner. She had no idea and we ended up scaring the crap out of her. The party was a smashing success, and we managed not to wake up in a drunken hungover haze.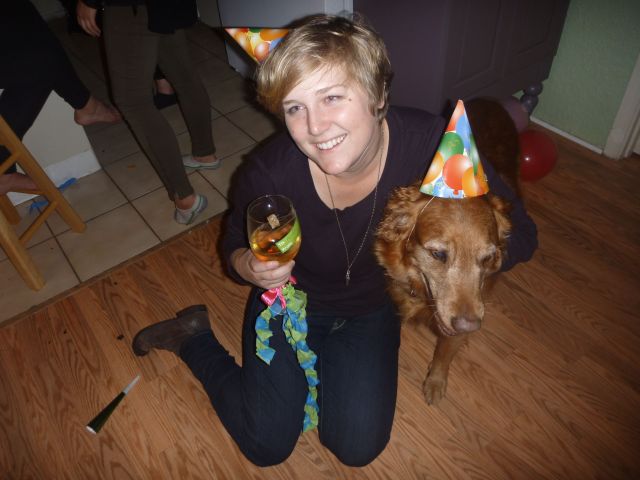 In the morning, we headed to the Saturday Market in downtown Portland. We perused all kinds of art vendors, tasted free samples and even got a birthday present for Marine's dad. We grabbed some infamous Voodoo doughnuts after waiting in line for half an hour. Walking around with the pink box was like holding a talisman of deliciousness. Everywhere we went people asked about the delicacies lurking inside.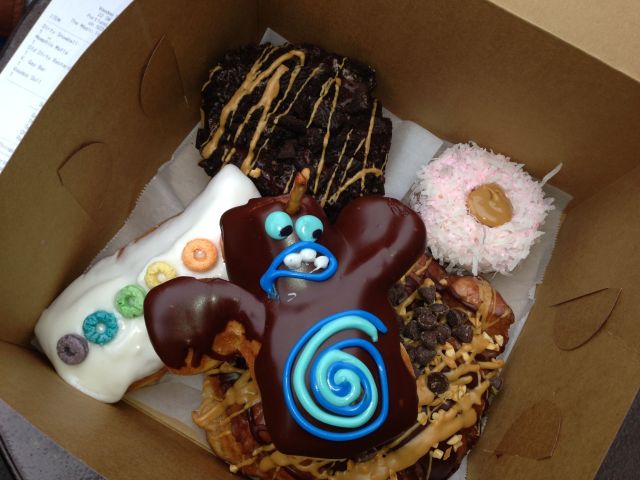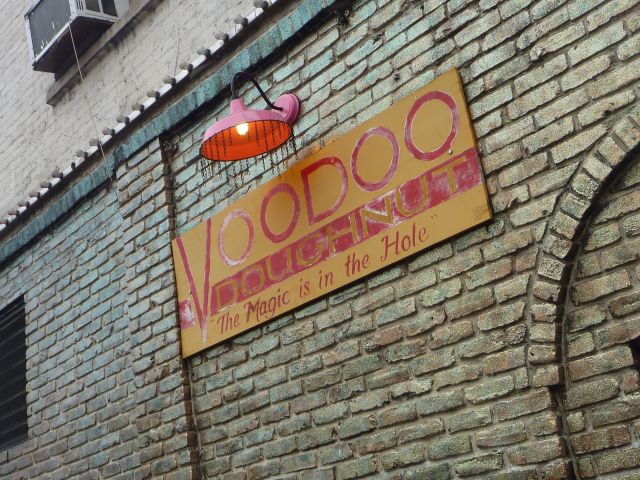 In the evening, we met up with fellow A-Camper and poet, Brenda for an impromptu poetry reading, and everyone there agreed upon brunch the following morning.
We met at Night Light for bottomless mimosas and delicious breakfast foods. We definitely got our money's worth and ended up a bit out of sorts for the rest of the afternoon. Bottomless mimosas generally spell out a really unproductive day. However, not all was lost because Powell's bookstore was open until 11pm.
Powell's is a Portland landmark and spans an entire city block. It's a reader's paradise, and we snatched up a few books for sale before calling it quits.
In the morning, we fly to San Francisco. It will be the first time back in the sunshine state in almost three months. There's still a few weeks of the adventure left, and we promise we've saved the best for last!
Up next: San Francisco, CA
Don't forget to check out more stories, pictures and poems on our wordpress!