The Campaign to Save Sarah
In a story getting a lot of media attention, a GoFundMe has been started for legal fees related to a Texas 17-year-old, Sarah, who was sent to an "East Texas Christian boarding facility for troubled teens" by her parents because she has a girlfriend that she wanted to take to prom. Sarah's extended family is pursuing a legal case to try to get Sarah released; as of right now, she is supposed to stay there for a full year. She has no access to phone or email communication, and her extended family reports she has already been punished for trying to escape once, and that when her friends arrived at the facility to try to take her away, law enforcement threatened to arrest them. Jeremy Jordan, actor on the CBS show Supergirl, is a cousin of Sarah's and has been tweeting to garner support for her.
The New Civil Rights Movement has identified the facility where Sarah is being held as Heartlight Ministries Boarding School, whose founder, Mark Gregston, has said some real cagey things about homosexuality in his online writing.
"It seems like every time there's a new lifestyle announced, that many teens, just out of a search for identity, run to embrace whatever makes them feel like they've found themselves… Whatever I would mention today, will be different 6 months from now, so to specifically target on issue is something that I don't think is wise. …And I've got to say this as well," he added. "I know that the gender and gay issues in a politically correct environment….you can't say anything without being wrong or open yourself for the potential of being misquoted or slandered. So, I watch what I write and prefer to share my heart about this topic in a seminar or one-on-one conversation where people can hear my heart and not open myself to their interpretation of what I say. …I understand homosexuality is a very sensitive issue for many people. But as Christian parents, we cannot be afraid to get involved in this ongoing discussion. Your teens are hearing from the culture about homosexuality. But what are they hearing from you?"
Although recent years have seen some legal victories against ex-gay therapy and related endeavors in states like New Jersey and California, the unfortunate reality is that forcible experiences like "boarding facilities for troubled teens," or the (obviously not super realistic) boarding school depicted in But I'm A Cheerleader are still a danger to LGBT youth and others.
Bathroom Bills
+ New York is launching a new ad campaign that "encourages residents to use the bathroom consistent with their gender identity, rather than their birth-assigned sex, and will soon be seen in subway cars, bus shelters, phone booths, and community newspapers." Mayor de Blasio declared, "No one deserves to be denied access to bathrooms or discriminated against for being who they are. Every New Yorker has the legal right to use the bathroom consistent with their gender identity, no questions asked — and these powerful ads affirm this right."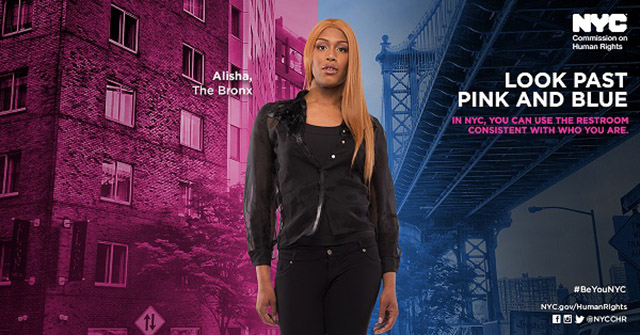 + Steve King, representative from Iowa and not to be confused with horror author Stephen King, has tried to add an amendment to an unrelated bill in Congress that would restrict trans people's bathroom usage. As ThinkProgress puts it, "The Washington Blade notes that King has filed several other anti-immigration and pro-gun amendments to the bill, but he has not yet commented on why he feels any of the amendments are necessary."
Law & Order
+ Christopher Plaskon, who killed Maren Sanchez in 2014 after she refused to go to prom with him, has been sentenced to 25 years in prison.
+ A really fantastic, in-depth special report from Colorlines on how employers get away with harassing and firing trans employees of color even though it's becoming increasingly (technically) illegal, and "the civil rights you have but can't quite use." A broad overview: although harassment for trans employees is constant, the legal burden of proof is often on the employee to prove the harassment's "intent;" it's very difficult to find a lawyer who will actually represent your case and that you can afford; and even when you can, these cases often drag on for many, many years, something that people living paycheck to paycheck (or without a paycheck at all) often can't make space for in their lives. That's just a tip of the iceberg though, you should read the whole thing!
Make the Road New York conducted what it describes as the first-ever New York City-based empirical investigation into employment discrimination against transgender job seekers in 2010. Then-staff attorney Chase Madar recruited two pairs of people applying for jobs at national chain stores. Testers in each pair were equal in all respects except that one was cisgender and the other was trans. One pair was White and male. The other was Asian-American and female. "I trained the two pairs, developing resumés for each person so that they had equivalent levels of experience and education. I even trained them to present themselves in ways that made them seem equally hire-able—same energy level and similar affects," says Madar. "I documented every single step in the hiring and training process. Even though I was dealing with just two pairs of testers it was a ton of paperwork." The results? The Asian-American trans woman didn't receive a single job offer. The transgender White man got just one. Meanwhile, 11 out of 24 employers hired a cis testers, a 42-percent net rate of discrimination against the trans participants.
+ Related, Colorlines has eight ways to fight anti-trans bias on the job.
+ New York Governor Cuomo has filed an executive order that is meant to blacklist institutions and companies involved in the Boycott, Divestment and Sanctions movement meant to put pressure on Israel to leave Palestinian territory.
The executive order requires the New York State Office of General Services to create a blacklist of institutions and companies involved in the BDS movement "using credible information available to the publicwp_postsand make that list available to everyone online. All state agencies will be required to divest from such companies, which will have to submit "written evidencewp_poststo be appeal to be removed from the list.
NY legislature already tried and failed to pass a similar blacklist; Cuomo's executive order works by bypassing the legislature entirely. Some say that the executive order may be illegal in violating the first amendment; the NYCLU says that "The Supreme Court has clearly established that First Amendment protections apply to politically-motivated economic boycotts aimed at influencing public policy and advancing social change …The Court has also ruled that the Constitution prohibits government from conditioning eligibility for public contracts upon the political affiliation of those bidding for a contract. To legislators questioning whether this scheme is constitutional, the answer is no."
+ Exotic dancers across the US have been organizing to combat the fact that they're often classified as "independent contractors" and not employees, which means that the venues they work at don't have to pay them minimum wage, offer benefits, or be liable for sexual harassment claims (also, being an independent contractor can also suck for tax purposes). Now a new ruling from the U.S. Court of Appeals for the Fourth Circuit says that six exotic dancers in the suit should be classified as employees, backing up "a district court decision that found that the dancers were illegally misclassified and deserved to be paid back wages and damages by the clubs."
+ Erin Maye Quade is a biracial woman married to another woman, and she's running for state House candidate in Minnesota; her opponent, Ali Jimenez-Hopper, thinks those identities should scare voters away from her.
"She brings up that she is half black and she uses that as a strength. She brings up that she is in support of LGBT and that lifestyle and puts out pictures on Twitter of her and her wife,wp_postsJimenez-Hopper continued. "I believe in the traditional marriage in the sense that it's between a husband and wife and God and that family is important. We need to have these values so we can go forth and think about your community."
+ Heritage Auctions of Dallas, TX is poised to auction off over 100 Native American items, including some that are sacred to the Oglala Sioux, despite the opposition of the Native communities affected. The Oglala Sioux intend to file an affidavit in an attempt to prevent the sale. It's illegal to sell Native American ceremonial items after the Native American Graves Protection and Repatriation Act. The proposed auction also includes guns used at the Massacre of Wounded Knee.
The Massacre of the Wounded Knee occurred in 1890, as tensions were increasing between the U.S. government and the Sioux. The government had procured much of their land and became uneasy as the tribe regained unification through the sacred Ghost Dances. The Seventh Cavalry confronted the tribe and killed as many as 300 men, women, and children. In an interview with the Associated Press, [Trina Lone Hill, historic preservation officer for the Oglala Sioux Tribe] said she finds it "very insultingwp_poststo auction off weapons used at Wounded Knee. "It was a massacre; it wasn't just a skirmish. It was women and children being killed."
Police & Prison
+ In an incredible story, high-school-age youth in LA have become the first community to successfully force their district into returning its police department's military-grade weapons to the federal government. The weapons, which included "61 M16 assault rifles, three grenade launchers, and a mine-resistant protective vehicle," were acquired under the 1033 program, which allows local police departments to apply for and use surplus military-grade weaponry — leading to the tanks and assault gear in the streets that we've grown used to seeing in Ferguson and elsewhere. The youth of the Los Angeles Unified School District led a coordinated campaign of attending and protesting school board meetings, memes, presentations, hashtags, and protests to put pressure on their school board and police department and make LAUSD the first district in the nation to return all its military-grade weapons to the US government. LAUSD is only one of 22 school districts who participated in the 1033 program.
+ Talking with Brian Banks, who was also a college athlete with a bright future and accused of sexual assault, but is Black and was sentenced to six years, on Brock Turner's sentence in the Stanford rape case.
Banks, who is Black, knows something about this disproportionate justice. As the Daily News notes, he was accused of rape at age 16 and tried as an adult. He served five years and two months of a six-year sentence before his accuser recanted her story in 2012. "You know a man is guilty, so why aren't we unleashing half of the punishment that was unleashed on Brian Banks when he was innocent and there was no evidence?" Banks said in the interview. "They gave me six years. They gave him six months." He also said that the woman who survived Turner's rape, whose powerful statement to the court was published by Buzzfeed on Friday, "has been totally ignored" and "has to live with her hardship and tragedy for the rest of her life."
+ Chicago city officials have released 101 videos of police shootings and arrests, some of which are being challenged as demonstrating excessive force.
+ A new investigation by the St. Louis Post-Dispatch finds that the city of St. Louis has been paying out money to families of victims of police violence in some cases before there's even a settlement, or in some cases before the officer is even charged. It suggests that the St. Louis PD — and other police departments that engage in similar practices — are aware of wrongdoing and are trying to appease families and/or keep the issue out of courts and newspapers.
"In my considerable experience, police departments do not settle and certainly don't settle for a lot of money unless there is clear evidence of liability, clear evidence the shooting was unjustified,wp_postsJon Loevy, an attorney with the Chicago firm Loevy & Loevy, told the Post-Dispatch. The firm recently won a $2.5 million settlement in court for an exoneree whose case involved St. Louis police. "I can tell you from experience, they don't just cough up money routinely. They fight hard, they are reluctant to resolve cases and there is just not that kind of money lying around unless there is merit."
+ Lots of racist news out of Minnesota this week! Minn. Rep. Tony Cornish took the time to write an op-ed arguing that police violence is being overly exaggerated and that there wouldn't be any problems if people would stop "being a thug," "[flapping] your jaws when police arrive," or "[using] the excuse of a lack of a job or education for why you assault, rob or kill.wp_postsIf those sound like racially coded terms, it's because they are. When his op-ed was criticized as being anti-black, Cornish responded by saying that he's "gone to five different mission trips in the jungle… spent big money helping women adopt black kids from Africa." Yup! That is what he said.
Research & Data
+ A new study in Violence and Gender finds that bisexual female college students are more vulnerable to sexual assault than any other demographic of students. Involvement in fraternities or sororities is strongly correlated with experiencing sexual assault as well.
Grab Bag
+ The NBA has partnered with Teespring to create NBA Pride shirts, the proceeds of which benefit GLSEN. Ezra Morales of GLSEN's National Youth Student Council says "I would like to not only praise but also thank the NBA and their partner Teespring for taking initiative and helping make my former home more of a home by offering these shirts. Oftentimes, I would think that the court was a place to just drop anything and everything LGBTQ, but now I have a greater sense of hope that the court will be a safer space not only for me and other youth but for athletes and fans everywhere."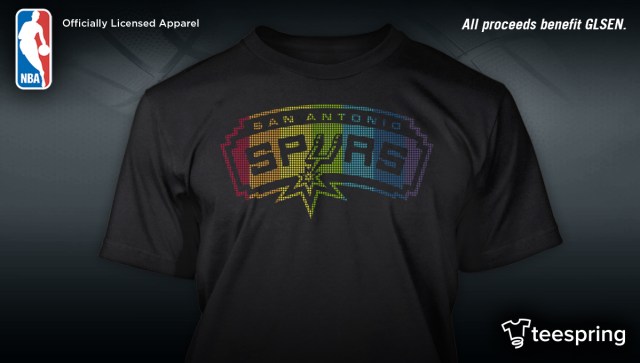 + A lesbian chef in Charlotte, NC was attacked by two seventeen-year-olds and injured in the assault, which she believes occurred because she's gay given that the two assailants asked if she was a stud and used homophobic slurs as they assaulted her.
The woman who reported the attack said that she is accustomed to verbal attacks because she is gay. Since the passage of North Carolina's House Bill 2, she said such inflammatory remarks have intensified. It's almost, she said, as if the new law – which nullified Charlotte's anti-discrimination ordinance – gave people permission to be hateful.
+ A petition asking Stanford University to provide increased resources to the Stanford rape survivor and other survivors of sexual assault at the university.
+ Last year, Texas ended its contract with Planned Parenthood for services related to HIV/AIDS testing; the state promised that those services would be picked up by county health services with no gap in access. Now, the Texas Observer has found that not only has there been quite a "gap," but "Harris County's health department has yet to perform a single HIV test" with the $250,000 it received in state funding in Planned Parenthood's absence.
In the five months since losing its contract, Planned Parenthood Gulf Coast (PPGC) estimates that it would have provided 2,900 HIV tests and distributed around 165,000 condoms. Rochelle Tafolla, PPGC's spokesperson, said most of its testing was conducted in Harris County, the most populous in Texas and home to nearly 23,000 Texans living with HIV. According to state data, Harris County is home to one in four new Texas HIV cases every year and its diagnosis rate is nearly double the state average. Among the state's five largest urban counties, only Dallas County has a higher new diagnosis rate.
+ When a black family went to the hospital seeking treatment for their just weeks-old daughter, they were assaulted by a white hospital volunteer, who used racial slurs while trying to force them to leave the hospital, an incident which the family was able to catch on video. Although it occurred before the recording began, the family says the volunteer also invoked Donald Trump as a rationale for her actions, saying "This is what Donald Trump's talking about, people like you.wp_postsThe volunteer has been charged with assault.