When we turned 13, we were supposed to stop playing so many pretend games. This is what I'd absorbed from the other girls in my neighborhood. We could still play games. Those games looked like jumping on Remy's trampoline until our stomachs hurt or taking turns on one desktop computer sending instant messages to boys from school or walking to the pool to eat plates of too salty french fries in the sun. Most of these did not feel like games really.
I didn't want to stop pretending, so I didn't. This was easy to do. I had a younger sister after all. At 11, she was still young enough to play with Barbies and Groovy Girls, and what was I supposed to do — NOT play with her?! In reality, my younger sister outgrew pretend games before I did. So in lieu of using her as my excuse to keep pretending, I just decided I would be an actress. I would do everything I could to go to the performing arts high school in a year. I'd find a way to keep wearing costumes and making up worlds.
Sometimes, the stars aligned and I could get my best friend Stacy, who was my neighbor and who was the kind of friend who didn't have to call ahead or knock on the door before just showing up in my home, to play one of the old games we'd made up at the beginning of middle school, before we were 13, before we were supposed to stop pretending. My favorite of these games was called Fashion Emergency, and it went like this: We used a set of my mom's walkie-talkies as phones. One of us would be the client, and the others would be the stylists. The client had to call the stylists and detail an extremely specific "fashion emergencywp_postslike "I have a wedding I need to go to tomorrow in Pariswp_postsand other normal life situations like that. The stylists could then put together clothing options for the client, who would model them and get feedback. That was it! That was the whole game!
I think I never wanted to stop playing Fashion Emergency because I wanted other girls to tell me what to wear, how to arrange my molting 13-year-old body that I did not understand at all into something desirable, how to feel beautiful.
In my experience, right around age 13 is a tough time in the personal style arena for little closeted dykes. I didn't know what looked good or what made me feel good, so I just threw things wildly at a palette to see what stuck. Sometimes that meant wearing a literal pirate hat or a cape or other things widely considered costumes and not outfits you put on for school or a casual hang at the mall.
So in honor of the ongoing fashion emergency that was my 13th year (and the fact that Autostraddle is also celebrating its 13th birthday! Have you heard?!), I've rounded up some of the most, uhhh, creative? style choices I made at the time and reimagined them as fashion spreads in a clearly VERY high budget teen magazine of my own making. Enjoy!
Also, please consider showing up for Autostraddle's 13th birthday by becoming an A+ member, upgrading your membership, or giving a one-time gift to our current mini fundraiser! This is a place where I get to keep pretending, in a way, and I'd like it to keep existing!!!!
---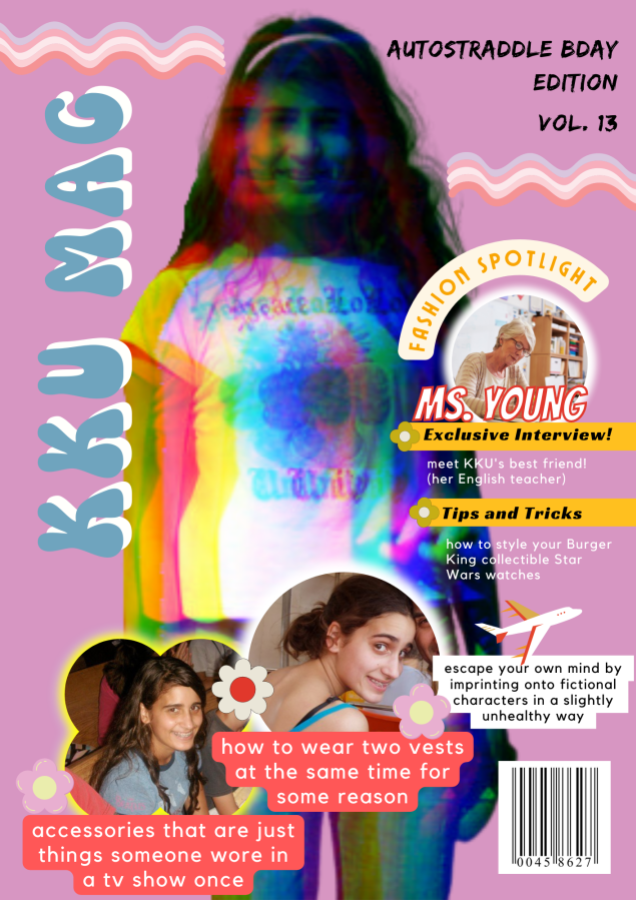 Welcome to KKU Mag!!!!! We've got tank tops on tank tops, because it's 2005 and extreme layering is the style!!!! Also, we've got braces.
---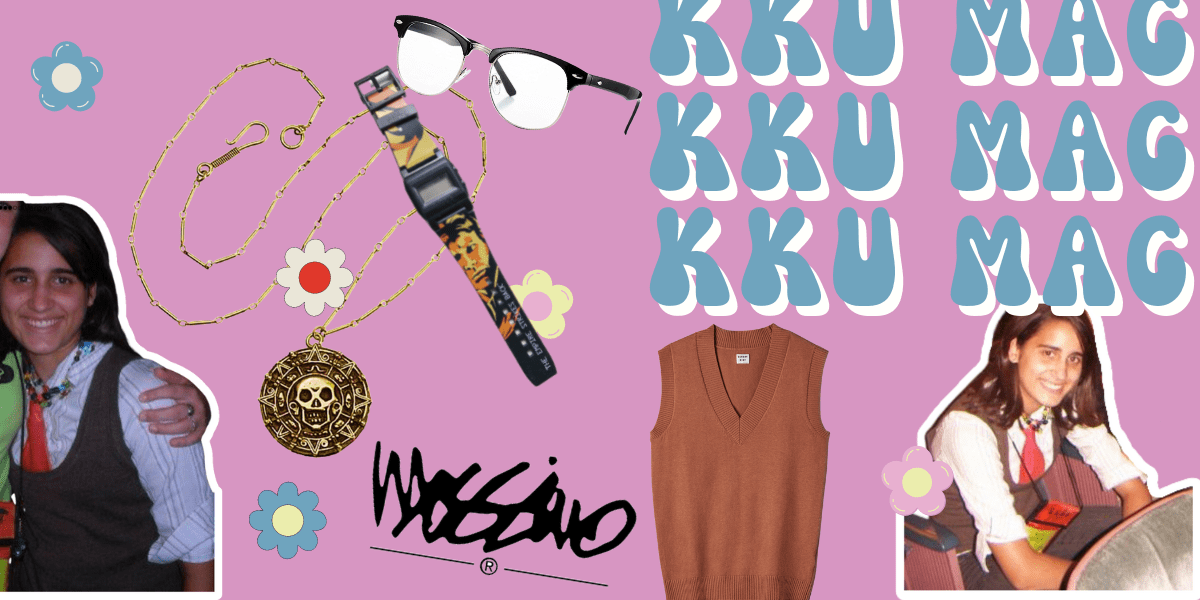 My main approach to fashion at 13 (and tbh more like from ages 11 to 20) was to make my pop culture obsessions wearable. This included wearing actual fandom merch like the Pirates Of The Caribbean skull pendant that yes I layered over graphic tees from TJ Maxx and also my collectible reversible Star Wars watches from Burger King*. But it also included imitating characters from shows I watched. A couple years before I turned 13, I begged my mom for a brown vest and a gray vest without explaining to her that the main reason I wanted a collection of vests
this is a deeply personal confession but in 6th grade I started wearing vests because Jennifer Morrison's character on House M.D. wore vests

— kayla kumari upadhyaya (@KaylaKumari) April 25, 2016
Also, I wore fake glasses. Upsetting!!!!! I had several frames, including horn-rimmed ones because of Heroes (although that was technically age 14).
*The Star Wars watches were a thing in 2005 aka exactly the year I turned 13, and at 13, I was the kind of budding young feminist who decided to write a strongly worded letter to Burger King describing why I thought it was disgusting that the watch that featured Leia featured her captor Jaba The Hutt on the other side. I never heard back.
---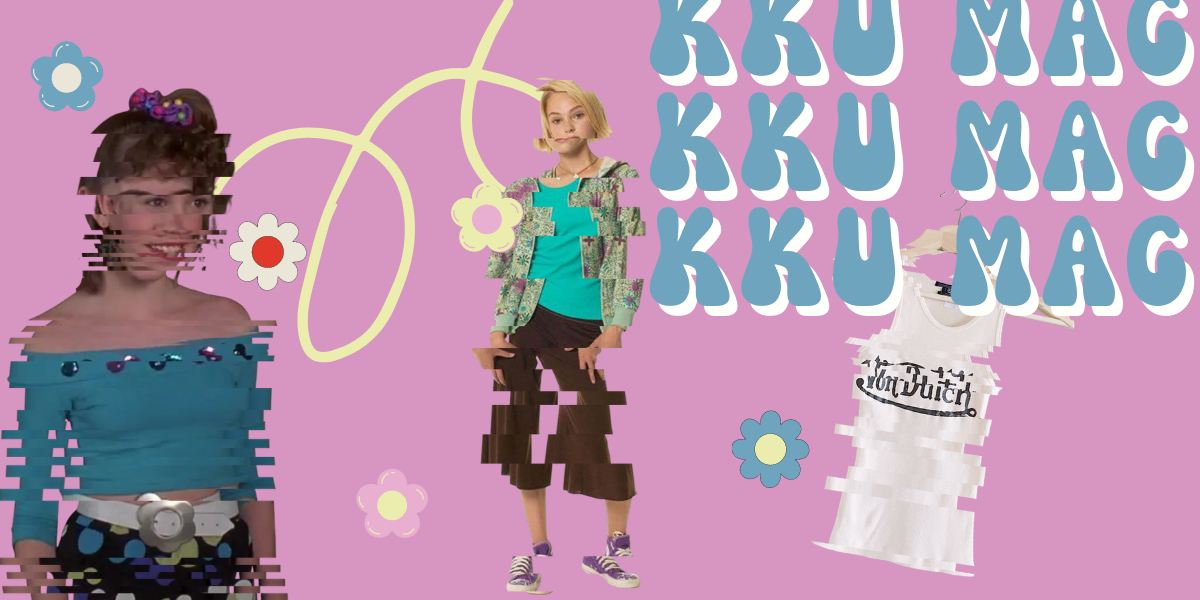 So as with the two different colored vests, my favorite fashion thing to do at 13 was to pick one thing that I liked and then get it in brown and in black and rotate between the two. Specifically, this means I owned a pair of black gauchos and a pair of brown gauchos that were in the regular rotation. I would match them with either my black sneakers or my brown sneakers. This is all at least sounding somewhat coordinated but THEN I really threw things off by pairing the neutral look with just an over-the-top graphic tee. Like a hot pink one with a black guitar on it (I did not play guitar) or a The Beatles shirt (I pretended to like The Beatles for a girl) or a radioactive orange Hurley shirt. Gauchos with a fitted graphic tee…a bold look!
In my ongoing quest to emulate fictional characters, I brought an off-the-shoulder teal shirt because it looked exactly like this short worn by young Jenna Rink in the classic film 13 Going On 30. But this was a whole Thing, because I bought the shirt from Hollister even though I was very vehemently and vocally opposed to Hollister. Why did I hate Hollister so much???? I honestly don't know. I thought I was too "alt" for Hollister, and I thought everyone who shopped there was a phony. (My best friend who I was starting to fall out with shopped at Hollister regularly, and so did her boyfriend who I loathed.) So when I found this shirt at Hollister, I bought it in secret and then LIED to everyone when I wore it to a school dance and said I got it at Old Navy! As if Old Navy were somehow cool?! I really don't know.
---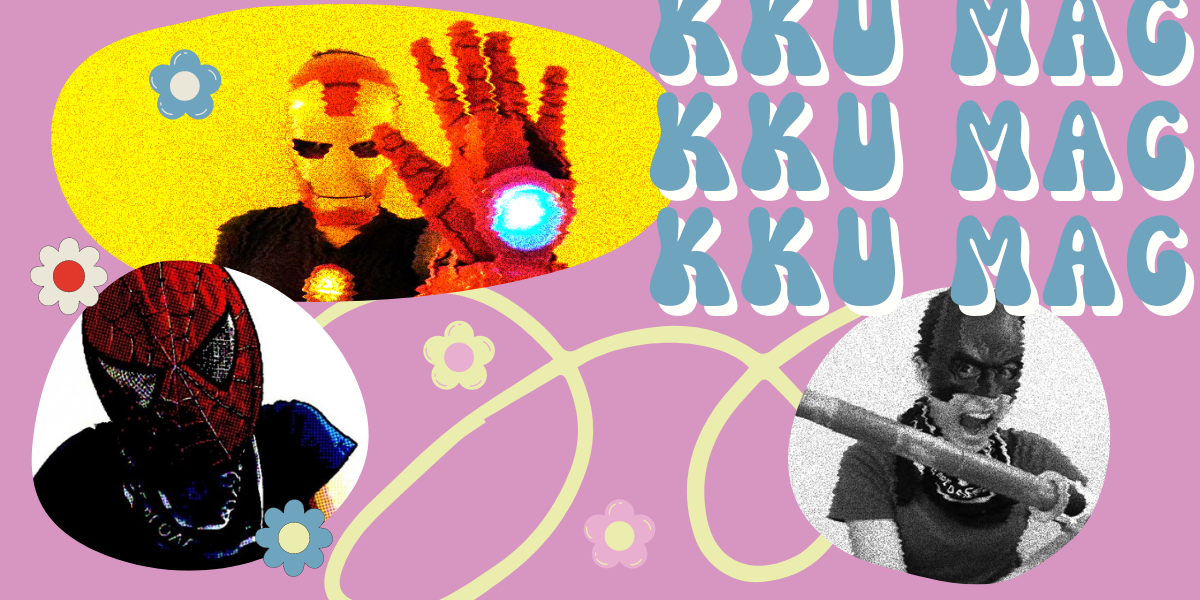 All three of those photos are actually me. Me in a Spider-Man mask, me in an entire Iron Man costume, me in a Batman cowl with a…light saber. Again, I wish I could say I simply wore these things in the privacy of my own home or for photoshoots on my point-and-shoot camera or something but nope I wore these OUT PLACES and even sometimes TO SCHOOL from approximately 6th to 11th grade. At 13, my favorite "accessory" was a lightsaber, which I'd hang from the loop on my low rise jeans. I also wore a lot of tiny scarves and printer scarves, including the one I'm wearing in both the Spider-Man and Batman pictures. I believe it said PEACE AND LOVE on it. Which I do feel like is a confusing message to couple with a fictional weapon, but I think most of my looks at 13 could be described as…dissonant.
---
Thank you for taking this visual journey with me. Consider being a part of Autostraddle's ongoing journey by joining A+ or giving a gift!