Bette attempts to creep into her home so she can creep back out of her home and have dinner with esteemed recluse Pippa Pescal but Angie shocks her with a special request!
Angie saw Micah today and really liked him, so perhaps she could keep seeing him and perhaps maybe all of them could go together? Angie and Tina and Carrie and Bette, all together as one powerhouse matriarchy? Bette says it's okay, of course it's okay, she would do anything for Angie! They hug and it's sweet and I tear up AGAIN  because that is unfortunately who I am now. A GIRL WHO WATCHES SCREENERS AND CRIES.
---
It's night-time at The Aloce Show, Alice is in a meeting with Tom, relaying some of her chart-esque drama from the night before and complementing his ability to retain gossip.
Tom says the only chapter they've yet to revisit is the one about Dana. You know Dana Fairbanks, she was a tennis player who did a Subaru campaign and liked Love Boat roleplay but then she was diagnosed with breast cancer and died five minutes later. Tom tells Alice this sweet story about his older brother, who took him to the Magic Castle when Tom was 13. Then his brother, who was 19 at the time, died on his drive home back to college.
Tom: I like to think he's up in heaven, doing magic tricks, cheering me on. What about Dana? Is she up there rooting for you?
Alice: She's too busy playing tennis.
Tom: She's the love of your life.
Alice: Can we just not do this?
Tom: C'mon.
Alice: What.
Tom: Come on.
Alice: I see her when my eyes are closed but I also see her when my eyes are open. I can hear her laugh. I smell her smell, I can feel her everywhere. And I miss her so much sometimes, the emptiness is like — but there's nothing that I can do about it because she's gone. And I do not wanna dwell on the fact that she was taken from me and robbed of a life because of some fucking disease. Okay? I don't wanna do it, Tom.
Tom: Do you think maybe you could like… say that again, maybe just a little bit slower, so I could jot it down?
Alice: Oh my god, you're the worst.
I AM SHEDDING REAL TEARS???!!?! I feel whole? We are all growing up and processing our trauma together?
---
Micah made it to 50% of his date!!! Good job Micah!!! Maribel's like, well, what did you think of Harry? Micah's not sure that Harry is his type.
Micah: I'm not sure that I'm —
Maribel: — into lawyers.
Micah: Gay!
Maribel: Oh! Okay.
Micah: Yeah, uh, I think that I'm into women as well.
Maribel: Shit, I am so sorry, did I offend you?
Micah: No, I mean how could you know? I'm still sort of just trying to figure it out myself.
Micah has been canonically bisexual in my head ever since the moment we learned he used to date Dani, but this is fine and I will accept it. Micah says his bisexuality is a recent feeling BECAUSE UM and Maribel says oh maybe she could find him a woman to date and he's like, um, yeah okay maybe kinda sure I guess so right but but but but but but also or oop! the Lyft is here! MARIBEL MARRY THE MAN ALREADY I WILL OFFICIATE
---
Over at what is undoubtedly an expensive farm-to-table restaurant that delivers delicious, sustainable produce from local makers, Bette has reached the pitch portion of the meal, for which Pippa is putting up quite the resistance. Bette is visibly aroused but also challenged and determined. Pippa says Bette's boss is racist and that Bette is compromised by working with him — but Bette says she wouldn't have access to the resources she needs otherwise.
I mean truly — a white man with too much money is giving it to Bette to spend it on artists of color who have been historically marginalized! Take that man's money and run! Show the art! Fuck Bette in an elevator!
Pippa: Your boss doesn't seem to think there are any Black or brown artists who are "ready." I've heard him say that verbatim through the years—
Bette: I'm not going to defend him. Okay? But you should know that I am using the power of his resources to try to mitigate the damage that's been done.
Bette says she was able to secure full funding for Kizmet Russell's project in a matter of days. Still, Pippa won't consent to receiving full funding for her projects to be seen on a major scale under the watchful eye of Our Lady of Porter. But now, things are gonna get steamy!
Pippa: It's nice talking to someone as smart as you.
Bette: Likewise.
Pippa: And as beautiful. You know you're beautiful of course. How could you not know? So I think it's okay to mention it.
Bette: You are the most beautiful woman I have ever seen. And your work should be back in spaces that would give it the platform that it deserves.
Pippa says she can't work with Bette because she's "one of them now." Bette grips her hand desperately and moans, "Please." Pippa cocks her head, looks own and looks away: "don't touch me like that unless you'er coming home with me." Bette relents. Devastating.
---
Welp!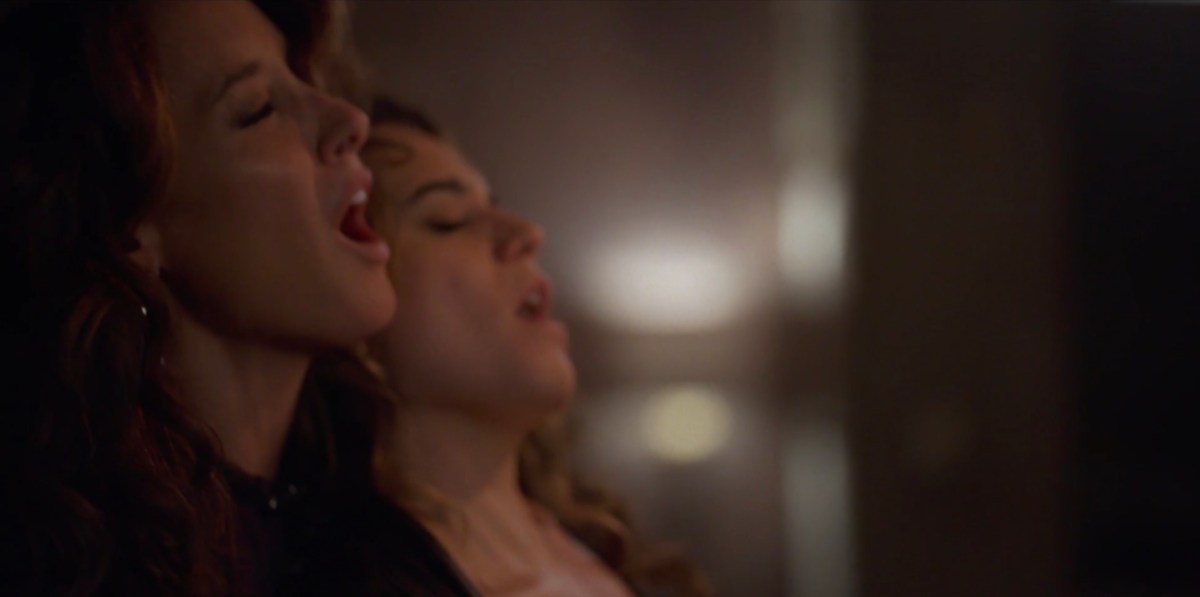 Lesbian Sexy Moment #4: Miss Right Now
The Players: Gigi and Bette
The Pick-Up: Um, probs like, "hi"
Hot or Not? Between a song that goes "you're not the one, but you're the one right now" and Bette's somewhat unenthusiastic facial expression for about one second AND knowing Bette's just using Gigi as a body even though the body she really wants is Pippa's…. I don't know!
---
Shane has taken the opportunity of Tess's absence to go to her house and set up a projector right there in her very own backyard so now they can watch Empire Records whenever they want! Or you know, they could simply watch Casablanca upside-down.
But first, feelings: Tess talks about how difficult the visit was with her Mom, who has dementia, Shane says she's sorry, that must be so difficult to watch.
Shane's trying to fix the projector and Tess is telling her where to put the cords and then, at last!!!! Shane leans in for it and Tess leans right on into it and…
… then Tess pulls away and says she's sorry because…. she's seeing someone?!?!?!!?!?!?!!? How serious could it possibly be if it's just now coming up??  HAVE SEX
---
Back at the Ojai Honeymoon Castle, Dani and Sophie are in bed together laughing and talking about their former dreams of living in Ojai and riding bikes to the Farmer's Market and Sophie being Dani's hot little housewife. Sophie starts talking about her job and Dani is so engaged in the conversation, like now they have the space to look at the other person's career choices as their own rather than a set of circumstances that impacts their relationship. (To be clear, that should also be possible IN a relationship but these two were never great at talking about each other's careers.)
Dani reminds Sophie about the documentary she wanted to make about all the lesbians in Buffalo in the 40s and 50s which I think means somebody on this set has read Boots of Leather Slippers of Gold! (Which you can read about here too.)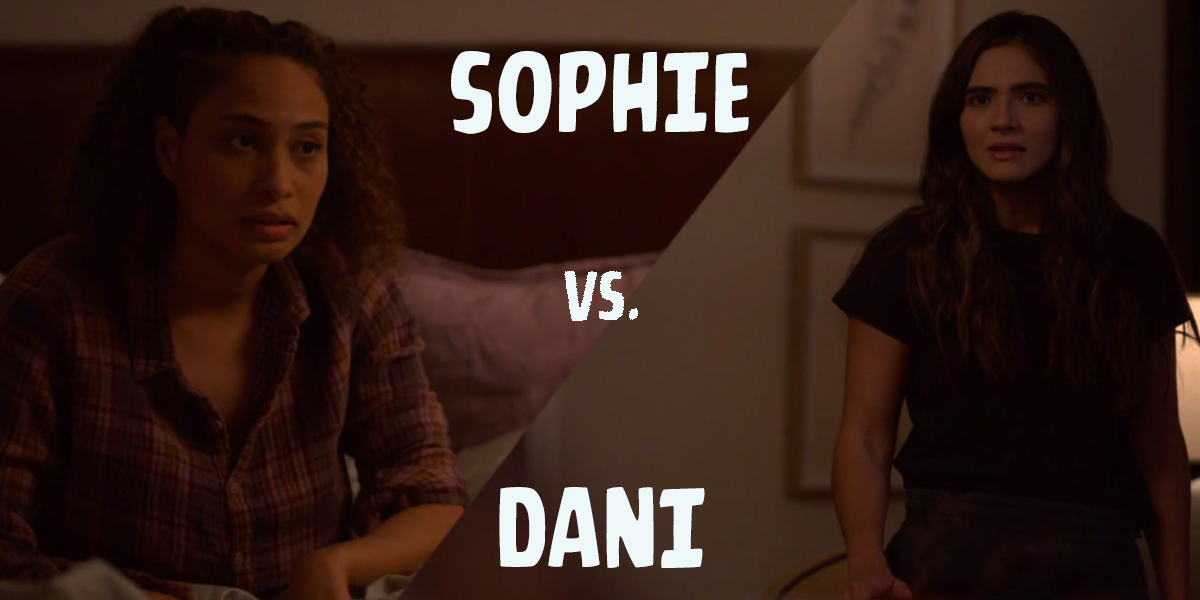 Lesbian Squabble #18: I'm Up and Doing Circles I Collapse
In the Ring: Sophie vs. Dani
Content: It is time for the Second Act of every lesbian's favorite play, SEX WITH YOUR EX. In this act, the couple who just bonded over a shared interest in fucking each other are quickly torn apart by the reason they became exes to begin with, and their respective emotions regarding The Other Woman.
Dani asks who Sophie was talking to earlier and reminds her that she's a bad liar. Sophie says it was Finley, and Dani asks if they're dating, and Sophie says she doesn't know what they are, and Dani gets pissed and gets out of bed, and Sophie's like "you told me not to lie" which, LOL, and Dani's like, how are you not FURIOUS with her for ruining our wedding, and Sophie says she didn't mean to! But also, Dani told her it was firmly over, and is it over? LADIES IT'S OVER!!!!!!!
Who Wins? Maybe Finley?
---
And then, of course, Micah spills the beans to Finley about Sophie's actual reason for being in Ojai. Finley brushes it off but is clearly deeply, unspeakably pained. Yikes.
WHICH BRINGS US TO OUR ENDING MUSICAL MONTAGE!
Finley hops on a scooter while crying.
Alice comes home and sobs into Lenore's open arms.
Micah sits at home texting Maribel and not telling her how he feels about her.
Finley takes her sad scooter to the liquor store.
I sit on the floor in the dark in front of the screener sad about everybody's pain!
And, finally, Sophie and Dani are standing outside in the cool spring air. Sophie says she's gotta go, but she's glad Dani's okay.
"I think we dodged a bullet, you and me," Dani says after Sophie turns her back.
"You do?" Sophie is hopeful that maybe they agree on this and that could lessen her guilt.
"Just… got too hard. It doesn't feel hard now," Dani smiles like she's surprised to be smiling.
"No," Sophie shakes her head. "It doesn't."
"Maybe you should stay," Dani says.
Sophie looks back at her, shakes her head, AND SCENE.
---
The Round-Up:
Lesbian Sex Scense: 2 this episode, 4 total
Lesbian Squabbles: 4 this episode, 19 total.
Quote of the Week: "Don't touch me like that unless you're coming home with me." – Pippa, to Bette Fucking Porter
Pages: 1 2 3See entire article on one page