Sophie's driven deep into the woods of the greater Los Angeles area and landed in Ojai, a beautiful little town north of Los Angeles largely inhabited by wealthy white people who like to meditate and buy artisanal jams and windchimes. Dani emerges from the upper threshold to stand on a balcony like Rapunzel, looking down upon her visitor. In no time at all the duo launches right back into their favorite activity: fighting!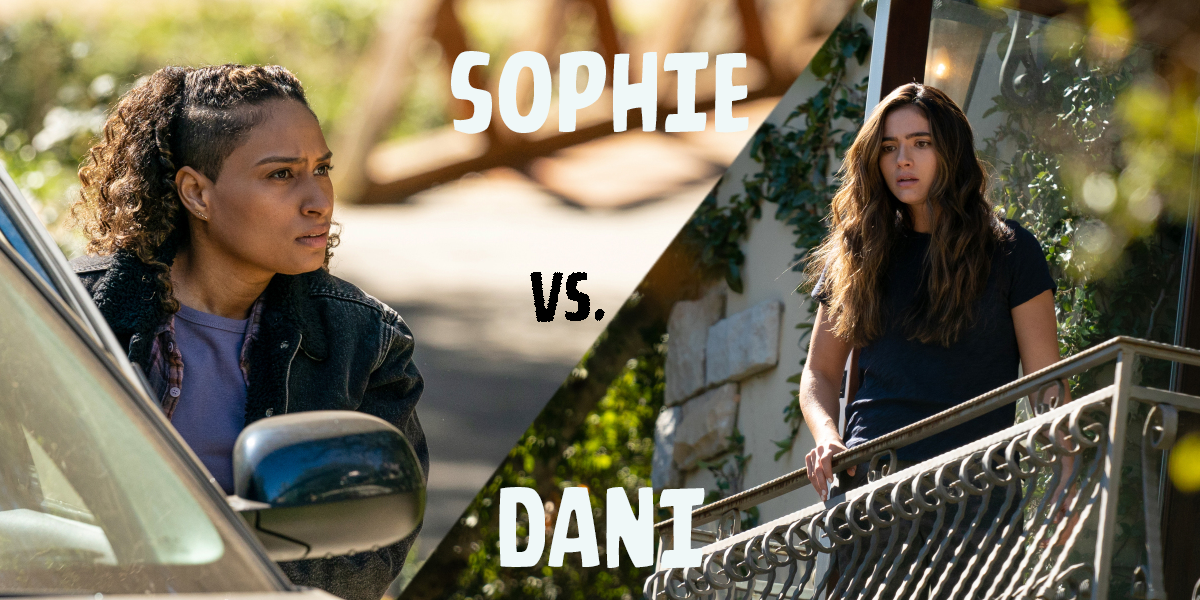 Lesbian Squabble #16: Bring Back What Once Was Mine
In the Ring: Sophie vs. Dani
Content:
Dani: The fuck are you doing here?
Sophie: Oh, wow.
Dani: You can't even give me space when I run away into the woods, it's unbelievable.
Sophie: Oh God you and your fucking space—
Dani: It's all I ever asked you for and you could never give it—
Sophie: It's not called space if you don't ever come back, it's called avoidance. And did you ever think maybe for second that that was me trying to love you? Fuck, you make it impossible.
Sophie drove 70 miles to Ojai just to make sure Dani was alive. Dani's still alive congrats! Sophie would like to come in to take a piss and she might as well just keep her pants at her ankles 'cause we all know where this behavior will eventually lead!
Sophie tells Dani to call Micah 'cause he's been worried about her ass and they banter about the local Thai place you pass on the way out of town in that way that you can with somebody you know like they know each other.
Who Wins? Sophie.
At this point one must let go of Time because somehow it is both the day after Alice and Nat broke up AND a significant period of time since Dani was last spotted in Los Angeles. Where's Gigi? She was such a boss at the scene of the crime!
---
Finley is dressed up in an aggressively lavender suit and picking out flowers for her dinner date with Sophie so I am absolutely going to LOSE IT.
Micah: Hey did someone help you pick that out? 'Cause it fits perfectly, it really suits you—
Finley: Yeah! A lady named Barbara at Mens Warehouse. It took her a minute but once we established I was not a 14-year-old boy, she was actually pretty cool.
Finley's stoked because she's gonna be the new referee at the Silver Lake Community Center! Micah is so super happy for her but also is curious WTH she's doing because according to Micah, Sophie asked for time and space. Did she? What's happening. Finley says it's just dinner and by the way, Sophie asked for it.
Finley: "Okay, I get what you're saying, and I think you're looking out for me which is actually really nice 'cause I know you're close with Dani, but I know it's not perfect, I know it's an uphill battle or whatever. But it's Sophie, dude. It's worth it. When something's worth it, I'm not scared to make an ass of myself, I guess. Or, I already made an ass of myself, so there's nothing left to lose."
Is this foreshadowing? I am upset.
---
Meanwhile out in the wilds of Topanga, Bette has found her prospective client, the elusive Pippa Pascal! You know what they say about Bette Porter: you can run, you can hide, but if Bette Porter saw your exhibition at the [place] during a [time] and it made her feel [orgasmic], she will hunt you down and she will get you to show your art at her gallery.
Pippa knows who Bette Porter is and yet somehow is not thrilled to see her.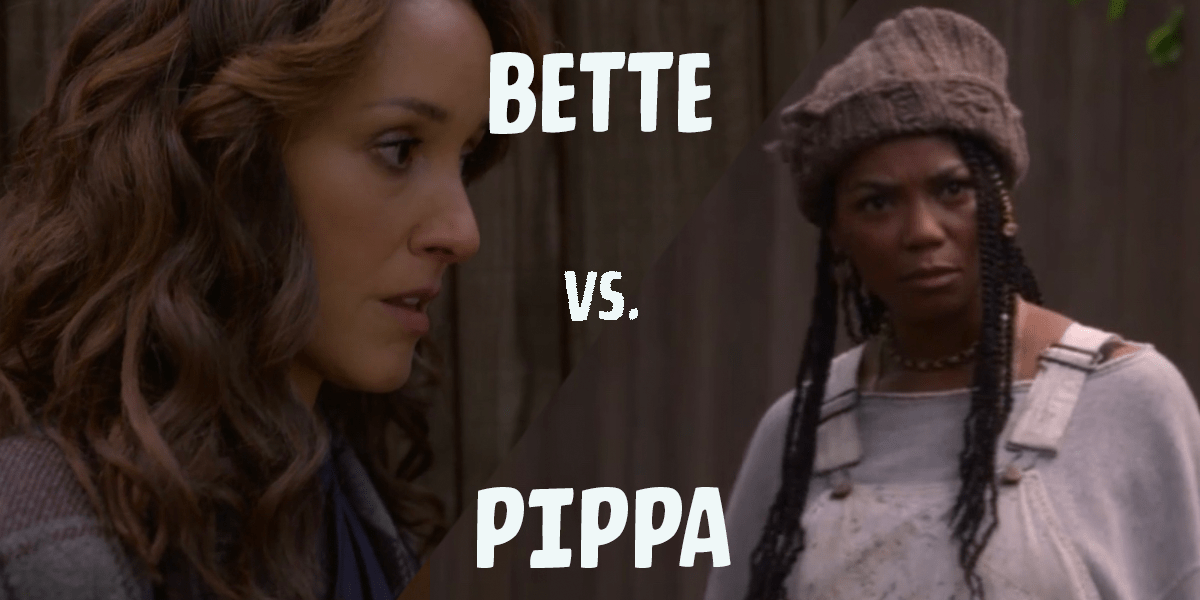 Lesbian Squabble #17: This Business of Art
In the Ring: Bette vs. Pippa
Content: Pippa points out that not signing her work and escaping "far from the art world" should send a message she's not looking to get found. Bette did the math but decided that she needed to tell Pippa that the art world was not ready for her when she got her big break and she was willing to do that even if that meant risking that Pippa would simply slam the door in her face.
Who Wins? Pippa, for going right ahead and slamming the door in her face.
---
Back in Ojai, Dani calls Micah and apologizes for worrying him. She just needed a break 'cause she's not ready to get deposed. She sure was ready to PROPOSE, though HEY-O. Anyhoo, Dani doesn't wanna talk to Sophie about the charges, but before Sophie can even take note of this resistance, Dani is already getting defensive about it. Everybody's doing great!
She asks if Sophie can undo the past month but Sophie says nope, however she will always be there for Dani.
"You meant a lot to me, Dani. You still do," Sophie says. "I wish you believed that." She does, of course, of course she believes that. It doesn't change any of the other stuff, but she'd never doubt that.
But then she reaches out to Sophie's face, and Sophie leans into her palm, and Dani pulls her in, and they kiss, and she is sad and the world is fucked up and this is familiar and hot and distracting and therefore here we are, of course, of course we are here.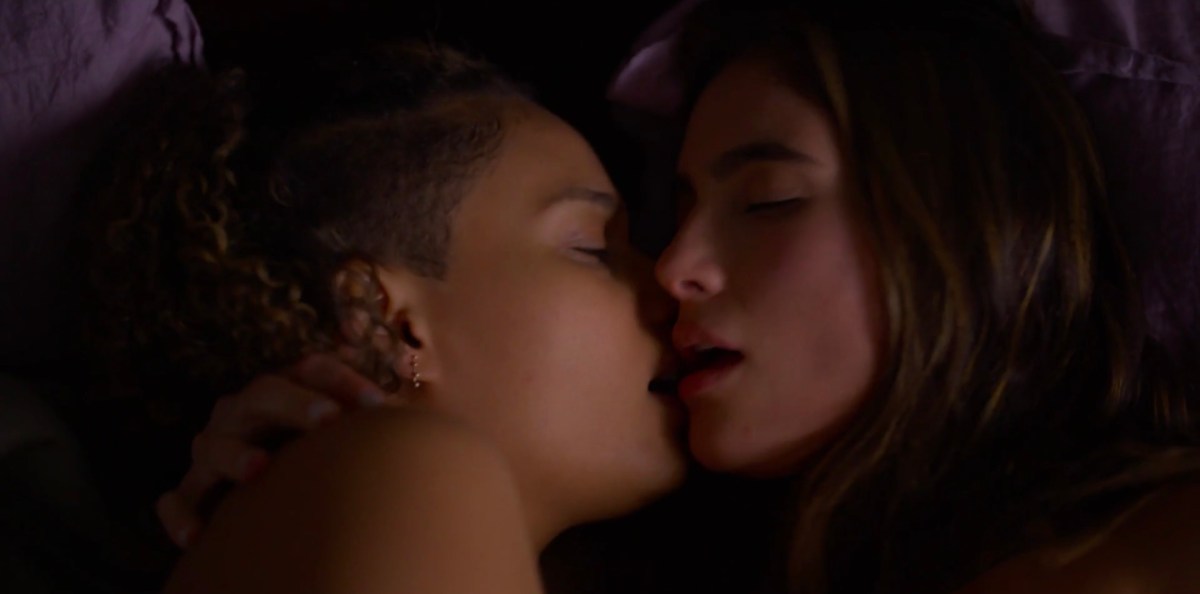 Lesbian Sexy Moment #3: Ah, These Old Chestnuts
The Players: Sophie and Dani
The Pick-Up: Sophie's lips on Dani's hand
Hot or Not? Of course! Of course of course! There's a moment, when they're already partially undressed, already in bed, already re-treading all the slopes and angles of each other's familiar bodies when Sophie says "no, wait, we can't," and there is a pause, and Dani says "we can" and she tells Sophie to touch her and she does and we can't see it but we know exactly what she's feeling right, right of course we do, and then she's a goner. They'll be fucking for hours, bless their emotionally self-destructive hearts.
---
Back at the LGBTQIA+ Center, Micah's wrapping up his big work day of having a morning walk with Maribel, visiting Sophie at work, catching up with Dani on the phone and talking to Finley about flowers and her emotions and is ready to finally head out for some social time — specifically that double date with aforementioned lawyer. Alas, Angelica Porter-Kennard is loitering in the lobby because she's kinda going through something.
Micah's ready to hook her up with some resources but Angie needs to talk to someone … like, now? Micah says she can come back in the morning but yannow, Angie's face and her feelings and before he knows it he's getting her signed in for a session.
---
Back at the Dana Fairbanks Memorial Tavern, Shane's puzzled by a projector when Tess texts to say she won't make it back in time for movie night.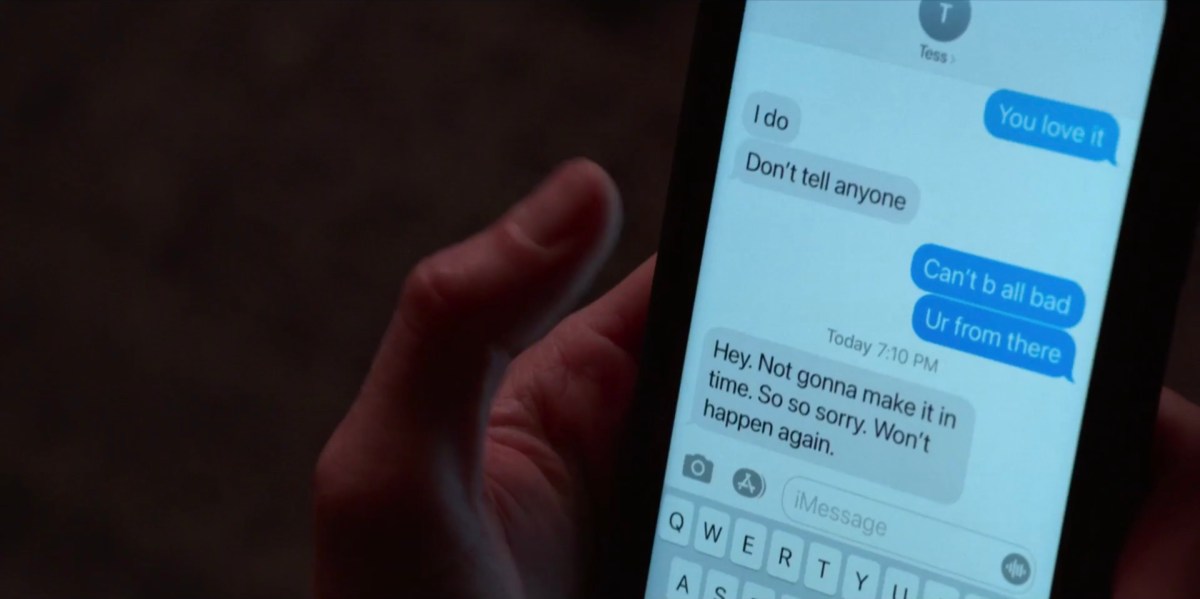 It's ok because also Finley was definitely part of the plan they recounted earlier this morning and absolutely was not actually on the schedule because as we know she has other plans! Listen, we can all have movie night at home you know?
---
It is now past nightfall and Pippa emerges from her studio to find that Bette Porter is still lurking outside in her coat like a total creep!
Once again we have a Yale Art School Tale, in this one Bette recalls Pippa's art changing her on a molecular level and inspiring her to change her major to Art History. She drove to NYC during finals to see Pippa's first post-grad show and she was there at the opening of the first museum show at the Studio Museum of Harlem and she protested when Pippa got dropped from the Whitney Biennial and also Pippa's op-ed made her WEEP and she NEVER let go of the fantasy that Pippa was tucked away in a mountain living off the land awaiting this very moment. Pippa is like okay fine, you can come into my art cave.
Bette enters the art cave and her soul leaves her body.
Pippa: You alright? You gonna need some smelling salts or something?
Bette: Yeah I think so.
Pippa: Will wine work?
Bette: Dinner would be better.
Pippa: I will not be manipulated by you.
Bette: It's just dinner.
WELL PLAYED, PORTER.
---
I was deeply dreading the scene where Finley would sit alone at the restaurant in her outfit with her flowers waiting for a Sophie who would never arrive. The scene where the server would stop by and gently ask if she wants to order and Finley would naively reply that Sophie would be there soon, any minute now, and then eventually order a glass of wine, and the server would wince to herself, and hours would pass, and more glasses of wine would be ordered and consumed, and guests would come and go, and eventually it would be just Finley alone in the restaurant at the table, drunk and lonely, and the server would give her a sympathetic facial expression, and Finley would say "I guess something must have come up," and the server would nod and slip her the bill. And the flowers would sit, un-smelled, across from her. And I would die inside.
LUCKILY we are saved from that scene because Sophie simply calls Finley and tells her she's in Ojai doing some work and asks for a rain check.
While the rain check comforts me — it means Sophie's not putting her eggs in Dani's basket despite their recent ovary-bumping activities — not telling Finley the truth about why she's in Ojai will absolutely backfire. Pretty sure Micah's gonna blow Sophie's cover within the next 2-3 hours!
Sophie sets her phone down and gets back into bed with Dani.
---
Pages: 1 2 3See entire article on one page