Few articles of clothing make me more nostalgic than the winter coats of my past. It's never the first snow that signals the official start of winter for me, but the first time I don my heavy coat; I know that soon enough, it will come to feel like a second layer of skin. While at this point most of my outerwear has been given to cousins or a neighbor down the street or a drive at the church (in my family, coats get passed down so much that it's as if they live forever), old photos remind me of how various coats corresponded with significant moments in my life.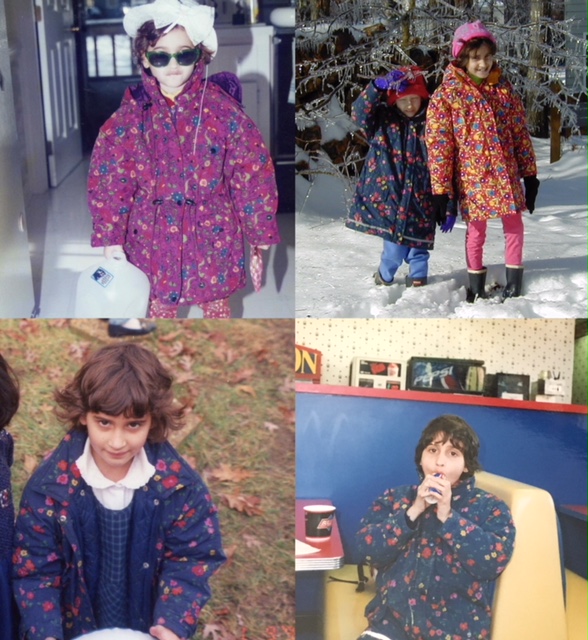 First, there was the loud, magenta Hanna Andersson number (the first of many) with a high collar and hood that swallowed me right up in its swirling floral pattern. Paired with colorful leggings, those jackets made me look like a tiny flower garden against the Virginia snow. In those jackets, I could never hide. I matched with my younger sister, who wore the floral patterns with more confidence, even at a young age.

After that phase, I tried on different looks and different personalities in rapid succession, unsure of who I was, grasping for a consistent aesthetic I could use to define myself. There was the first winter coat that I picked out—a navy blue and bright green ski jacket nothing like the jacket my sister chose, which made her look like a decorative bauble. Mine was tomboyish and prioritized utility over style. It clashed with everything, and my mother hated it.
I, on the other hand, loved it. It was my first statement piece.

There was the series of wool coats throughout high school. A camel-colored one that I thought made me look serious and writerly but was, in retrospect, a little too broad in the shoulders, as if I was playing dress-up. Which, in a way, I was. A thrifted dark green wool coat with a hood. A green plaid trench-style one I wore until holes appeared at its seams and its faux leather belt disappeared.
I wore these coats while brainstorming my latest NaNoWriMo project, while canvassing for Obama, while grappling with my confusing crush on a fellow campaign intern. She wore a plain black North Face fleece every day and went to a private all-girls school where she was on the field hockey team. In my attempts to talk to her, I was met with monosyllabic replies, and it took me a while to realize that she wasn't indifferently cool but just boring. We lost touch almost as soon as the campaign ended.
The wool coats are the only winter coats of my past I still have, and they fit me better now than they did then. I grew into them.

There was the long, puffy purple coat I picked out to bring to college in Michigan, where the importance of such a garment grew exponentially. My purple coat and I seemed fused during those four years; it was hideous and I didn't care, because it was warm and had big pockets and a hood that covered my entire forehead. Even in the newsroom where I worked on the student-run daily paper, it hung on the back of my chair, still enveloping me, always there. I was wearing the purple coat when I came out to three of my closest friends on three separate occasions, my mouth muffled by the high collar, my eyes peeping out from just under the hood.
After college, I came out to the rest of my friends in a stand-up show. I stopped dating girls in secret and started saying "I'm a lesbian" out loud. I still wore the purple coat, but I no longer shrunk myself into it. It got me through four years in Ann Arbor, sat in my trunk for a six-month stint in Los Angeles, and then became my number one companion again in Chicago.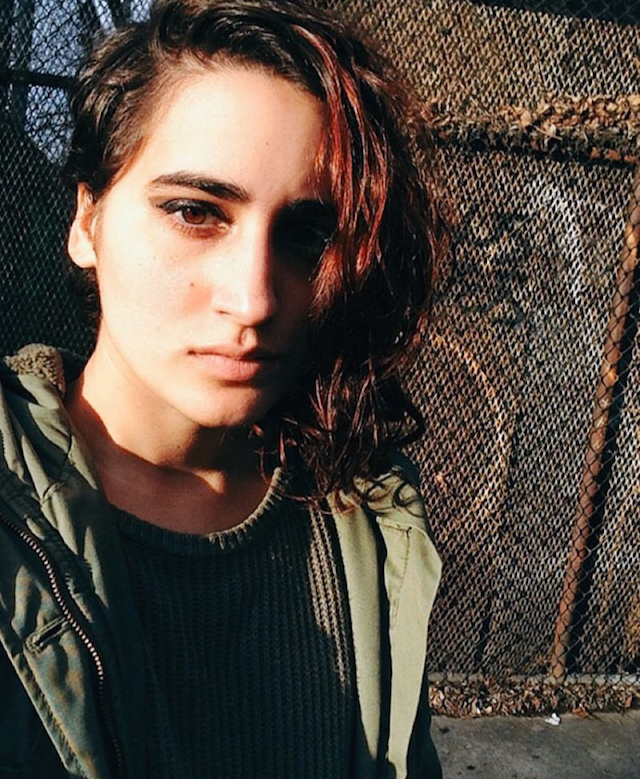 But when I moved to New York to be with my girlfriend, I gave the purple coat away; I was starting over in more ways than one, and it just felt too much like a past version of myself. I started wearing the dark green oversized field coat that she'd replaced with something new, and since relegated to the back of her closet.
I'd relocated with no money and no real plan, so reclaiming someone else's faded winter jacket was a practical call—but also, because it belonged to someone I love, it felt like the right call. The first stretch of our relationship had been long-distance, and we used to count time meticulously and live life a little detached; but now here I was, wearing her winter coat every day, a part of her now a part of me.