Previously on The Fosters, Stef got cancer and handled it in the most Stef way possible, which was: to not talk about it and pretend it wasn't happening and to focus instead on dealing out justice to all the people in the world who'd every hurt her babies, starting with arresting Ty. Mariana joined Brandon's Romeo and Juliet rock opera. Callie got into accidental cahoots with a foster care advocacy bad seed. Jude felt sad about Connor. Grandma Annie decided to stay for a while. And Jesus couldn't figure out which end of a hammer you're supposed to hit stuff with, so he went off searching for his birth dad.
Stef and Lena are at the doctor talking about the specifics of Stef's mastectomy. And bravo to these writers for not shying away from showing an anatomically correct breast on TV and for talking about the physical details of having this kind of massive, intensive surgery and the process of reconstruction. Lena's taking in every word, but Stef's staring at anything besides the doctor — picture frames, knicknacks, piggybanks — and imagining herself swimming naked in a kid-free pool on a cancer-free Sunday. When the doctor asks if she has any questions, she says, "Nope." And that is also what she says when she gets home and her mom is ready to discuss her cancer with the whole family. She wants to wait until the surgery is scheduled to tell the kids and honestly she's not worried about them finding out on accident because at least once person has been standing in this kitchen hooting "CANCER!" for the last 72 hours.
The main problem with giving a TV lesbian cancer is it almost universally leads to that TV lesbian dying, and because the trope that has hurt us the most over the years is Bury Your Gays, there's no way to praise a cancer storyline, no matter how well it's written and no matter how true to life it is. But since The Fosters is obviously not going to kill Stef, I feel okay saying how beautifully I think this show is handling her story, especially the part where she and Lena grapple with it as a couple. This episode was so real it made me feel sick (in a good way).
Anyway, they don't have time to dwell on the cancer. For one thing, Callie had some time before school today to stop by jail and talk to AJ, but he has not included her on his allowed-t0-visit list, so Callie pulls a Brandon and storms home and blames Stef for being Cop Stef and not Mom Stef (as if either of those things are extricable from her identity!). And then it gets worse because Mariana comes clomping downstairs and asks Lena if she's having an affair with Monty, because guess what? Everyone on Twitter's saying it's true and shipping it and there's totally a flash animation of Lena and Monty bumping up on each other. Lena says no! Don't be ridiculous! And her phone rings and it's Monty and Stef's eyeballs almost roll right out of her head and onto the floor and out the door and down the street and into the sea.
Mariana's gonna stop this Lena/Monty hashtag with a whole other hashtag, and tag her hate on Tumblr.
Also before school, because I guess she wakes up at like 3:00 am, Callie is having a meeting with the duplicitous foster care advocate who's name I can't remember. Let's stay on theme and call her Ms. Polonius. She tells Callie not to worry that people are being moderated very strictly on Fost and Found, it's for their own good, the internet can get real mean, and anyway, if it weren't for her superior team of moderators, that rumor about Callie would still be posted in the forum. The one about how she slept with her foster brother. And, you know, just by the way, it's not like they're cross-referencing the California foster care address database with the IP addresses used by kids who post on Fost and Found to match-up usernames with foster kids and monitor everything they say, buuuuut they know someone was masquerading as AJ and catfishing Callie and that person was using Jude's computer in this very house. So, like, just this once they're doing that thing she says they're not doing.
Ms. Polonius is t-r-o-u-b-l-e.
Callie doesn't register that, though. She rages upstairs to find Jack on Jude's computer and she rips into him about faking his identity. Jack doesn't want Jude to know because he wants to be Jude's friend. One reason is because Jude is the best human on the planet and being his best friend would be like getting loved by a human puppy. And another reason is the older dudes in his group home are beating the shit out of him. He's actually bleeding from his ribs, and when Callie pulls up his shirt to see what the fuck is going on there, she also discovers that he's covered in bruises. Obviously Jude wants to go straight to Stef with this information, but Callie's still reeling about AJ, so she leads Jack right into the mouth of the beast! She makes him tell Ms. Polonius!
Ms. Polonius says she'll "take care" of "this little brat" for good "this time." Callie wants to know what she means by that, but Ms. Polonius tells her not to worry about it; it's just a thing grown-ups say.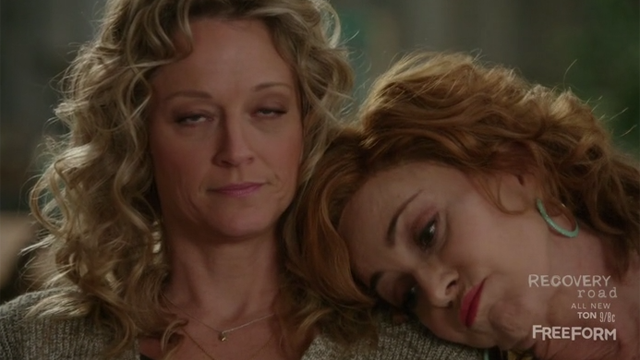 Once the kids and Lena are at school, Stef tells Grandma Annie she wants her to have power of attorney, in case things go all the way to the worst, like if this were The L Word and Dana got cancer at the beginning of an episode and died at the end of it, or like how that happened to Naomi and in Skins Fire, or—nope. Nope. Calm. I'm calm. I am a talented, brilliant musk ox. I am a poetic noble land mermaid. The moods of my life will not be dictated to me by reckless, callous, simpleminded television writers. The story is alive inside my mind and I deserve to bask in its untarnished rightness. Skins Fire never happened. Skins Fire never happened. I am a glowing sun goddess. Skins Fire never happened.
Right.
So.
Grandma Annie tells Stef it's not going to come to that, but she's happy Stef trusts her with this thing. Mostly, though, Stef is not dying and it's going to be okay. Also she tells Stef stop Stefing everything and pushing Lena away when she needs her the most.
Anchor Beach is full of its usual dramas. Mat and Mariana are falling in love again doing their play. Jesus' new reckless friend is falling in love with Mariana too, in between doing donuts in the school parking lot and getting sentenced to clean the entire parking lot with a sponge. (Mariana's head of the Wizengamot now!) And Jude is still forlorn and alone because Connor is still a million miles away.
Monty whirls into Lena's office to see if she saw that hilarious meme about them going around social media today, and Lena loses her mind, snapping that Monty better not have been the one who sent the original tweet; and then breaking down and crying about how Stef is sick and she's going to need some time off, at least a week probably. At least a week. Monty's face falls and she says Lena can take all the time she needs, and the way she slumps back down the hall, it's kind of like she thought maybe Lena would really love her one day. Like maybe if Stef hadn't gotten cancer, she and Lena had a chance. Oh, Monty. I love you, girl, but stop.
When Lena gets home, Grandma Annie says not to worry about how Stef is giving her power of attorney, because if anything comes up, they'll just work through it together, and anyway, it's not like they're having a competition for Stef's love. I mean. Lena knew that right? About the power of attorney? Because Stef said she was going to go to Anchor Beach and tell Lena about it at lunch, and it's after lunch and Lena's home, so she knew, right?
Actually, no. She did not not. But she pretends she did. She zips upstairs to confront Stef about it, but Stef's just lying in the bed and staring at the ceiling and saying that she wants to be alone. Stefanie! Listen to your mother!
Lena finds her later, sitting at the kitchen table, "getting her affairs in order," and also kind of making a grumpy face. Lena makes a grumpy face back at her. Why didn't Stef tell her about the power of attorney thing? Well, she was going to, but when she came by Lena's office, she was in there with Monty with the door closed. Stef knows nothing's going on with them, she really does, but she's got all these insecurities about how maybe Lena's not going to find her attractive anymore and maybe even fall out of love with her, after the mastectomy, and if Monty's there and still crushing on Lena, I mean? What's gonna happen then?
Now here's the best thing about Romeo and Juliet: When Romeo starts up with his bullshit outside Juliet's window, she tells him she's not interested in inconsequential moon-swearing and Petrarchan sonnets. It's rote. It's a template. It's love by numbers. Juliet wants to be loved in a way that's not quantifiable. It's silly to think she and Romeo get there, all ten minutes they spent together before they murdered each other, but it's a wonderful sentiment and, ironically, it's exactly what mature love looks like. Childish love is a checklist of things a person is or does, or ways they make you feel. Mature love is the alchemy of the life you build together. If I tell you I treasure my partner's intellect and sharp wit and gentle way with animals, and you bring me a girl who's smarter and funnier and even more gentle with animals, am I going to leave my partner for her? No. Don't be ridiculous. She is more than the things I can count. We are our the undefinable, unexplainable magic of the life we've made together.
That's what Lena tells Stef. All the quantifiable reasons she loves her, and all the unmeasurable ways she loves her. She asks what she can do for Stef and Stef jokes that Lena can take her swimming.
After school, Jude and Callie take Jack to meet up with Ms. Polonius and his arm's broken now. Brandon goes to work and plays the piano and orders a Shirley Temple and tries to make out with the surfing bartender. When she says "it's complicated," she means it, though: She's got a two-year-old. Jesus works on building that house with his dad, and then confesses to his dad that he's his dad, and then runs right out of there when his dad is like, "You better run right out of here; I am literally legally not allowed to see you." (Mariana finds him in the sex offender registry later. I'm guessing Ana was underage when she got pregnant?) And Callie vists Ty in jail, since AJ won't see her, and tells him to release his stranglehold on his brother so he can be with a foster family who can take care of him until Ty gets out of here.
Finally, at home, Lena and Stef and Grandma Annie sit the kids down and tell them about Stef's cancer. They're stunned. And terrified. They group hug and go to their rooms and stare out the windows and pray. Except for Callie and Mariana. They curl up under the same blanket like sisters do and look up cancer treatments together on the internet. They want to know what's happening. They want to know what they can do.
Lena, though. She takes Stef swimming. They break into a neighbor's backyard and goad each other into skinny dipping, and it's slow-mo water cuddles and chlorine caresses, and it's wonderful and it's perfect. Back at home, they have sex, like Grandma Annie told them to do. Sweet and slow and familiar, familiar, familiar. So earned. So real. So right. Everyone of the tears I cried about it, so deserved.
Suck on that, Bill Shakespeare.
Next week: I don't care. I'm going to rewatch this scene a hundred times, until all my cries have been cried.
Pages: 1 2See entire article on one page