Previously on The Fosters, Stef's stage zero cancer morphed into for-sure-gettin'-it cancer, which she found out through the United States Postal Service, while Lena and Grandma Annie battled it out about what she should do, surgery-wise. Stef's main distraction from thinking about TV lesbians and their doom-filled cancer storylines was to chase down Ty and A.J. and arrest the former for stealing a car and smashing into her kids; except for the brothers skipped town to keep that from happening. Brandon made a list of reasons Callie was keeping him from reaching his True Potential, realized Romeo had suffered the same tragic fate at the slutty hands of Juliet, and decided to write a rock opera about it. Mariana's girlfriends continued to fight for her love as she campaigned for junior class president. And Jude felt a moment of sweet relief when Grandma Annie reassured him that LDR making out is the best making out, like the three perfect days of every year's spring.
Stef and Lena have not yet told their children that Stef has cancer, and instead of doing that right now this morning, they just yell about it so loud the kitchen ceiling almost falls in on them again. Same old: Grandma Annie wants Stef to have a double mastectomy to wipe out any chance of the cancer reaching a critical stage, and Lena wants Stef to take a more cautious, level-headed approach. Also in on this conversation are Mike and Grandma Annie's boyfriend. And the UPS guy. And the gardener. And two random folks who were walking down the sidewalk and heard the ruckus. And Stef's old college roommate. And that lesbian plumber. And Anna. And the recruiter from Wrestling Academy. Connor's dad is there. Monty. Mr. Mansplainy, the teacher Lena fired last year. It's a parade of strangers, and no Foster Adams kids, all weighing in on Stef's cancer treatment options.
Stef tells Grandma Annie it's time for her to go on her RV trip with her boyfriend, and then she gets down to the business of filling out an online form to get an arrest warrant for Ty and A.J. Mike thinks they should just arrest Ty, but Stef says A.J.'s aiding and abetting, and Mike says he agrees but if this were a situation involving Brandon, Stef would do a Pretty Little Liars-style evidence bonfire to keep him out of trouble.
Mariana can't decide what to wear for election day and no one is being any help. Callie's on her laptop chatting frantically with A.J. through the Fost and Found portal; Jesus and his giant rambunctious friend are ducking and dodging and diving all around with Nerf guns and knocking shit over and casually chatting about the whereabouts of Jesus and Mariana's birth father; Brandon is in his room picking out all the parts of Romeo and Juliet that prove what a B Juliet was; and Jude is whimpering lonely-like in the corner of his bedroom. Despite her frustrations with being ignored, Mariana pauses to help Callie track the IP address of the guy claiming to be A.J. It's weird because he's supposed to be in Arizona, but this ping is coming from inside the house here in San Diego.
Ana stops by for a visit with one of Jesus and Mariana's cousins, and this girl is a world class meddler. First she tries to get Jesus to hook back up with Lexi. Then she tries to get Ana to hook back up with Mike. Then she corners Jesus and sneaky-whispers in his ear the geographical coordinates of his birth father, who, by the way, she just happened to overhear someone say that this guy was one time Ana's boyfriend and also he works for her dad.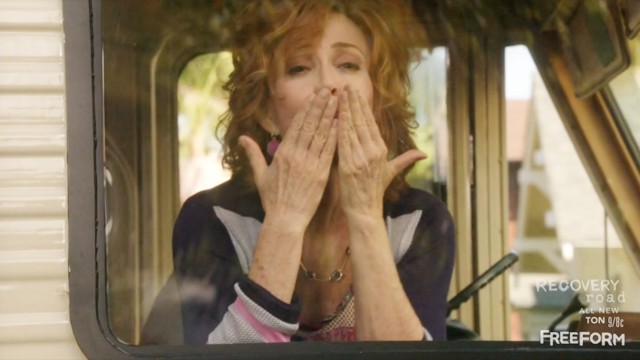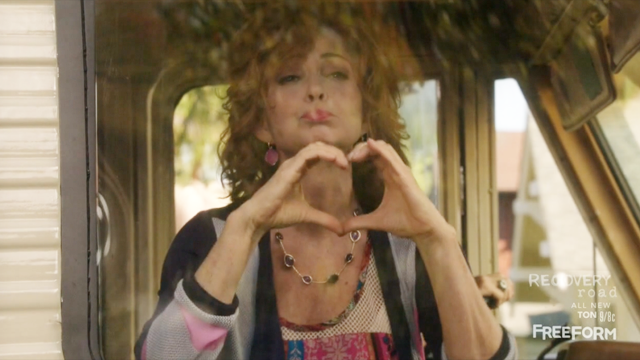 Out on the lawn, Grandma Annie gives a glorious goodbye performance, walking slowly toward her RV and monologuing about how much she loves them all and wouldn't miss seeing them through all their hard times for all the gold in the world, just as long as she could be sure she was wanted in their space, that she was treasured and loved as much as she treasured and loved. She gets into the RV and smooshes her face against the window and waves and does kisses to the glass and makes heart shapes with her hands — but then the RV won't start. I laughed. I really laughed. This show doesn't make me giggle a lot, but that was a brilliantly acted and edited scene.
Pages: 1 2See entire article on one page