Back inside.
Mike: So it turns out my foster kid, A.J., his brother is the one who smashed into y'all and nearly killed you to death.
Ana: Oh wow, that's a—
Brandon [creepin']: What did you just say?
Mike: You heard me whispering that just now but did not hear the brass band playing a song about your mom's cancer earlier? Sure, that checks out.
Brandon: Listen, don't be too hard on A.J. I'd honestly be in the same position as him if it weren't for the fact that I'm a straight white guy whose parents are both cops.
Mike: Are you … checking your own privilege?
Brandon: Don't worry, I'll use this information later by lording it over Callie's head to fuel my feelings of superiority in every way.
Mike: Oh okay, good. Still Brandon, then!
It's election day at Anchor Beach. After canvassing tirelessly and even handing out homemade buttons (I want one of those buttons!), Mariana loses the election to Lexi, after all. She consoles herself by trying out for Brandon and Mat's rock opera. The first audition is for Talya and she sounds good, like a Disney channel star. Hang on, I want to tell you some lyrics to this song. They're so gloriously teenagery and exactly the kind of takeaway a 17-year-old would have of Romeo and Juliet. Okay: This love would be great, but they say it would be wrong! I don't care 'cause I'd be lost without you! We live because we love, we love 'cause we belong, oh, I swear, you heal the scars and never fail to wound! 
One thing I love about this show is how really, really right it gets teenage romance. It does feel that overwrought and fatal and profound. I still remember what it feels like and I am a hundred thousand years old.
Anyway, Mariana auditions next and she's better than Talya. Mat shoots her down, but Brandon chooses her, and so Mat acquiesces. Mariana's gonna be Mat's Juliet, and whooo wee, Emma will not be happy about this! I'm picturing her training for the track team and listening to the Indigo Girls' cover of Dire Straits Romeo and Juliet on her iPod and huffing and puffing and shouting into the wind.
After school, Callie goes to meet up with A.J. on the sly in a coffee shop, but he doesn't show. Instead that guy who fired her at the foster care resource center, he's there and telling her how great Fost and Found is and he's so proud of her and blah blah blah. Callie's not trying to hear it. She jets out onto the street to look for A.J., but he's definitely not there. He calls her when she gets home, though, and explains about being in Arizona. Then how come his IP address is in San Diego? He doesn't know what she's talking about. He hasn't been chatting her on Fost and Found at all.
Callie does right and tells Stef about A.J. being in Arizona. She gives her the number of the landline A.J. called from, and so Stef whooshes off into the night to go arrest everyone who ever hurt one of her kids. As she's zipping out the door, Brandon's over there in the corner clucking his tongue about how he knows more and better than Callie, for now and for always, and she is 16 going on 17, and he is 17 going on 18, and she needs someone older and wiser telling her what to do. She's like, "What the fuck are you even talking about?" And he tells her about the stolen car and the accident and Jesus having to get a new head and all that because of A.J.'s brother.
Meanwhile, Jude is trying to make friends with that kid Jack who accosted Callie a couple of weeks ago when she was giving her speech on Fost and Found and ripped into her about how she hadn't completely dismantled the foster care system and rebuilt it as an adoption utopia. Jude doesn't like him because he's "too weird." See, and Callie thinks that's kind of rude. Just because he doesn't blink when he plays video games for a hundred hours at a time and falls asleep in Stef and Lena's bed, those things don't make him unlovable. But what Jude is having trouble articulating is that his unicorn senses are telling him something's off about this guy, in an "I want to wear Callie's skin as my own skin" kind of way.
And in fact that is exactly what he wants. After Stef goes to Arizona and arrests Ty (and tells A.J. she knows he was just hanging out with his brother and had no idea Ty was wanted on felony charges, so don't say otherwise!), Callie gets a new message on Fost and Found from "A.J." and actually it is Jack, hanging out in Jude's room, weirding him out while Jude tries to figure out how to love him.
While all of this is going on, Jesus wanders down to the construction site where his dad is working and gets a job assisting him with building a house. What ultimately made him decide to do it was Grandma Annie's boyfriend asked him to pass him a screwdriver and Jesus couldn't identify such a thing in the tool box. When he thought about it more, he realized he didn't know how to shave or drive a car or grill a hunk of meet or drink a Coors Light. He can't do a single one of those things men are always doing in NFL commercials!
And Stef. Stef, Stef, Stef. She teleports home from Arizona and finally tells Lena that she got a letter in the mail the other day with cancer in it and now she's infected and she thinks that Grandma Annie is probably right and she should have that double mastectomy. She tells Grandma Annie that too, sitting on the steps of her RV, and asks her not to go. And she doesn't. Because she's a mama bear's mama bear and she was never going leave anyway.
Next week: I'd normally try to make up something funny, but I don't need to today because this is for real what's happening next week.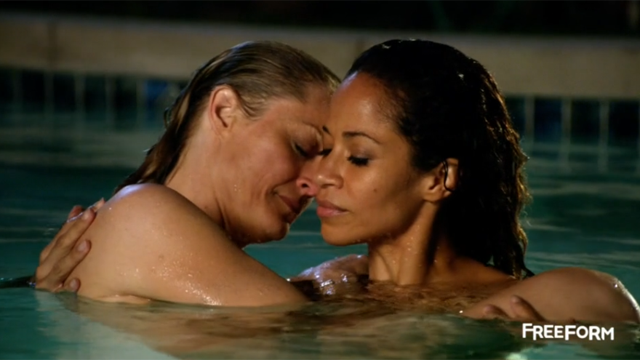 Pages: 1 2See entire article on one page