It's only Tuesday and it has already been a week for queer women on TV. You can read my full recap of The Fosters right here and an in-depth analysis of Jane the Virgin's season two queerness here. Last night, New Girl revealed that Cece is bisexual and has had a past relationship with Megan Fox, and we'll have a piece up about that (and how it relates to How to Get Away With Murder and The 100) first thing tomorrow morning. In the meantime, let's talk about all the other gay TV shenanigans, including Clarke and Lexa and their eternal love.
---
Younger
Wednesdays on TV Land at 10:00 p.m.
It was one of my least favorite kind of Younger episodes this week: All Liza and Josh, and no Maggie or Kelsey or Diana. Actually, Maggie did show up for a hot second, look super fetching in her lounging robe, to advise Liza not to go to New Jersey. Liza did not listen to her. She and Josh went to meet some of Liza's old friends and she accidentally got high and I accidentally looked up a thing on Urban Dictionary I wish I'd never even heard of. One and a half stars. Needs more Maggie and Lauren.
---
Arrow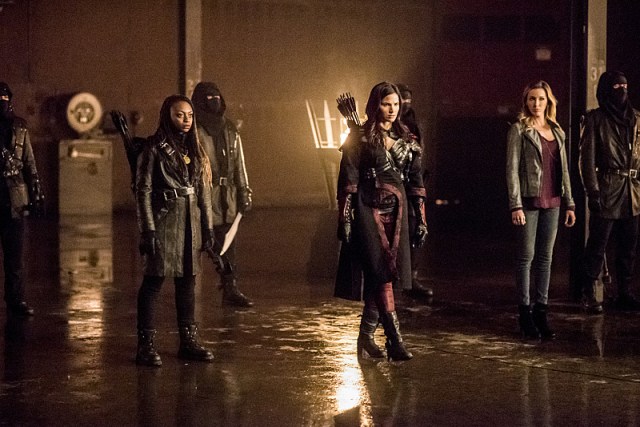 Wednesdays on The CW at 8:00 p.m.
Nyssa was back on Arrow this week! She broke free from her jail cell at League of Assassins HQ and activated a bunch of sleeper agents and murdered a bunch of butt heads, and then she be-bopped on down to Starling City to make a little deal with Oliver. You know how both she and Sara were came back to life from the Lazarus Pit? Well, Sara was resurrected like a whole bloodthirsty person but Thea was resurrected as a half bloodthirsty person and now she's dying again. Nyssa's got the cure and she's willing to give it to him, for the bargain price of him murdering Merlyn.
Oh! And also she met and hung out with Katana for a little bit. Maybe they'll fall in love.
---
Top Chef
Thursdays on Top Chef at 10:00 p.m.
Last week's Top Chef was part one of Restaurant Wars. Karen was a team captain and her first choice was Marjorie, duh, and their strategy was to serve two delicious meals and let The Bros self-destruct on each other. It was a good plan. Marjorie was the front of the house for the lunch seating (which took place during episode one), and her only misstep was the first time she wasn't at the hostess table was when the judges showed up. But also she did an awesome trick to get people to move from their tables so she could seat the second round of guests, by asking them to follow her away from their tables for a free glass of champagne. That trick also works on kittens with Whiskas Temptations when they won't get off the bookshelf! My girlfriend clapped and giggled like a child when Marjorie said, "I like control." Because when a woman says that it's awesome because they're going to get called a bitch for it and they do it anyway (and a man never has to say he likes control because of course he does and he almost always has it).
For her dish for lunch, Karen makes an Asian-marinated flank-steak that the judges thought was delicious and gutsy. Marjorie shut down all the clunky suggestions Isaac made for lunch and turned out a beet salad that was pretty okay, but maybe a little uninspired.
The Bros, as I mentioned, imploded in a cacophony of egos. It was beautiful.
And it was to be continued.
---
The 100
Thursdays on The CW at 9:00 p.m.
Written by Karly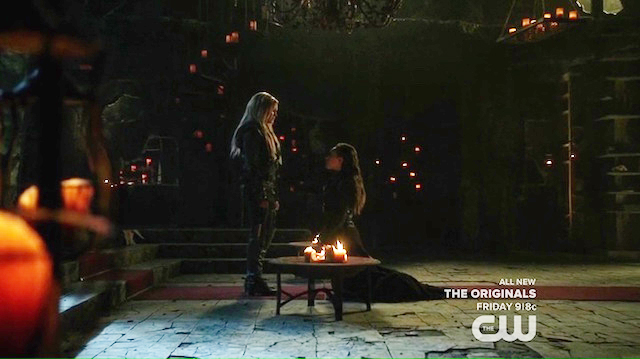 This was the best episode so far of the season and perhaps of the series. A week has passed since Clarke vowed to kill Lexa and she's been stewing on her anger since. She's pacing in her sweet prison aka very comfortable bedroom and Lexa enters and gives her a proposition: get the Sky People to join the coalition as the 13th clan and they'll be safe. All she has to do is bow before Lexa. Clarke refuses because she knows that Lexa only wants Clarke to bow before her as a sign of strength, not unity. "Go float yourself" Clarke says. Lexa hopes this is a maybe.
Kane and Abby have gone to Polis for this Summit to negotiate a treaty with Lexa for long-lasting peace. Kane has grown a gray wisdom beard, or that's what I imagine it is. He is respectful to the locals, has become fluent in Trigedasleng and all he can focus on is what this peace can mean. Abby is only thinking about getting Clarke home safe, and remarks that Kane should be Chancellor. Fine, but Clarke will always be the leader of SkaiKru.
At Arkadia, Bellamy, Raven and Bellamy's girlfriend, Gina, head up to Mount Weather to work. Farm Station has moved in and they're looking very comfortable. Shortly after Bellamy and Raven get settled, Echo, the girl who was held captive next to Bellamy in Mount Weather, is brought in by Arkadia guards. She says the Summit is a trap and the Ice Nation is going to kill everyone. Pike, leader of Farm Station and inexplicably taking control, decides Bellamy, Octavia and he are going to go to Polis while Raven arms the Mount Weather missiles. Why why why.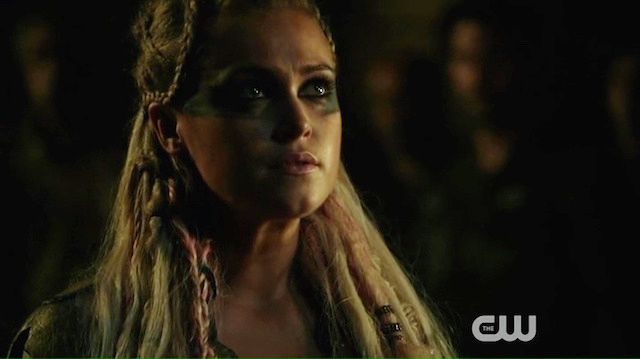 In Polis, Clarke meets the Ice Nation prince, Roan, again. He promises her that if she kills Lexa, Clarke can truly be free. At the same time, Lexa's advisor, Titus, tells Lexa she has to kill Clarke to show the Ice Queen she's strong. First of all, shut up, the both of you guys. Still, Clarke gets Lexa alone and holds a knife to her throat. But her eyes fill with tears and she can't go through with it. Lexa apologizes for probably the first time in her commandership, and does only what she can, she says "I release you." Okay that's from Carol, but that's what how the scene went truly.
Instead, Clarke decides she will join Lexa's coalition as the 13th clan. There's a really formal ceremony in Lexa's tower. Lexa has hired a very beautiful woman to sing and up until that point, I think it's the gayest thing Lexa has ever done. Clarke enters all in Grounder gear, with her face painted and a tattoo on her arm. She kneels before Lexa and the representatives from the 12 clans follow suit. Everything is going according to plan.
Until Pike, Bellamy and Octavia crash the party to save everyone from this "imminent threat." Echo has abandoned them, obviously, because this was a diversion. Echo was actually leading Arkadia's warriors away from Mount Weather, where an Ice Nation assassin has snuck in.
Raven was trying to figure out the missile codes but has a crisis of confidence. Sinclair reassures her like so many dudes have done in the past. Sigh. This tender moments means they completely miss this assassin stabbing Gina a million times and rigging Mount Weather to explode. Raven and Sinclair narrowly escape the bomb and report to Bellamy what has happened. The Ice Nation representative claims responsibility and Lexa has him and Roan arrested. There's general chaos and, dammit, things were going so well.
The Sky People go back to Arkadia to deal with the casualties and secure their borders. Clarke stays behind to be a representative from the 13th clan (and to "make sure Lexa keeps her word" uh huh). Whoever blew up Mount Weather knew the launch codes for their missiles. We find out at the end it's the Guard that was captured by the Sky People in season 2. Asshole.
So Lexa and Clarke are back in the ceremony room, except everyone else has left. Clarke is still a little confrontational when Lexa thanks her for staying in Polis. "If you betray me again…" Clarke warns. But Lexa assures her she will never. Then she kneels in front of a stunned Clarke and says my future wedding vows "I swear fealty to you, Clarke kom SkaiKru. I vow to treat your needs as my own and your people as my people." Clarke reaches out and helps Lexa to her feet and they stand there looking at each other. The way Lexa looks Clarke as she speaks the words, the way she looks away when she touches Clarke's hand, and the way we absolutely know she would never do this for anyone but Clarke still affects me the same way days later. I haven't felt this moved by a scene between two women in a very long time. It's too bad the Ice Queen is intending to kill them both but that's a problem for next Thursday.
---
Legends of Tomorrow
Thursdays on The CW at 8:00 p.m.
I suppose it's not surprising that Sara's getting so much story and screen time in the early episodes of Legends; we did know her for a long time and pitch quite a collective fit when she was murdered on Arrow. This week's episode treads a little bit of old ground, but for the first time on this show. Sara has the bloodlust, remember, from getting resurrected in the Lazarus Pit, and this week it flares up and she almost does a bunch of unnecessary killings. But! She does not, and more even than learning to control her murder desires, she actually convinces Rip that he needs a team and he's gotta stop trying to do everything all by himself and she can help him — they can all help him — if he will just relax and give up a little bit of control and trust them. He decides that is exactly what he will do.
Next week they're going to the '80s, and I honestly cannot wait to see what Sara wears. The period costuming is excellent on this show. So cheesy and so fun.
---
Black Sails
Saturday on Starz at
Well, Max and Anne broke up this week. It was inevitable but also kind of sad. Anne's in love with Max. Max is in love with the island. And also she doesn't know it yet, but Eleanor is thiiiiiis close to reaching Nassau's shores. Anne and Max have a really lovely breakup, though. Max shares a part of her childhood with Anne, about how she was a slave and she saw her father playing with and loving his "legitimate" daughter, and it made her so sad, and now she needs a hundred billion dollars in gold. Probably the sweetest thing Anne has ever done in her life is to tell Max that she trusts her to count out their gold and split it evenly between the two of them. Also it's the saddest thing Anne has ever done.