Illustrations by Rory Midhani
Slice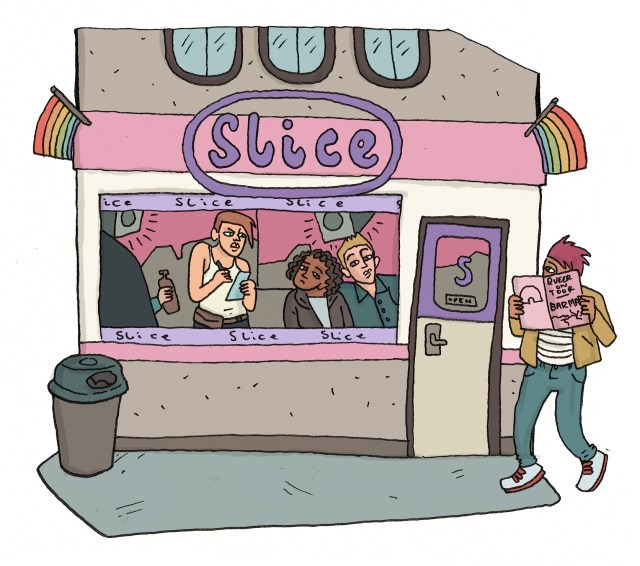 Slice is the number one search result on Google when you move to a new city and look up "lesbian bars (your city)." Slice's aesthetic is a little bit like stepping into a lava lamp. Lots of pink and purple hues, and furniture is maybe floating? The music is so loud that the bartenders are already furious at you for even trying to order a drink. You won't be getting the additional water you ordered, and shame on you for coming here tonight.
---
Liquor Boxx
Here's a moment in my life that continues to break me spiritually: I'm driving with my mom — a virtuous woman — and we're stopped behind a truck at a light with a sticker that reads "Liquor Box." This light? This light is so long. So long that both of us take the time to let our eyes wonder, train them on the sticker, ponder it silently, and unsatisfied with how our internal monologues are interpreting its meaning, begin to repeat it to each other, out loud. "Liquor box," my mom says with the cadence of pouring a cup of tea. "Liquor box," I say, unsure both of the word "liquor" and "box." "Liquor box." "Liquor box." "Liquor boxxxx," my mom hums. My sister-in-law is in the back seat, internally screaming. My mom and I both, "liquor box" one more time, and this one hits for me — and while I will never know, based on the landing I assume for my mom as well — right around the "box" part. The only sound in the car that remains is the clicking of the blinker. This bar is a little like that!
---
Bar Batch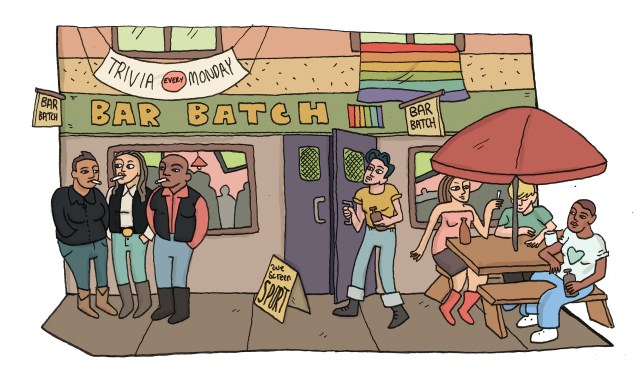 Hey, is the the plural of a butch a batch? It seems like a fun word for a fun group. Bar Batch is where you go when you want to watch 13 different TV screens at the same time, drink appropriately priced drinks, and attempt an almost impossible night of trivia. Bartenders and servers call you "baby" and it feels right.
---
The Lounge Lounge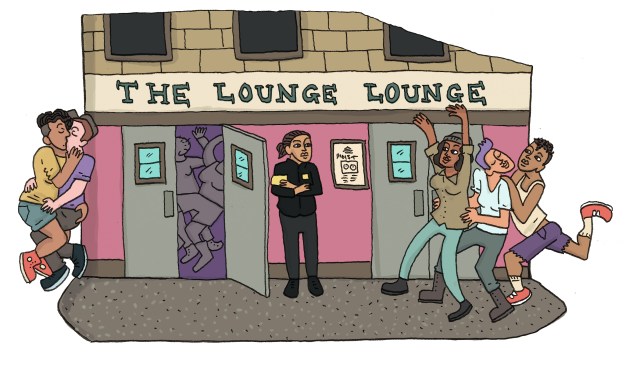 I don't know what it is about lounges that validate the gay experience, but we do love a lounge. There's one here in Nashville called — of course — The Lipstick Lounge, and there's a permit there that makes it illegal to dance if both feet aren't on the ground. Good thing I already dance with the Lord in my heart! The Lounge Lounge allows dancing of all kinds and it even has a room upstairs that'll turn a blind eye to whatever you might do upstairs at a bar!
---
Yearn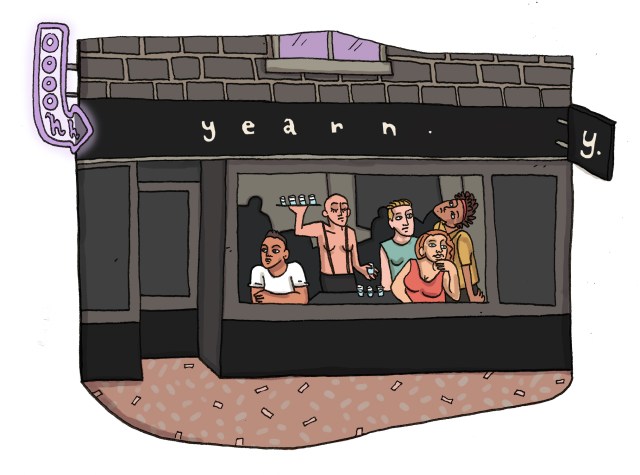 Yearn is honestly a little too much. Yearn is the bar equivalent of Marina's voice on Jenny's voicemail that one time when she's like, "Jenny. I was just… thinking about you." Marina! Just trying to get a couple drinks here. Yearn has a bunch of sex music on, the same music you might hear in a Hilton after hours lobby, and yet no one is dancing or talking. Even friends that came together are just silently sitting around a table.
---
Moist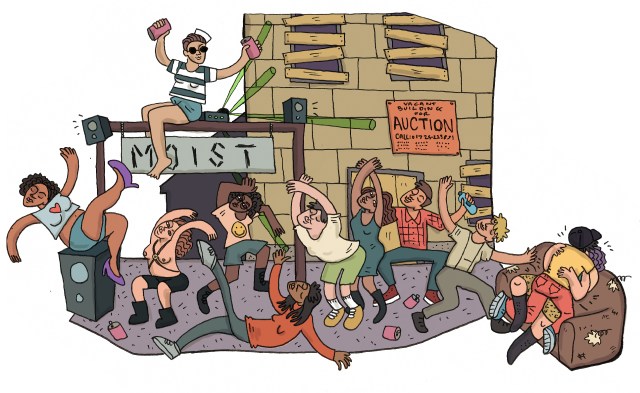 Moist has become the most popular queer night even though literally every single person besides me hates their name. These tongue in cheek go-getters leave no triangle design unturned. Triangles are everywhere. Do other shapes exist? Interesting thought, but no. The location changes each month and progressively building codes become less and less an issue. Eventually there's one Moist event where you look around and you realize you've all broken into a vacant home.
---
Now you too can make your lesbian bar dreams come true with this paper play set! Print it out and create your own.