Zach escorts Mariana to her locker and there is a little white door taped to it with a question mark. When she opens it, there is a picture of Zach in there. His mom thought it was a charming way of asking her out. It's starting to feel like Mariana might be checking in to the Bates Motel.
Brandon asks Callie to meet him after school at his dad's and she says she'll come over after group. Over the PA system, they announced the nominees for the Winter Ball King and Queen and Callie is one of them. People laugh at her as she walks through the halls. She tells Wyatt that she was nominated as a joke and he tells her to own it and she asks for a ride to group. He says his car was towed and then Wyatt does what very few characters on this show do — he tells Callie the whole truth. That he came from Indiana thinking he could stay with a friend but couldn't and has been sleeping in his car.
Brandon is at Mike's playing the piano and singing about being an outlaw and how love is his crime. That song is his crime but he doesn't want to hear that from me…or anyone. Callie texts and says she can't make it.
Callie asks Daphne to take in Wyatt for a couple of days and she agrees. Meanwhile, Callie has dinner with the Fosters at the Great Lesbian Kitchen. She mentions the ball and says she's not going and Stef says she should because the principal didn't give a good report to her parole officer. They talk about getting teased and and Lena says she was called "Oreo" because she was biracial and after coming out, she was called, "Klondyke bar." Stef laughs and Lena stares at her until she says, "It's not funny. It's mean. It's very mean." Lena says she brought 100 Klondyke bars to school and passed them out and that, "Sometimes the best way to fight back is to rise above." I actually agree with that and give the same advice to my children though I wouldn't fork out the cash for them to take 100 Klondyke bars to school. If they get teased, I hope they get called "Bite-sized Snickers" or "Laffy Taffy."
At Metropolis, Clark Kent works hard on a news story for the Daily Planet. I wish but no. Jesus watches Emma and her date. Wyatt is serving punch and thanks Callie for helping him get the job so he can get his car out of impound. Lena explains the voting to Amanda and then asks Brandon to ask Callie to dance so the principal will think Callie's participating. Why is Principal Sanchez such a hater? Brandon asks Callie to dance and she leaves her purse on the table so we know something is going to happen with that. People laugh at her as they walk to the dance floor.
Meanwhile, a bunch of guys are getting drunk in the bathroom and then toast, "To Callie Jacob." I really don't like where this is going and there better not be another Social Issue Bingo surprise coming up.
Mariana and Zach dance and Amanda cuts in. She tells Zach, "I know what's going on. I'm not a fool. I know you're screwing her." She then says he's flaunting it in front of their friends and she starts crying and says, "I won't be humiliated!" and walks off.
Callie tells Brandon she's tired of being judged and he tells her he's tired of being there for her every time she needs a should to cry on. This is Brandon at his most selfish, self-absorbed and sullen and I want Dani to poison him or lock him in a tower or something. He tells her he's still in love with her and she says, "I'm gonna be your sister. If you're not really my brother, then Stef and Lena aren't really my mothers." She says she needs a family, not a piece of paper. She walks off and he follows and asks her to tell him something to help him get over her which is totally her job. She tells him she slept with Wyatt.
They call the Queen and King nominees to the stage. Mariana and Zach look for Amanda.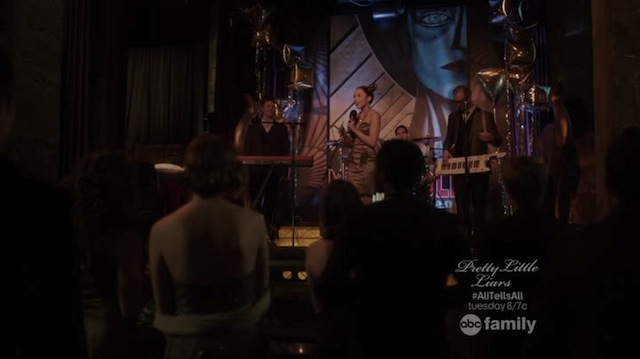 They announce the winners and it's Vico for King and Callie for Queen. When a reporter from the Daily Planet asks how it feels to win, Vico says, "Awesome" and Callie says, "I'm going to Disney Land!" No, she is gracious and sweet even as she sets her jaw.
Talya takes Principal Sanchez to the bathroom where there are a bunch of drunk girls and one of them says, Callie bought the alcohol so they'd vote for her for Queen.
Lena and Callie are talking to the principal and Stef arrives. Callie insists she's being set up.
Emma is making out with her date and he's getting a little too handsy and Jesus swoops in like Superman and pushes him against a wall and Emma gets mad and tells him to stay away from her.
Mariana and Zach find Amanda on the waterfront and ask if she's ok. She says she's fine. Zach says, "Let's go home." She says, "Home? I'm sorry. Do I know you?" They need to get her in for a full assessment because there is something seriously wrong — psychosis or dementia or both or something else.
The principal finds the fake ID in Callie's purse and her phone has texts to other students saying there is alcohol in the bathroom. Brandon confronts Vico and then Wyatt intervenes and tells Brandon to do something. Brandon swoops into the interrogation like Superman 2 and says he set Callie up to get back at her for hurting him but had a change of heart. He says, "I realized tonight you didn't lead me on. You just never felt the same way I did. It was all in my head." The police officer asks Stef what she wants him to do and she says, "Arrest him." As they take him to the car, Callie runs after him and says she never slept with Wyatt. Just when I thought she was taking a stand.
Stef and Mike meet the car at the station and Mike says the officers don't want to deal with the paperwork.
Digression 6: My stepfather was a detective with the Kansas City Police Department and I once got a speeding ticket and my mom called and asked me to come over to her house (I lived with my dad). I drove over there walked in to find my stepfather chatting with the police officer that had given me the speeding ticket. I was mortified. Having a parent who is a cop is weird. It has its perks but they come with a little bit of shame.
They get into the back of the car and ask Brandon what he's done and he tells the whole truth and nothing but the truth. He tells them about the piano money and the fake ID's and Dani's loan and Vico's revenge and finally, Anna. Season 2: The Fosters in Prison. 
Best Line: Callie, "If you're not really my brother, then Stef and Lena aren't really my mothers." Reality check delivered.
Really?: Dani encouraging Brandon to do Callie in Mike's apartment. Dani, Dani, Dani – I think you'll be getting yours soon.
Pages: 1 2See entire article on one page