Exciting news! For the second week in a row, The Walking Dead has delivered us a queer lady character.
Meet Alisha, played by Juliana Harkavy.
Before the apocalypse, Alisha was in the Army reserves. Now she wields an M4 and helps make strategic decisions for the camp. If we had any more backstory on the character, this is the point where I'd give it. But as far as I can tell, Alisha's sole purpose is to up queer visibility on the show, by dating Tara and doing cute, couple-y things in the backgrounds.
We have to fully appreciate every moment of this queer pairing while also, unfortunately, readying ourselves for one or both of them to become zombie breakfast. That's just the nature of the show. Fact.
Here are my five favorite moments of Tara and Alisha!
1. Tara and Alisha flirt at the nurse's station. Alisha: "You always this full of shit?" Tara: "Yes I am."
2. Tara and Alisha get drunk at dinner. Tara: "For the first time in a long time, I'm shitfaced." Alisha: "You wanna get outta here?" Tara: "Yeah."
3. Tara and Alisha cuddle in bed.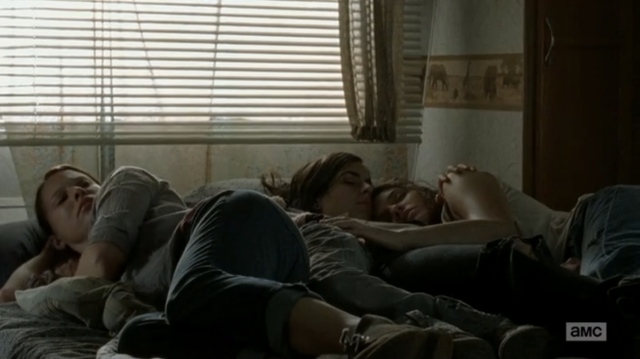 4. Tara lights Alisha's cigarette.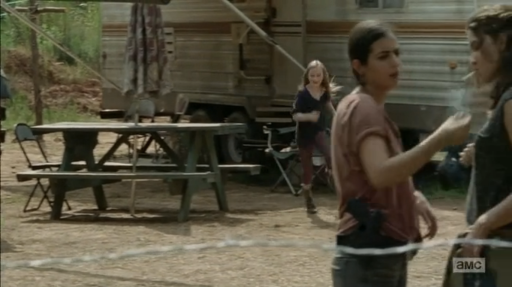 5. Alisha comforts Tara after a walker attack.
Cute, right? Do you think this is going to be like Pretty Little Liars, where each episode is a fibonacci sequence of visible queer women? And everyone is a little bit gay by the end? Or is this just wishful thinking?
Shh, don't crush my dreams. I'm basking.