The next morning, Callie is in the kitchen making biscuits and gravy. She is kneading the dough as Brandon enters and she kneads it while they talk and I make biscuits often and I can tell you that she has already overworked that dough. She tells him that biscuits and gravy is comfort food and her mom used to make it and he asks how she ended up in the system. She says her father was driving while drunk and hit another car. Her mom died as did the people in the other car and her father went to prison for manslaughter. Damn. Now I need biscuits and gravy. Wyatt looks through the window and sees Brandon standing close to Callie and then he knocks on the door and enters. He brought donuts!
Digression 4: My notes say "Phone rings – taking mom into sugary." That is the power of donuts.
Everybody is in the waiting room. Wyatt and Callie leave to "get some air."
Digression 5: I use that phrase too but I find it as odd as those gas station signs that say "Free Air." It's air. It's everywhere. You can get it in the house. You can get it with a mouse. You can get it in a box. You can get it with a fox.
Jude moves to sit by Lena and hold her hand. It should be sweet but there is just something about the way the actor acts that gives me a weird vibe. How's that for a critical analysis of technique?
The Captain motions for Tennille to join her in the hallway to sing Love Will Keep Us Together. Actually, she tells Mike that he and Stef may be suspended for a day or two for not calling for back up but there will be no other consequences. Then, she confronts him about his drinking and he says he hasn't had a drink on the job and she tells him that his after hours drinking is affecting his job performance. He says, "I'll take care of it." That's that that! All better.
With that, we get a flashback with Mike. He is sitting at a coffee shop and Stef comes over and he gets up and kisses her and she makes an uncomfortable "ew" face that he doesn't see. He says the separation has been good and he realizes that he hasn't been present and he is willing to try counseling and she says, "Counseling can't fix what's wrong with us." BECAUSE SHE'S GAY. I wish she'd said carpet muncher because that would have gone better with my magical carpet ride theme. She says it's taken her awhile to accept it and say it and he asks her why she's saying it now and she says, "Because I met someone."
The flashback ends and we find Modern Mike sitting in his car pouring whiskey in his coffee cup.
Wyatt and Callie are sitting outside the hospital getting air and Wyatt accuses Callie of using him. He says that she has feelings for Brandon and he knows that it's against the rules to act on them but she should "Go for it. Be happy." Wyatt should never have an advice column. Callie gives him a kiss on the cheek and goes to find Brandon so that she can carpe diem the hell out of that inappropriate relationship but sees Talya hugging Brandon which throws a monkey wrench in her plans.
Digression 6: I wish the saying was throwing monkeys rather than monkey wrenches. Sounds so much more fun! Let's make it happen.
Callie goes back to the waiting room and they all sit around doing nothing when they could be figuring out how to get past level 151 on Candy Crush. For me. The Fosters are so selfish with their waiting room time. The doctor comes in and tells them they got all the fragments and then everyone hugs. When Mike hugs Brandon, Brandon smells liquor on his breath.
Lena enters Stef's room and kisses her on the forehead and we get another flashback.
Stef is leaning against a car wearing some serious mom jeans. Lena comes over and says, "I'm not doing this. I'm not getting involved with a married woman." She goes on to say something like "You're just passing through gay town but I own a condo here and I grow my own tomatoes for gayzpacho." Stef says, "I told Mike and I told my dad and I told most of my friends. I told them I'm gay. I even used the word lesbian." Lena stares blankly at Stef and I think she's trying to figure out if those mom jeans are also acid washed. Stef gives the hard sell, "I told them I met the woman I can't live without. I belong with you Lena." More staring. Stef adds nervously, "If you'll have me…" and Lena wakes from her acid washed trance and says, "You had me at lesbian."
Back in real time, Stef starts to wake and Lena says, "Don't talk" and Stef takes off her oxygen masks and says, "Will you marry me?" Lena says, "I thought you'd never ask." Stef says, "Neither did I." Neither did Gretchen the bitchy ex.
Marianna is outside sucking up all the free air she can get and Lena sits down next to her. She tells Marianna that she understood why she went behind their backs, that she knows that Marianna wanted a relationship with her mother – not a supervised visit. She says that she doesn't understand why their mom chose drugs over them and adds, "All I know is we chose you and you chose us. DNA doesn't make a family. Love does. We love you and that is never going to change." Love makes a family. The bumper sticker moment of this episode.
Mike's getting a bottled water because he hates the earth and the Captain tells him the police picked up Ana and Ana claims she was there at the time of the shooting. She is a possible witness and now they have to take her statement.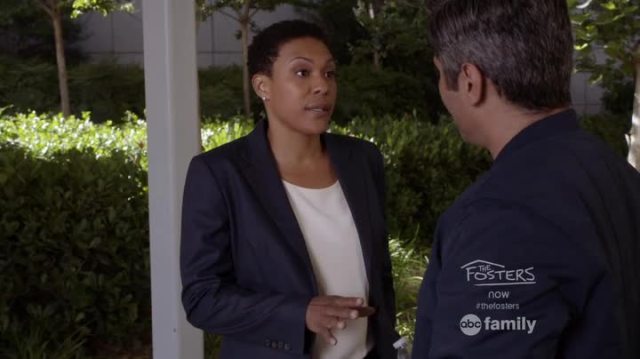 Brandon confronts Mike about drinking while Stef was in surgery and says it's alcoholic behavior. Brandon is right and would be a better advice columnist than Wyatt. Brandon tries to walk away but Mike grabs his arm and Brandon pushes him away. Lena walks in just at that moment and Brandon says to Mike, "I'm done with you." Brandon goes one way. Mike goes another way. I wonder who will pay for those expensive piano lessons now.
Lena is leaving the hospital with the kids and sees the police leading Ana into the hospital to identify her boyfriend's body. Lena marches over and says, "If you ever go near my kids again, it's the last thing you'll do." It's always good to threaten someone's life with two police officers as witnesses.
Mike visits Stef and she tells him it wasn't his fault. He says, "Wish it had been me." And Stef says, "Me too." Even with a Lorax, Stef is funny! Mike tells her that Ana saw the shooting and says "It was a clean shoot" for the 67th time this episode. You know what happens when they make declarations on this show.
We then get our closing musical montage. All the Fosters and fosters are in their rooms. Marianna crawls into bed with Lena. Jesus crumples up the brochure from the women's shelter. Jude looks at an old family picture. Mike walks down a hall and into an AA meeting. Stef lies in her bed alone and flashes back to the shooting.
I had to watch the flashback of the shooting six times to understand what happened and why Stef looked so concerned. I know that getting shot is troubling but there was something else. So, here's what I pieced together from the shooting:
Stef entered the room and the guy shot her. He dropped his gun and it discharged when it hit the floor. That was the second shot. This means that the greasy guy was unarmed when Mike entered and shot him three times.
I am not a police officer but this was not a clean shoot.
p.s. While I was writing this, they announced that The Fosters was picked up for a second season that will start in January 2014.
Overall impression: This may be an unpopular opinion but I thought the episode was more melodramatic than dramatic.
Favorite line: "Are you guys brother and sister or is this your wife?" ~ Flashback Stef
Really? Did they have to do that?: Brandon and Callie. Callie and Brandon. It's happening, y'all.
---
Before you go!
It takes funding to keep this publication by and for queer women and trans people of all genders running every day. We will never put our site behind a paywall because we know how important it is to keep Autostraddle free. But that means we rely on the support of our A+ Members.
Still, 99.9% of our readers are not members.
A+ membership starts at just $4/month.
If you're able to, will you join A+ and keep Autostraddle here and working for everyone?
Join A+
Pages: 1 2See entire article on one page