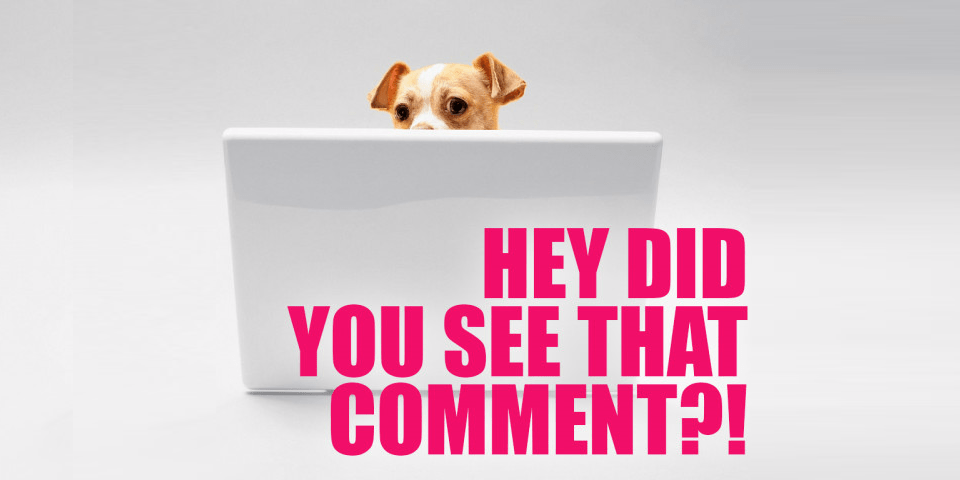 Good morning, shamrocks! We're got just a few days left to celebrate Autostraddle's 13th birthday with a membership or donation! For my 13th birthday, I had a party where I received eight (8) identical gift sets from Bath and Body Works, my friends and I sang along to Chumbawamba, and my goth friend gave my Christian friend a whole entire makeover, complete with black eyeliner, a black velvet top from my closet, and a choker. How did YOU celebrate 13?
This week, Carmen would like to know: have you considered 90s Angelina Jolie?
Much like my actual adolescence, 13 Going on 30 was…kinda gay, actually.
Another spring, another set of crafts Vanessa didn't try during the winter but will probably definitely get to next year!
Oh WOW, this resonated: Being or Becoming Real.
Em helped a reader who can't quite find their vibe.
Yashwina spoke to Melissa Febos about her new book, Bodywork. This was so good!!!
There has never been a better time to join A+, because you! Too! Could set up the brackets for Autostraddle's March Madness!
Hahaha oh wow pals we are so gay: The Gayest Things You Did at 13. This list will give me life FOREVER.
And then there were your comments!
---
On Have You Considered… Angelina Jolie in the 90s?
The Geocities, Gia Cities Award to Brandi:
On The 30 Gayest Things About the Supposedly Straight Rom-Com "13 Going On 30":
The 30, Flirty and…Isolating Award to Em:
On Crafts I Intended To Try This Winter but Now It's Almost Spring so I Guess I'll Put Them Off for Another Year:
The Mostly Dead Things Award to Sollemnia and Iarran mé:
@queergirl Comment award! I can't decide whether it should be the "That Escalated Quicklywp_postsfor "And most of all: taxidermywp_postsor the "A Girl Can Dreamwp_postsfor "someday I'm gonna be a sexy spinster with a house full of ethically sourced dead ravens AND NO ONE CAN STOP ME.wp_postsEither way, Sollemnia, I don't know you but I love you." width="747" height="324" srcset="https://www.autostraddle.com/wp-content/uploads/2022/03/Screen-Shot-2022-03-17-at-10.47.37-AM.png?w=747 747w, https://www.autostraddle.com/wp-content/uploads/2022/03/Screen-Shot-2022-03-17-at-10.47.37-AM.png?w=640 640w" sizes="(max-width: 747px) 100vw, 747px" />
On "Astrid & Lilly Save the Worldwp_postsand Crush on Girls:
The I Feel Seen Award to Sasha:

On Melissa Febos on "Body Work,wp_postsMedieval Women, and First Drafts:
The Mystics, Avengers and Nuns, Oh My Award to Gina and Iarran mé:
On No Filter: "What Is Ashley Benson Doing Right Now?wp_postsIs Something I Wonder Often:
The Better to Have Loved and Lost Award to vavavoom: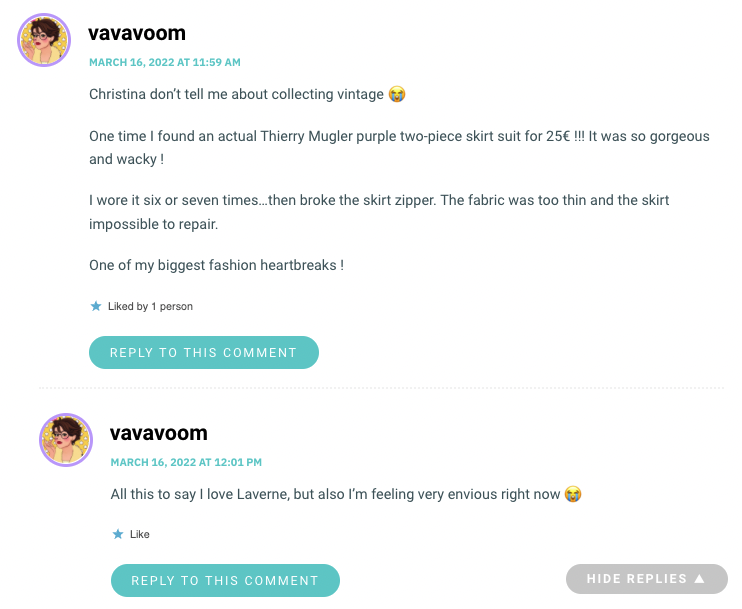 And on The Gayest Things You Did at 13:
The Bosom Friends Award to Ally and Phibley: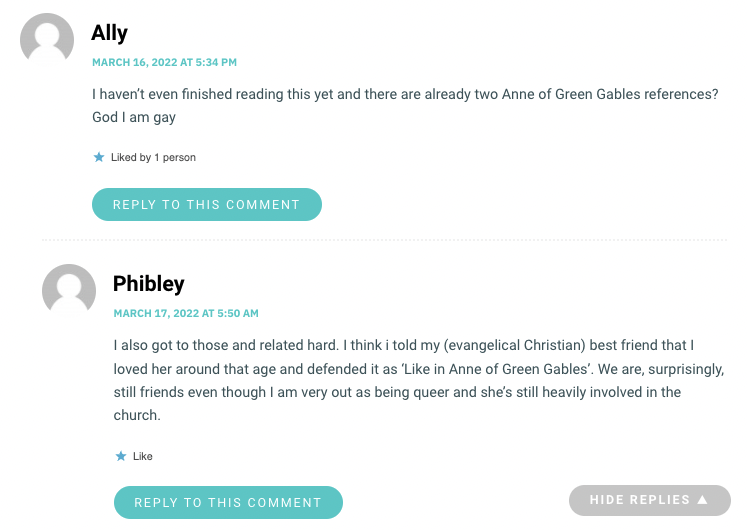 ---
See a comment that needs to be here? Let me know! Tag me [at] queergirl.