Hello! I finished She-Ra last night, and… holy heart of Etheria, the tears I shed! I AM SO GLAD THAT KIDS TODAY HAVE GAY CARTOONS TO WATCH. I'm so glad that WE have gay cartoons to watch! Also: what am I gonna do now that it's over?!
This week, Allie wrote a perfect thing: The Four Robots You Meet in Quarantine.
The team talked about what they wish they'd known before having sex for the first time – these are important!
Bailey introduced us to the creators of CuTie.BIPoC Fest, who spoke about the incredible importance of non-white queer spaces (and the illustrations! are! everything!).
Christina helped out a person whose friend really needs to see a therapist.
This was astounding: Anatomy Of A Mango: Skin.
Isabella spoke to A. Andrews about their new book, A Quick and Easy Guide to Sex and Disibility. I am so excited for this book, pals!
And finally, if you're not an A+ member yet, you're probably going to want to become one, because the team just got VERY vulnerable and honest in the latest A+ roundtable!
Then there were your comments!
---
On Things I Read That I Love #311: As If I Were a Train and the Last Page Was Anna Karenina:
The Olivia Cruise Award to Sally:
On Pop Culture Fix: Javicia Leslie Brings the Bat Girl Magic: 
The Negotiations Award to shamblebot: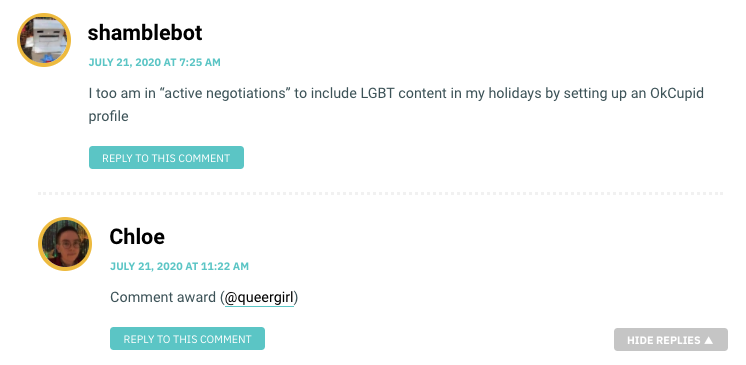 The Sex Dreams Award to Mathilde:

On No Filter: Kate Moennig's Dapper Dog Hates Her New Boots:
The Alice Pieszecki Bisexual Award to thatottergirl:

The Moth to Flame Award to The Cherub:

On Pop Culture Fix: Cameron Esposito and Glennon Doyle Nickname LA's NWSL Team "The Lesbians":
The What About The Elevators Award to Caitlin: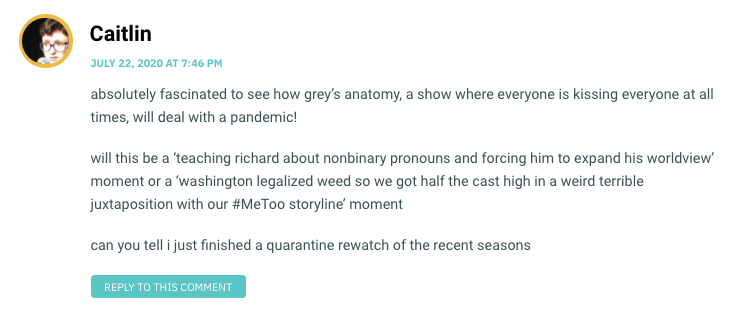 And on My Top Ten Television Shows: Christina Tucker, Who Loves Hangout Comedies and White Women Going Off:
The A Plus Plus Award to Catherine:

---
See a comment that needs to be here? Tag me! I'm [at] queergirl.