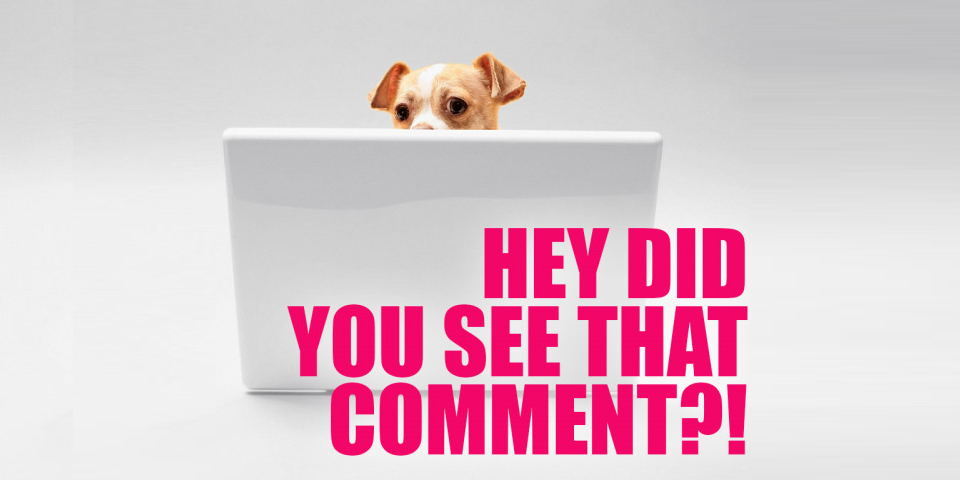 Hi, friends! I'm baking snickerdoodles as I write this, and the smell wafting from the oven smells like cinnamon and love. Hey: I'm so glad we're part of the same Straddler family! If you need something to do today that is NOT interacting with weird family members, or if you're hiding in a warehouse somewhere and taking a breather from Black Friday madness, you can always hang out with us! I will never stop being thankful for that – and for you. Also, don't forget to alternate glasses of water with your drink of choice!
This week, Kaelyn wrote about ways to combat activist burnout.
The team shared their own personal Ring of Keys moments.
Vanessa wants us to meet up for the Holigays!
Well, this is EXTREMELY EXCITING: Please Welcome Our New Autostraddle Associate Editor, Dr. Carmen Phillips! Love you, CP!
Look, I know we all want some lesbian Hallmark Christmas movies, but in the meantime, Molly's got some queer holiday romance novels that will do us just fine.
Home for the holidays and nowhere to fool around? Reneice has got ya covered.
This makes me so happy: 30 Lesbian, Bisexual and Queer Trans Women Who Make Our Worlds Turn!
And then then there were your comments.
---
On Hulu's "The Bisexual" Is Here to Make Every Queer a Little Uncomfortable:
The Thankful for Autostraddle Award to leep:
On my new obsession, Blobs Get Dressed:
The Goosed Award to Emerson:
On "Supergirl" Episode 406 Recap: The Thanksgiving Debate:
The SuperGayCorp Award to deleted_account:
On How to Have Lesbian Sex While You're Home for the Holidays:
The No Regifting! Award to Sam:

On 30 Lesbian, Bisexual and Queer Trans Women Who Make Our Worlds Turn:
The Listopia Award to Tessa:
On No Filter: Kehlani Is Well On Her Way to Mommidom:
The Stunting Award to Chandra and Blackmar: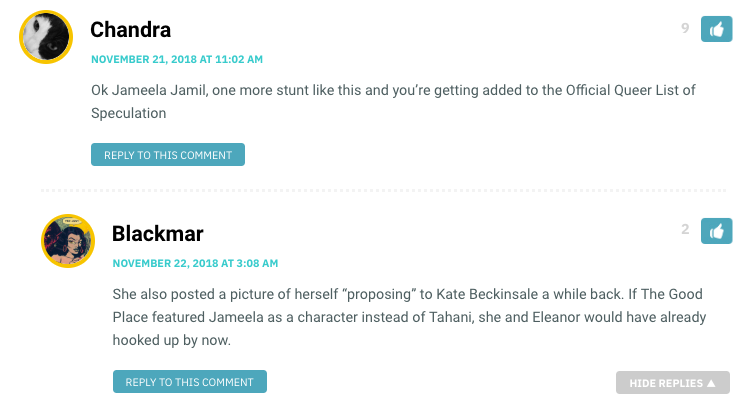 And on Lesbian and Bisexual Women of History Who Were Obsessed With Their Dogs, Part 3:
The Seaside Holiday Award to Heather Hogan and Sally: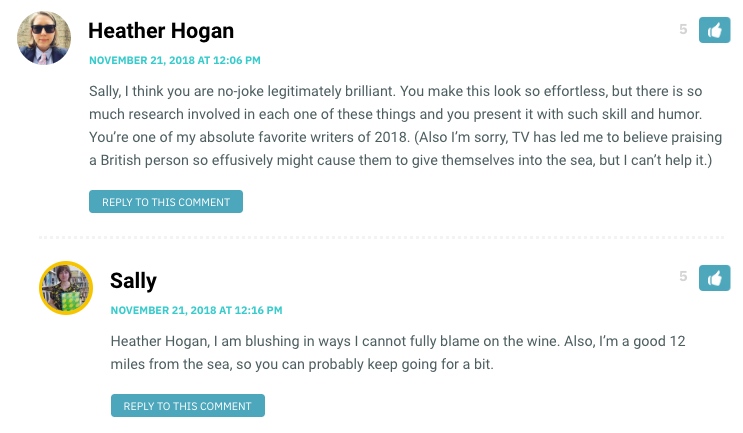 ---
See a comment that needs to be here? E-mail me! Queergirlblogs [at] gmail.com.