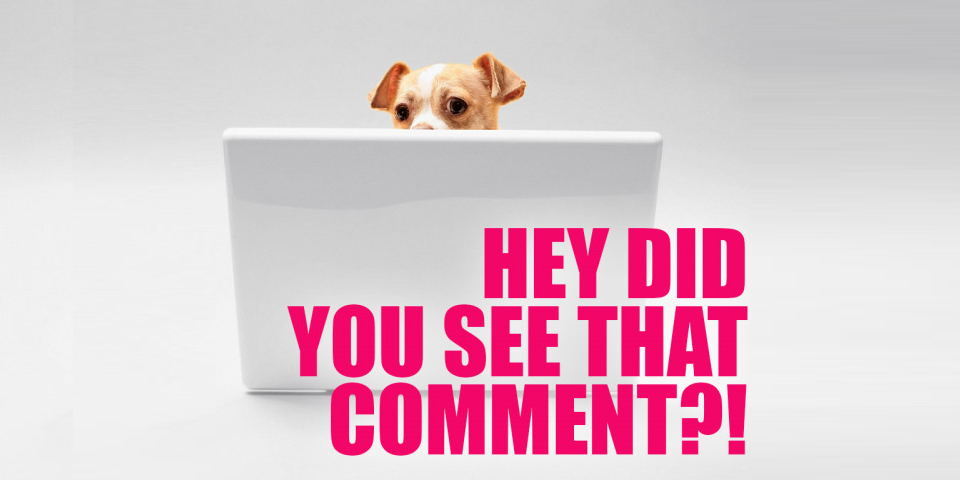 So, it's come to this: 58 days into my shelter-in-place, and there is an itsy-bitsy spider (really and truly) crawling over the other pillow in my bed, and I'm letting her stay. To have some company.
Edit: She left her pillow and came over to me, so I took her outside, because she wasn't observing social distancing. I'm also pretty sure she didn't have a mask.
HOW ARE YOU DOING, FRIENDS?
This week! This week. A week is seven days, did you know? And SO MUCH GOOD Autostraddle content contained therein! Like when Greasebat stayed perfectly on-topic.
KaeLyn wrote about sperm donation and the things we can tell our children, for You Need Help.
You were queer! Right! Here! I love this gallery with all of my heart and soul.
Foolish Child got straight to the heart of all of those corporate marketing e-mails we've gotten lately.
Stef is back, because who else could report this news but her?
THIS ROUNDTABLE WAS EVERYTHING: Six Queer Asian Artists on "The Half of It" and the Future of Queer Asian Cinema.
Xoài profiled Cecilia Chung, one of the mothers of the modern trans movement.
Kayla wants to open a gay club in your living room. Believe me, you want to go to there!
And then there were your comments.
---
The Magic Mic Award to leep and Al: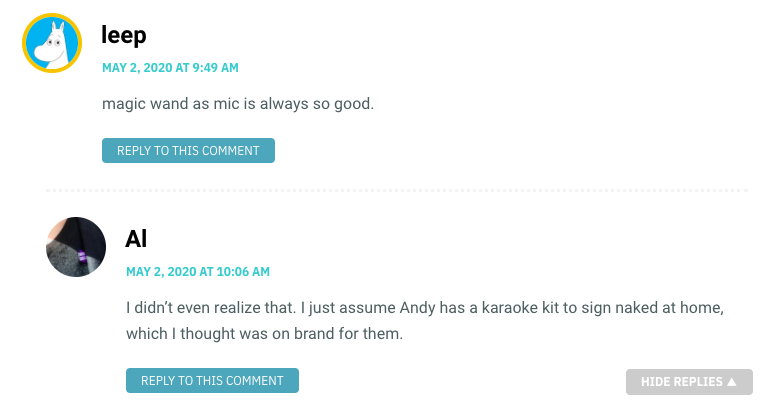 On Sunday Funday Is Making Cocktails in Our Robes With Divas:
The Meryl Award to Dee:
On 10 Simple Kitchen Items I Invested in Now That I Have to Cook Three Meals a Day:
The Macguyvranola Award to Ar Grass:

On Pop Culture Fix: Let's Keep Talking About "The Half Of It" Forever:
The All Good Things Award to hihello:

And the Into Every Generation Award to Sylvia and Amidola:
On Fire In The Belly: Letter From The Editor:
The SuperSoaker's Revenge Award to Riese:

On "Batwoman" Understands Everyone Is Gay in Gotham City:
The You Need Help Award to shamblebot and Deli Twotone: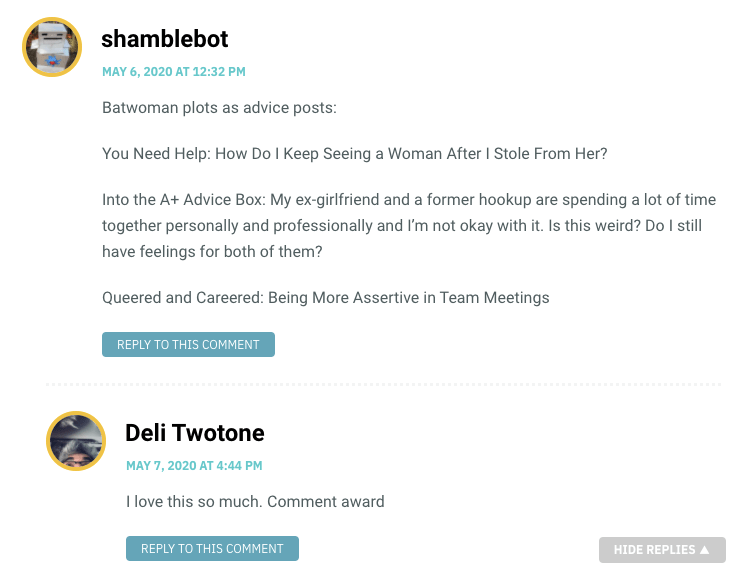 And on BREAKING: Cara Delevingne and Ashley Benson Reportedly Split in Quarantine, Love Remains a Lie:
The For Sale: Sex Bench, Probably Used Award to andeac:

---
See a comment that needs to be here? Tag me! I'm [at] queergirl.