The last words of my father's eulogy were, "Live so that you can see him again." It was a call to Christian salvation, as most Baptist eulogies are. It was also a marker of exclusion for those whose bodies had been coded with "ungodliness." I am one of those. There was a woman in the back pew who had driven eight hours to exorcise my despair, to fill a hotel room with the name of our gods, to remind me that my body was a vessel for feelings other than grief. We were the minority in this building of worshippers who thought my father's new home had a "no gays" policy. So when the pallbearers began to carry his body away, I screamed because the promise wasn't for me. I followed the casket, leaning limply against the brother who'd once said, "Just show me in the Bible where it says homosexuality is ok. Then I'll agree with it."
Two and a half years earlier, my father had reached over my torn body to cut my daughter's umbilical cord and welcome her to the realm of love and loss. While the midwife sewed careful stitches, Papaw gave his granddaughter a first bath so gentle that she forgot to cry. He was her first hello and her first goodbye and I was afraid to tell her anything more than that he'd passed away. She struggled with the abstract phrase for the year and a half it took me to get stuck in traffic with the radio on.
In an interview on NPR, Book of Life director Jorge Gutierrez gave me my "anything more." Gutierrez remembered his first loss as a young boy and his parents' prescription for keeping his friend Mauricio alive: tell his jokes, remember him, talk about him. Years later, he married on Dia de Los Muertos (Day of the Dead) so that his friend could be his Best Man. As I waited for the light to change, Gutierrez shared the trials of making a film that the hypocritical producers of cartoon matricide had dismissed as "too dark." I knew where I would be on opening night.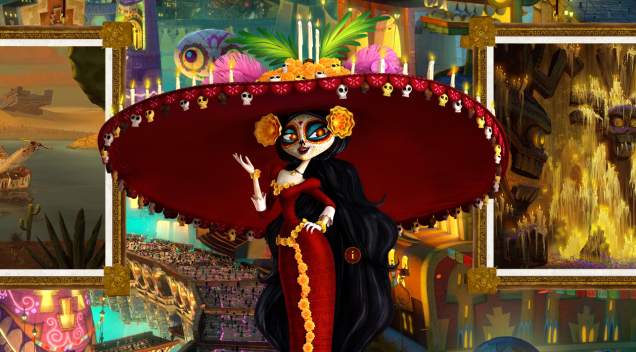 "Why is he a skeleton?" my daughter shout-whispers when the main character, Manolo (Diego Luna), dies. He has enticed the same poisonous snake who killed the love of his life, Maria (Zoe Saldana), to bite him so that the two can be reunited. The Shakespearian lovers are the base of a triangle that includes their best friend Joaquin (Channing Tatum). Joaquin and Manolo predictably fight over Maria's hand, but I forgive the hetero-patriarchal, women-as-capital strain of this storyline because of all the rest. Manolo is a bullfighter who opposes animal slaughter and a musician whose reinterpretation of a Radiohead song is enough reason to buy the soundtrack. Maria, even in 1913, imagines that the world holds more possibilities than marriage, and her girl-power quips rival Anna's in Frozen. Joaquin mimics the classic hero, but his love for both friends eventually transcends the romance plot. Best of all, the rulers over good (The Land of the Remembered) and evil (The Land of the Forgotten) are trickster figures who playfully strip judgment from the idea of afterlife.
Before I can repeat my confusing explanation of death, Manolo is transported to a realm even brighter than the land of the living. The screen goes vivid. The colors pop with more saturated hues, the irises adjust to take in new light, and the music picks up tempo. Manolo doesn't know that Maria has survived her snakebite, so as he reunites with deceased relatives, he enlists their help in his quest to find Maria. When Manolo finds his deceased mother dancing, I try to swallow the grief that sometimes chokes me. After a constellation of plot twists, mother-love, and beautiful music, Maria and Manolo are reunited in the land of love and loss. Their trials are a reminder that happily ever after doesn't end when the heart refuses to beat.
Book of Life posits that my father is in a place more vivid than memory, which is is just a medium between the man who raised me and the man who waits for me in a place beyond time. There he is at the piano, playing "Charlie Brown's Christmas" in a gospel-funk hybrid, keeping time with his left foot. There we are, two-stepping in the kitchen while I stand on his feet to learn the rhythm of swing. There he is in gay heaven, bathed in color, loving us with a passion that only those who have transcended judgment can muster.
My daughter and I drive home from the theater with the radio turned off so she can tell me all her favorite parts of the movie. We are a week from her fourth birthday, the anniversary of that first bath.
"Can we see it again for my birthday tomorrow?" For my daughter, the whole future is a series of tomorrows.
"Maybe," I say. "Do you remember when Papaw surprised us at your second birthday party?" He had flown from Kentucky to Atlanta to make up for the first party he missed from his hospital bed, where he'd knocked on death's door to beg for a little more time.
"I do. He had on a hat."
I suspect that this memory is one she's built around the picture they took together, in which his thin shoulders sag under the weight of his "two already?" granddaughter. My then-girlfriend had spent the entire party in my daughter's room, putting together a ride-on car with eyes that would scare her for a whole year. My father, I suddenly remembered, had pulled me to the side, out of earshot of the other guests. "I hope she's not back there hiding because of me. You love each other. She should be out here. With us."
"He's coming to my birthday party tomorrow, right Mom?" I find my daughter's eyes in the rearview mirror. "He'll be a skeleton, but he will still be there, right?"
"Yes," I say, with a bit more certainty than I'd had the day before. "He wouldn't miss it."