This week's episode of The Bold Type starts off on fertile ground: Kat and Jane show up at Sutton's apartment, hoping to rouse their recently separated friend from her bed. First, they try to lure her with food and the promise of coffee but when that's met by refusal, they open the windows to let in the bright morning light. That doesn't work — Sutton just pulls the blanket tightly against her — and so they move to Plan D: attempting to coax Sutton out of bed with calm, rational arguments. But that doesn't work either so Kat and Jane are forced to take desperate measures: they torture Sutton out of bed with a rendition of the Golden Girls theme song. Before Kat can really get into her groove — both with the singing and the accompanying dance moves — Sutton is out of bed and rushes into the bathroom.
It's hilarious, warm and fun. The relationship between these three young women has always been the show's heart and The Bold Type is at its best when it centers them and their friendship. It feels as close to The Bold Type we all fell in love with than this show has been since Sutton's bachelorette party. But starting the episode that way only makes what comes next — bad storytelling, out-of-character behavior — even more jarring. How is it possible that the writers can, in one moment see the heart of this show so clearly, and then, in the very next, distort the very things that made this show worthwhile?
While Sutton's getting changed, Kat and Jane straighten up their bedroom and talk about their own problems. Jane laments that one of the writers for her vertical, Scott — or as I've taken to calling him, "Budget Penn Badgley" — has admitted that he has feelings for her. She plans on making it very clear that nothing can happen between them which, of course, means that a hook-up between her and Almost Dan Humphrey is definitely going to happen. Kat attempts to broach the topic of her burgeoning relationship with Eva but is met by resistance from Jane right away.
Kat: Since we're talking about "problematic hotties," what do you think of Eva? You have to admit, she's kinda cute, right? In like, a gross kinda way?
Jane: I mean, I can't separate the face from the politics and also, RJ's her dad. For me, you can't be hot enough to get past all that so it's a no for me, dawg.
I should be happy about this, right? Finally, someone's on this show is giving voice to the audience's distaste for this relationship, but still, it grates. It grates because The Bold Type has a habit of having its white women lecture Kat on her progressive values (see also: Jacqueline in "If You Can't Do It With Feeling"), as if they're more likely to be progressive than a bisexual, biracial black queer woman. Beyond that, though, it grates because it's done by Jane…the same Jane Sloan who, two seasons ago, on this very show, complained that a magazine's efforts at making a diverse hire were tantamount to reverse racism. The same Jane Sloan who, two episodes ago, on this very show, said that despite Eva voicing support for hardline immigration, Jane couldn't take her eyes off her. Instead of feeling like an affirmation for my disdain for Kat and Eva's relationship, it feels like The Bold Type is re-emphasizing one of the things that makes the Kat/Eva storyline problematic: diminishing the show's lead black character to bolster the bonafides of its white ones.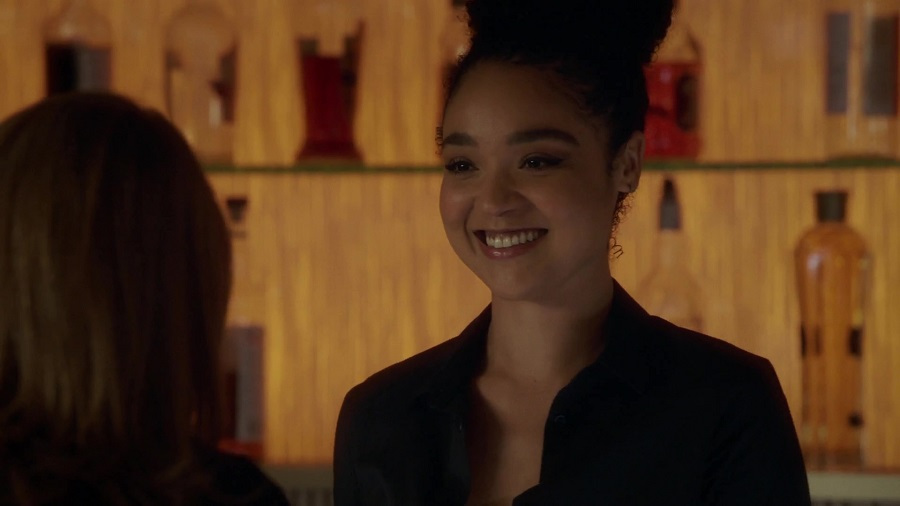 With Jane's criticism still in her head, Kat's a bit awkward when Eva shows up at The Belle later that night. But Eva flirts with Kat across the bar, Kat smiles brightly and the awkwardness recedes. But the next day — the launch day for Kat's new podcast — Kat gets another reminder that Eva's politics are troubling, this time from The Belle's manager. While she's happy that the podcast is gaining traction, she's worried about the blowback from Eva's appearance, both with the "online trolls" and members of The Belle. To mitigate any damage, the manager recommends a course correction: Kat playing host to a DNC operative for the podcast's second episode. During her appearance, the operative takes a few shots at Eva, which Kat doesn't bother to challenge. Later, though, she sees a clip of Eva being put in a similar situation — a television appearance with conservatives who are attacking Kat — and Eva defends Kat's honor.
"Kat wants the world to be a better place and so do I. Now, our way forward may look very different but I don't for one second doubt her intentions and for that she has my respect," Eva says.
I'm going to save you the long rant about how "our way forward may look very different" is a polite euphemism that allows us to pretend like locking kids in cages or subjecting gay kids to conversion therapy and not doing those things are equally worthy of consideration and respect when they are so clearly not. Instead, I wish there was someone in the writers' room who could summon the words of Robert Jones, Jr.: "We can disagree and still love each other unless your disagreement is rooted in my oppression and denial of my humanity and right to exist."
(Okay, maybe you'll get a little rant. But at least it wasn't long!)
The Belle hosts a launch party for Kat's podcast and, though she arrives with Jane on her arm, Kat makes a beeline for Eva the first chance she gets. She admits that she saw the video of Eva's TV appearance and asks if Eva meant everything she said. Eva confesses that she means everything she says which is not at all the comforting moment the show seems to believe it is. Kat admits that she had a similar moment on her podcast but she wasn't as deferential as Eva had been. Kat concedes that Eva's a better person than her (!!) but Eva assures her that not everyone can be perfect all the time. She expresses her support for the podcast and for Kat and the sexual tension simmers between them. As they both bite their bottom lips — the tell-tale sign that something gay is about to happen — Jane spots them across the room and realizes that her friend's relationship with Eva is more than just a connection between a podcast host and her guest.
Kat: I'm so sorry, I wanted to tell you, I just didn't think you would understand.
Jane: You're right, I don't. I mean, Kat, no offense, but she's kind of toxic. I mean, I'm not the only one who thinks that, a lot of people in this room do.
Kat: Like, okay, yes, we have really different views but I feel like I'm learning from her…and there's, like, something about her…and I don't think she's a bad person.
Jane: Look, obviously, you can go out with whoever you want to and I don't have to like them but I don't want you to get hurt.
Kat: Okay, well, I appreciate that…but, I mean, Jane, it just happened, I don't even know if it's going anywhere and if it does, every relationship is complicated. Everything in life is complicated.
Aside from restating my objections to Kat being lectured by Jane Sloan, I wonder what Kat — what the writers of this show — think constitutes a good person? Can someone be good while separating parents from their children and locking those children up in cages? Can someone be good while stealing land from indigenous people and using it for oil? Can someone be good while supporting a disproven science that's caused decades of trauma for gay kids? Eva is not a good person, she is charming, she is beautiful and she has palpable chemistry with Kat, but she's not good. You can't believe in what she believes and also be good…and Kat, of all people, should know that.
Kat does not hear my lament as she spends the next night (day? what is time on this show?) in Eva's bed. She sneaks out in the middle of the night to go back to Jane's. When Eva follows up later with a text, Kat confesses that things between them are too complicated.
If the ending seems a little bizarre to you, given what Kat had just said to Jane, you're right. In fact, that wasn't the original ending. As first reported by Vulture's Madison Malone Kircher, the screener version of this episode — sent out to journalists, including me, in advance of its airing to facilitate recaps and reviews — had Eva questioning whether their relationship was too risky for her and Kat conceded that it was risky for them both. The original version left open the possibility that Kat and Eva's relationship might resume if The Bold Type secures a fifth season but the version that aired last night seemed to shut the door on that possibility entirely. What spawned the last second change? Kat Edison's portrayer, Aisha Dee, who on Wednesday posted a long letter detailing her feelings about the relationship between Kat and Eva as well as offering a broader critique of her time on The Bold Type.
"The decision to have Kat enter into a relationship with a privileged conservative woman felt confusing and out of character," Dee wrote about her on-screen relationship. "Despite my personal feelings about the choice, I tried my best to tell the story with honesty, even though the Kat I know and love would never make these choices. It was heartbreaking to watch Kat's story turn into a redemption story for someone else, someone who is complicit in the oppression of so many. Someone whose politics are actively harmful to her communities."
And while I'm comforted that the writers of The Bold Type took Dee's issue with the storyline to heart, I'm not convinced that just ending the storyline is the right answer. While The Bold Type's missteps don't stoop to the level of shows like 30 Rock, Community and The Office which recently had to remove blackface episodes from streaming services, there's a common thread between them: an avoidance of accountability. If "Not Far from the Tree" is the last we see of Eva Rhodes, how do we repair the damage that's been done to Kat Edison's character? How does the show hold itself accountable for the way it has romanticized a harmful discourse? If no one ever tells Eva Rhodes that she's not a good person, what lesson is the The Bold Type leaving with its audience? Kat Edison deserves better, Aisha Dee deserves better and the audience deserves better…I hope the show gets another season to prove that it can rise to the challenge.
---
Aisha Dee's letter addresses issues beyond this storyline…in fact, her comments about the storyline might be the least important part of her letter. She bemoans the lack of black writers in the show's writer's room and the lack of black talent behind the camera, including as department heads. She notes that it took three seasons to get someone in the hair department who knew how to work on her hair.
While Dee might be alone in voicing this frustration on the set of The Bold Type, her experience is painfully ubiquitous. After she and Samantha Ware shed some light into their experience on the set of Glee, Amber Riley started #unMUTEny, a social media campaign to "end black silence in the entertainment industry and hold power structures accountable for suppressing black experiences." Shalita Grant, the out lesbian who starred for three seasons as Sonja Percy on NCIS: New Orleans, left that show after experiencing similar challenges with their hair department. Earlier this year, Vanessa Morgan and Ashleigh Murray both detailed their experiences as part of the Riverdale cast as being underpaid and deprioritized in terms of storyline, when compared to their white co-stars. In the wake of Morgan's revelations, the black women of the CW rallied around her, in a showcase of true sisterhood.
"The level of care, nuance, and development that has gone into the stories centering white hetero characters is inconsistent with the stories centering queer characters and POC," Dee wrote in her letter, echoing Morgan and Murray's experience.
This week, Aisha Dee stepped out on a limb to voice her support "for us ♥️" and I hope her bravery is rewarded with love and unending support from us.