Feature photo by Bruce Glikas/WireImage
It is almost impossible to look the news directly in the face right now, but of course we all do it all the time because we can't live with our heads stuck inside ground-holes like gooses (though believe me we've though about it). I've been trying all day to think of some kind of laugh to leave you with for the weekend, and coming up short over and over. But then! I remembered something we didn't really talk about last month, in detail, and so here I am.
A couple of weeks ago, we got news that Glennon Doyle's best-selling memoir, Untamed, in which she charts her divorce from her husband and blossoming relationship with soccer superstar Abby Wambach, is going to be a TV series. Doyle's going to write the first episode, even! And Sarah Paulson will play Doyle! However, no one knows who in the world is right for playing six-foot tall world-class athlete Abby Wambach. They're gonna have an open casting call.
When the series was announced, however, Twitter decided the best choice for Wambach was Gillian Anderson. And why not, she's playing Eleanor Roosevelt who was just as tall and Wambach and honestly probably extremely athletic (I am basing that on the fact that she had a lot of girlfriends who were Olympians). (Er, I mean… friends. Traveling companions. Buds!) Also Gillian has blazing bisexual chemistry with other women. A perfect fit? Twitter floated it to Glennon, with a photo manip so she could really wrap her head around it.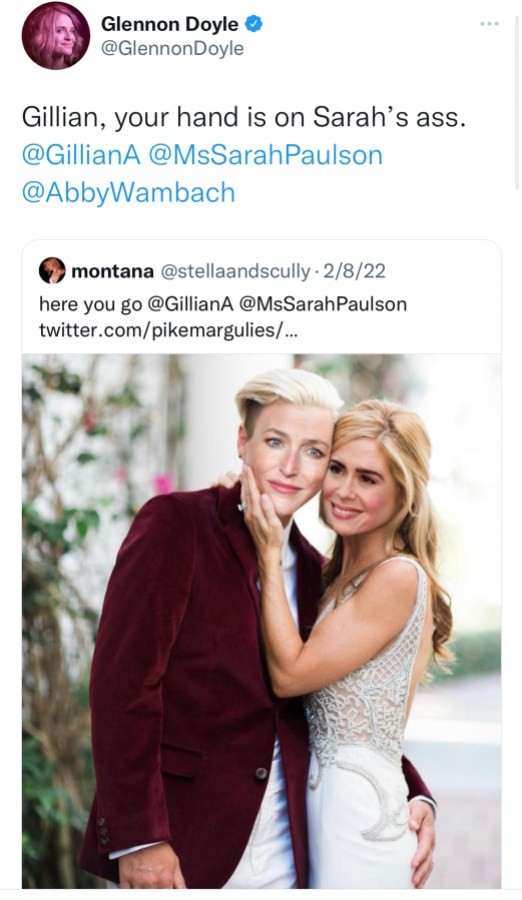 Gillian Anderson crashed through the wall like the Kool-Aid man to confess that she'd been wanting her hand on Sarah Paulson's ass for some time.
But oh ho! Who was not having that? Holland Taylor! Who did not play a lesbian in in Legally Blonde, The L Word, and DEBS only to come out later in life and have someone sweep in and steal her girl.
The world is terrifying, the bird app is a dumpster, but dang, queers out here queering just keep the porch light on.