I love a sex toy that does as many jobs as possible, as simply as possible, for as long as possible. But I also know that sometimes, you need something a little more… specific. A little bit bolder. A lot more extra.
The below sex toys are as maximalist as it gets with bold shapes, big colors, specific functions, and sometimes all three. Just like my minimalist toy picks from last week, their materials are long-lasting – but while more minimalist sex toys can be chameleons, these maximalist sex toys are loud in every way except for their motors. Remember to absolutely drench silicone toys with water-based lube and silicone lube with everything else.
Ten Maximalist Sex Toys
---
The Doxy Die-Cast Extra Powerful Wand Vibrator is a literal heavyweight with an aluminum and titanium handle and silicone head. It's the rumbliest, thuddiest, and most powerful vibrator I've ever beheld in my years of mostly anonymous sex toy reviewing and can reach up to 9,000 RPM, compared to the Magic Wand Rechargeable's 6,300. In fact, it's so powerful that it might overpower more sensitive nerve endings. (All that power also means that it plugs into the wall.) Clean it with a damp cloth and soap or antibacterial toy cleaner, and don't submerge it. It also comes in purple or red.
---


The Jollet Polka Dot dildo from LuzArte has a 7.5″ rigid silicone shaft specifically designed to target the g-spot, with a strategic bulge where it's needed and a taper down to two ridges near the base. Best of all, it's full of tiny pom-poms that remind me of rainbow bits cake and can be stored standing up. If you use a bullet vibrator in the base, use a touch of water-based lube to make it easier to insert and remove it as soon as you're done.
---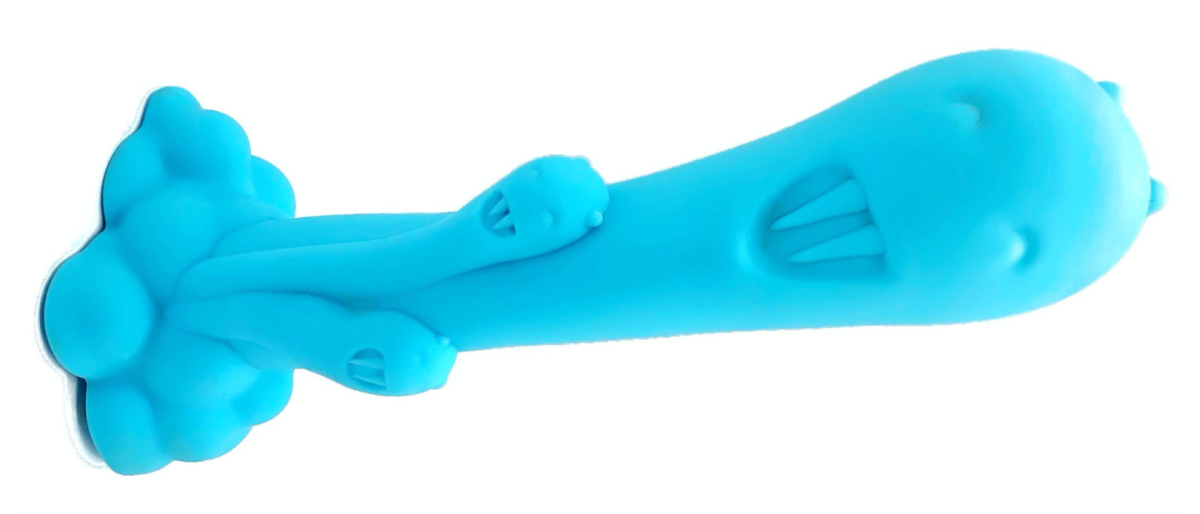 Disabled entrepreneur Step Tranovic (they/she/he) created Cute Little Fuckers "in an effort to make sex toys more personal, approachable, and gender inclusive." The results are playful, colorful, and shaped like tiny aliens. Trinity (and attached partners Tripp and Trine) is a blue silicone vibrating dildo that's waterproof and USB rechargeable, curved for g-spot and p-spot stimulation, and flared at the base for harness and butt stuff (or both). Plus, it makes a great installation on your nightstand.
---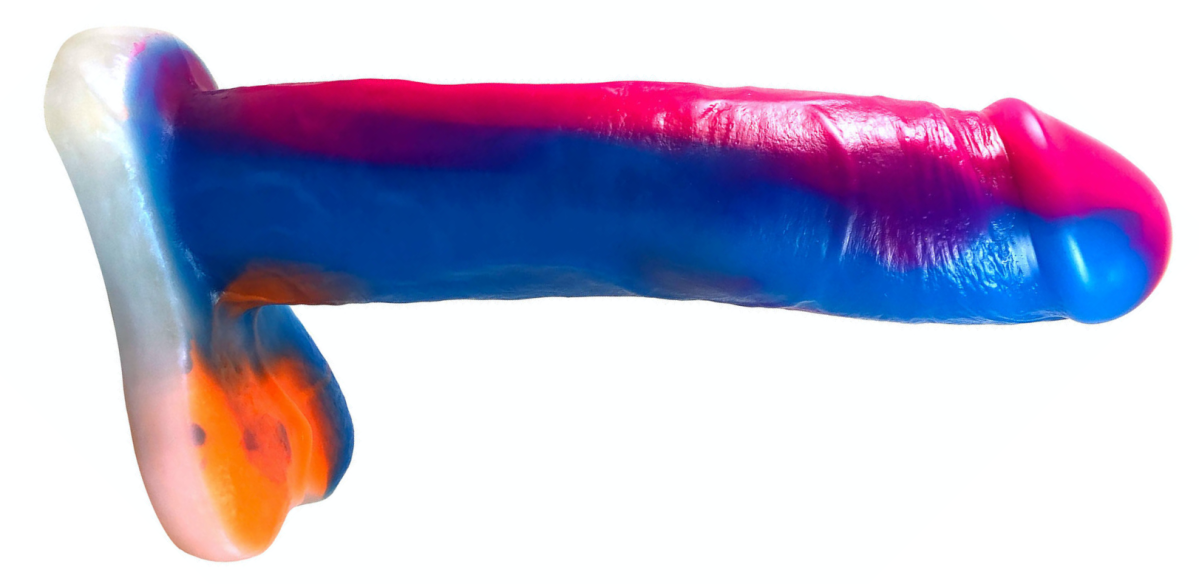 The Tie-Bright Outlaw is a vibrant and absolutely massive silicone dildo. I — er, "an anonymous sex toy reviewer" — have waxed harmonious about the Outlaw for Autostraddle before, and allow me to do so again: it's the toy that turned me into a size queer. It's lengthy, it's girthy, it requires a strap-on with actual straps and the right o-ring if you really want to go for it (and then it deliciously translates sensation to the wearer through the larger base), and you might have to buy a new sex toy boiling pot just to disinfect it. It has 8.5″ of insertable length, is 2″ in diameter, and is made of dual-density VixSkin – which means that that 2″ doesn't feel quite as big as it sounds, but still feels pretty damn big. If you're looking at it and salivating, enjoy getting fisted, or have a hole that loves a challenge, the Outlaw might be your new favorite. (It also comes in chocolate, caramel, and vanilla.)
---

Shilo is a bendable dildo can can tuck away for packing or straighten out for use – and now it comes in swirling bright blue and yellow. The silicone is soft, with an almost-squishy head a human-skin-like texture. Shilo has 6.25″ of insertable length and is 1.75″ in diameter at the head, 1.5″ in diameter in the body, and 3.25″ in diameter at the base. It also comes in bright pink and blue, pink, caramel, chocolate, and vanilla.
---
I honestly didn't conceive of "maximal sex toys" as being "lots of enormous sex toys" but here we are! The Deep Diver by Uberrime is an individually hand-cast marbled tentacle dildo with an anal-safe flared base. Uberrime is "Latin for luxury, abundance, and or fruitfully copious" and that spirit is visible in its functional sculpture sex toys. This one is 5.5″ of insertable length and has a head diameter of about 1″, a mid-shaft diameter of about 2″, and a base diameter of about 2.6″. For cleaning, a SheVibe reviewer recommends using a toothbrush to scrub out the suckers.
---
On the smaller side and one of Autostraddle's 50 best queer sex toys, the B-Vibe Rimming Plug Petit is a compact butt plug with rotating metal beads that feel like oral and a vibrating tip because who doesn't like a vibrating tip? It's rechargeable, waterproof, and remote controllable from up to 30 feet away. It also comes in teal, black, and XL.
---
The Eroscillator 2 is an oscillating plug-in sex toy that offers three low- to mid-range levels of targeted stimulation, beloved by folks who find wand vibrators numbing or too powerful. It's made of ABS plastic, and the attachments are made of TPE — which is phthalate-free and body-safe but also porous, and so should not be shared between partners. (Luckily, you can buy them their own silicone soft finger attachment so they stop trying to borrow yours.) The attachments in this set are the ball and cup, the grapes and cockscomb, the golden spoon, and the ultra-soft finger tip. It also comes with an international step-down converter.
---

Tenga Eggs are soft, stretchy sleeves that come in a variety of internal textures like thunder or misty. Use one on a penis for masturbation or partnered hand stuff, or stretch one inside out over the head of a wand vibrator to add squish and texture. And make sure to stock up — they're single use only.
---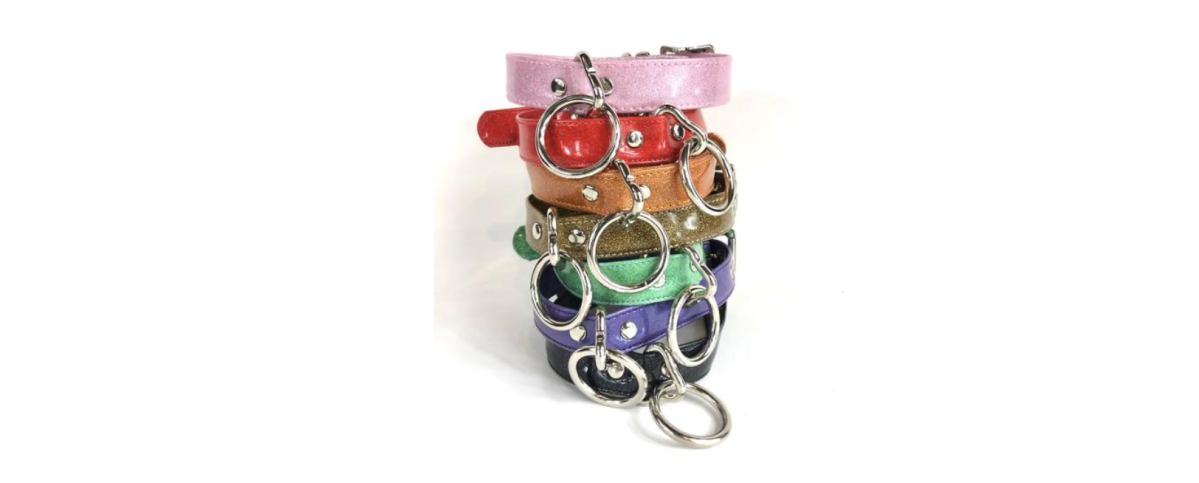 GNAT Glitter Kink makes femme-centric glittery vinyl body and strap-on harnesses, collars, and cuffs in both ready-to-ship and custom sizes and colors. GNAT recently opened its first storefront, and custom orders close periodically as of the time of writing due to high order volume and pandemic production limitations (owner Gnat Rose Mandrid is making everything alone right now). But no maximalist sex toy list would be complete without a shoutout to this woman-owned and -operated femme-centric fetish and bondage gear brand. It'll be worth the wait.