"On Camp" Month:
1. Introducing Camp Autostraddle, by Riese
2. "On Camp" Call For Submissions, by the team
3. 10 Super-Cool Movies About Summer Camp, by Riese


Summer camp movies are almost a genre in and of themselves: it's ripe material, certainly, all that wily adolescence and isolation-enabled drama, all that swimming and crafts-making and such. To kick off April's theme, "On Camp," I present you with ten decent or otherwise memorable movies about summer camp. Salute Your Shorts isn't on this list, because it's a television show. But if it wasn't, it would be.
Ten Great Or Otherwise Memorable Movies About Summer Camp
+
10. Camp Cucamonga (1990)
This movie is bad, but it's also amazing because it was released on my birthday and because it stars Rachel Green, Steve Urkel, D.J. Tanner and the guy responsible for Watergate.
+
9. CAMP (2003)
[watch it]
CAMP, "a comedy about drama," takes place at a performing arts camp (based on the director's experiences at Stagedoor Manor) — a wooded respite for talented weirdos who can't be gay, love musical theater, or get anyone to make out with them in regular life but live for their eight weeks of summertime freedom. I think if you cross it with Girl Interrupted, Harry Potter and the Sorcerer's Stone and the The Dead Poets Society, you've got yourself a fairly accurate picture of what arts boarding school was like for me, which's why I think this movie is better than it probably is.
+
8. Little Darlings (1980)
[watch it]
This movie stars now-currently-out-lesbian Kristy McNichol as Angel, a girl who looks and acts like a lesbian but is not a lesbian — we find this out almost right away, when a group of de-virginized bitches tease Angel on account of her virginal status and then predictably accuse her of being a lesbian. The plot of the movie, then, is a contest between Angel, the tomboy "girl from the wrong side of the tracks," and Ferris (Tatum O'Neal), the rich girl, to see who can lose their virginity first. Now-currently-out-lady-lover Cynthia Nixon also stars.
+
7. Stagedoor (2006)
[buy it]
I first encountered storied performing arts camp Stagedoor Manor in the back of The New York Times Magazine, where the Catskill Mountains-based summer program advertised relatively luxurious accommodations and a staff prepared to foster young people's dreams of stardom. Unfortunately my parents didn't see the hidden child star I saw inside of myself and were uninterested in sending me to Stagedoor. Parents who did see fit to ship their kids to Stagedoor include the parents of Natalie Portman, Lea Michele, Mary Stuart Masterson, Mandy Moore, Zach Braff, Michael Ian Black, Jon Cryer, Robert Downey Jr., Jennifer Jason Leigh and Mia Tyler.
The documentary is a winner, and any former theater kid (or any kind of awkward outsider) will see themselves in these young aspirants, grappling desperately for affirmation and praying for the possibility of unveiling transcendent talent.
+
6. Meatballs (1979)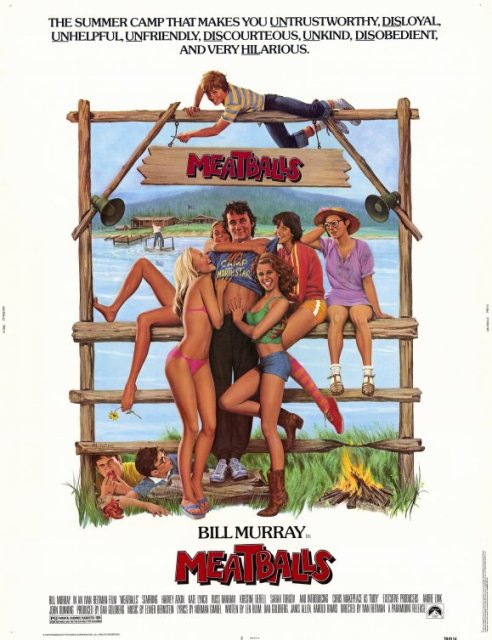 Bill Murray made his lead-acting debut in Meatballs, a movie about dudes and girls in bikinis and — let's be real, I have no fucking idea what this movie was about, only that it was a huge deal in the 80's, spawned a lot of sequels, and is considered a "quintessential" camp film.
+
5. Girls Rock! (2007)
This empowering documentary tells the story of the five-day Rock 'n Roll Camp for Girls, where girls between the ages of eight and 18 "are taught that it's OK to sweat like a pig, scream like a banshee, wail on their instruments with complete and utter abandon, and that "it's 100% okay to be exactly who you are." The affirming emotional experience of making rock 'n roll opens the door to discussions about the trials and tribulations of contemporary girlhood, from eating disorders to drug addiction to your more benign everyday self-loathing. As the website promises: "What happens to the girls as they are given a temporary reprieve from being sexualized, analyzed and pressured to conform is truly moving and revolutionary."
Also; Carrie Brownstein.
+
4. Jesus Camp (2006)
[watch it]
Unlike most of the other films on this list, Jesus Camp is kinda serious and also quite scary. Documentary filmmakers Rachel Grady and Heidi Ewing earned an Academy Award nomination for this look at an Evangelical Christian Summer Camp "Kids On Fire School of Ministry," which essentially indoctrinates children into "taking back America for Christ" every summer. This involves worshipping a cardboard cut-out of George W.Bush, speaking in tongues, participating in anti-choice protests, confronting strangers in bowling alleys about their relationship with Jesus, "training for God's army," decrying Harry Potter and listening to Ted Haggard deliver a sermon condemning homosexuality. It's also a pretty damning look at how Evangelicals took over American politics.
+
3. Ernest Goes to Camp (1987)
[watch it]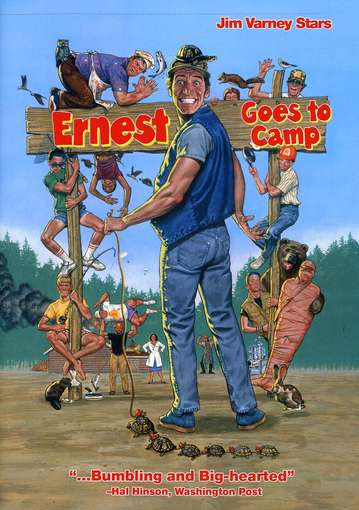 After Ernest Saves Christmas, this overlooked gem is the best of the Ernest cannon. I can say this with certainty because I was a big Ernest fan throughout childhood. In Ernest Goes to Camp, Ernest gets promoted from handyman to camp counselor when the camp's participation in the "Second Chance" programs lands a rowdy bunch of juvenile delinquents on site and nobody but Ernest is willing to take care of them. Hijinks ensue.
+
2. Wet Hot American Summer (2001)
[watch it]

This cult movie takes place on the last day of a Jewish Summer Camp in 1981. It stars Janeane Garofalo, David Hyde Pierce, Amy Poehler, Molly Shannon, Michael Ian Black, the guys from 'The State' and Detective Stabler. How can you go wrong with a cast like that? You can't, actually.
+
1. Parent Trap (1961/1998)

I know the Lindsay Lohan version has captured a place in your young sweet hearts, but the Hayley Mills edition will forever hold a special spot in mine.