We had a little mixup and put some of this post's shows (thursday shows) into this post (wednesday shows). Sorry! Still, there's just SO MUCH TELEVISION to talk about. Today we will discuss Community, Parks & Recreation, and The Office.


Community
By Brittany
This episode of Community felt like an old episode of Community. Not in the 'back to laughing out loud' way. In the 'return to Annie and Jeff's creepy relationship' way. Annie finds competition in newcomer, Asian Annie, Britta files going to college as doing nothing with her life, and Chang begins his job as Top Flight Security of the World.
In "Annie vs. Annie," Community continues to make Nerd TV with a Model UN face off between two Earths, each led by a different Annie. The study group, minus Britta, forms the perfect United Nations as they agree on everything and are nothing but helpful to each other. Troy is surprisingly knowledgeable on Georgia's position despite giving all of his contributions in a southern accent. Martin Starr (Freaks and Geeks, Party Down) presides over the battle as Professor Cligoris (pronounced kli-gə-rəs or kli-ˈgȯr-əs).
Abed: Are there parallel Earths in different galaxies or identical Earths in different dimensions?
Professor Cligoris: The latter one.
Abed: But what does that say about free will?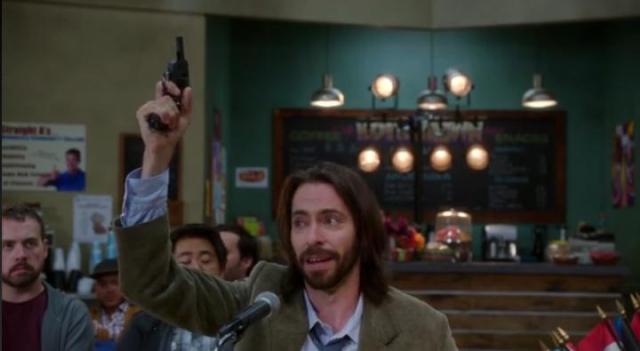 Professor Cligoris: Ready, set, peace.
When it seems Annie will inevitably lose to Asian Annie, she throws a fit reminiscent of 'blowing it off.' Jeff informs her she's "acting like a little school girl. And not in a hot way." He admits that sounds kind of creepy which I think speaks to their entire relationship. Abed devises a plan that garners them the win since Model UN, like the real UN, is about "high-minded rhetoric and empty gestures."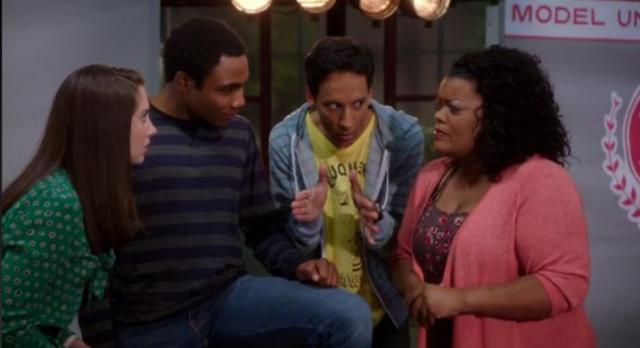 Jeff: Abed, you can't just mumble nonsense. No one's cutting away.
Meanwhile, away from the bonding, Britta regrets selling out from her rebellious self-righteous ways of yore. After an episode long back and forth with Chang (and herself), Britta decides to take a stand by interrupting the end of the Model UN face-off. For what, no one is quite sure which is a hilarious comment on certain current events.
Cligoris: What the hell are you doing?
Britta: Nothing. And you can't do anything to stop me.
+
Parks and Recreation
by Brittani
This weeks' Parks and Rec was on point. Ron continued his battle with Tammy 1, Ann shoots a diabetes PSA with Chris, and Entertainment 720 encounters financial woes.
Remember how Tammy 2 (Megan Mullally) made Ron a sex crazed wild man? Well Tammy 1 (Patricia Clarkson) does the opposite. Her ice cold demeanor and grown man coddling converts Ron into a colorful polo wearing punk. He bends to her every want and command. Thanks to Leslie, we discover that right now she wants Ron back…mostly for the gold he has buried all over Pawnee. The audit is a front so she can make sure Ron is financially stable and able to take care of her.
Leslie: You gold digger. You are literally a gold digger.
Leslie runs down to the country and grabs Tammy 0 (Paula Pell). A good old-fashioned drink off ensues using Swanson Family Mash Liquor.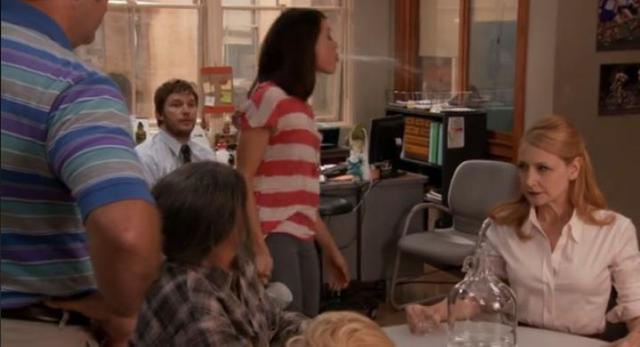 April: I'm Puerto Rican, I can handle it.
Eventually Ron, down a mustache, returns to his old ways and sends all the Tammys packing.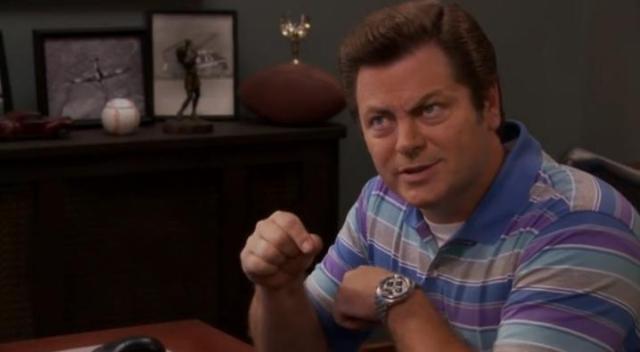 Ann wants to revamp a PSA and thinks her energetic ex Chris is the perfect man for the job. She's forgetten that he is a perfectionist and ends up wasting a day shooting the spot. This was the weakest part of the episode as I think Chris is best in small doses.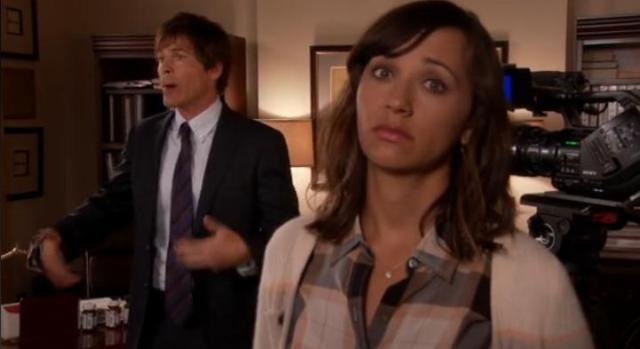 Chris: Let's do one more, then five more, then twenty in a row.
Over at Entertainment 720, Tom and Jean-Ralphio are running the company into the ground at an astonishing pace. With NBA players on retainer, pretty secretaries that do anything but sercretate (I just made that word up), and expensive items that appear to be furniture, they have no choice but to ask Ben for help. He is a nerd and the most responsible person they know so it makes sense. What doesn't make sense is they refuse his advice and double check his work by hiring five accountants. I'm not quite sure where Entertainment 720 is headed but as long as that means more Jean-Ralphio, I'm on board.
This was a classic Parks and Rec episode. I didn't mention it last time but Aubrey Plaza as April is killing it. She has been unbelievably funny these first two episodes and I hope she gets more screen time as the season progresses. Until next week!  Oh and I almost forgot…toilet wine.
+
The Office
by Riese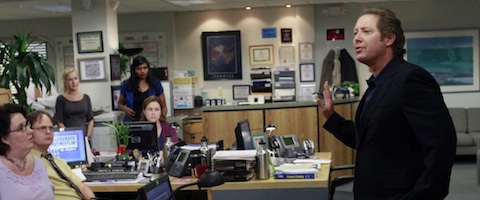 I've realized I can't really recap or even discuss The Office because it's already funny. It doesn't need me to make it funnier, and there's nothing to satarize or comment on because it is constantly satarizing and commenting on itself.
I read an interview with The Office creators the other day where they explained that they picked Andy for manager because he is a "people person" and a "people pleaser." He puts relationships above the actual work of the office and wants to be liked and nice to his co-workers more than he wants to sell paper. I thought that made perfect sense.
So, these are my thoughts about The Office Episode 802 "The Incentive":
+ Kevin needs to sit on a knife or find new jokes.
+ I didn't LOL very much this episode, but that happens sometimes with this show. I was still amused the entire time.
+ Jim is so kind sometimes, like he was really kind to Andy.
+ I still don't know how I feel about Robert California.
+ Erin is really emerging as the underdog laugh-house power-horse.
You?