Here we are again.
Modern Family
by Lizz
Modern Family was, you know, really funny and stuff. Mitchell and Cam were, as usual, really good for Americans to see on TV. They were all in love and on a juice diet. Okay– the juice diet kind of drove them mad.
Meanwhile, over at the Dunphys, Haley wore feathers in her hair a la Aria and I couldn't wait to tell you about it. The feathers were only on one side of her hair so she managed not to look like a chicken. Also, Phil made some serious moves towards walking on a tightrope. By serious moves, I mean he actually managed to do it. I was impressed.
I loved that the MF writers gave Phil a chance to be a dreamer without the Screwing Up Afterwords every time. Also, it gave Claire a chance to show how in love she is with Phil. It was really really kind of really cute.
Just Awesome:
Phil: How awesome are people?
Luke: So awesome.
Up All Night
by Lizz
Up All Night totally got better. Okay, I dunno if I'd call it totally… but it got better. There were moments of actual laughter. It's a start.
I wasn't going to watch again after the "meh" first two episodes, but I really want to love Up All Night! We don't get a lot of shows with female comedic stars (except for this year where I swear there's like five) and I want to really give the writers a chance to wow me with Maya Rudolph. Like I said though, funnier. There was even a solid fake 90's pop song.
Oh, did you not know that Maya Rudolph's character used to be a 90's popstar? Because, yeah, that's a thing.
I guess the premise of this episode was:
1). Sometimes relationships lose their sexiness after a baby
2). If someone was bad for you in the past they are probably bad for you now.
In a lot of ways, these were much more successful premises than the last two weeks because they were more reflective of the age of the characters. Simply having the plot-line of "zomg babies make gender roles complicated" just wasn't going to cut it for too long. Also I was so pleased to see Rudolph given some truly hilarious SNL-esque musical scenes.
Well, I promised my roommate if this episode really sucked I wouldn't make her watch another. Fortunately/unfortunately this week's episode was good enough to merit another episode.
+
New Girl
by Brittani
 What the eff, man. The second episode was disappointing. I previously felt no particular way towards Zooey Deschanel but I legitimately like her on this show. Outside of Coach, the other characters brought, I don't know…absolutely nothing to the table and I still liked it. I don't think all shows have to be groundbreaking or razor sharp to be enjoyable. Little moments can make a show and Deschanel has a way of capitalizing on those. She can almost make you forget about how Winston spent half the episode convincing Schmidt he is the top dog so Schmidt could be tricked into switching rooms. I would say you can't make this up but someone did. Someone literally made this up and they should be punished.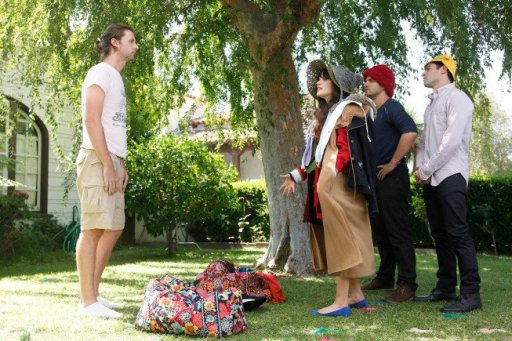 Speaking of Winston. he's there because Coach is gone. We don't know why but he is.  Black dudes gotta do black dude things. And so he's been replaced with a different athletically inclined black dude and the switch is so underplayed, almost ignored, that some people may not even notice. Except they should. Because the new dude was NOT FUNNY. You know what else wasn't funny? The cold open. Schmidt trying to find where he's sexiest in his room? Nowhere. There's not a single place in which you are sexy.
After that, there are five minutes of morning time some other day. It's before work and these people are all up at the same time, alert and speaking words. Doing things that don't include wiping the sleep from their eyes or grumbling indistinguishable syllables at each other about burnt toast. Then they play basketball! In the apartment. That is above someone else's apartment. I suppose everyone in the building is a morning person that enjoys the echoes of dribbling to accompany the rising sun. But the story must go on so Jess bounce passes the ball into the TV and oh no! it shatters. I really don't think that's how things would go down if a ball got bounced into a screen so maybe someone who knows about surface energy could tell me how plausible this is. If surface energy is a real term.
Now that the TV is broken, Jess has to replace it and whadyaknow. She has a TV at her old apartment with her old boyfriend but her feelings are not old. She doesn't want to go back and get the TV or the rest of her stuff.  Ex-boyfriend is her "kryptonite." Things that are my kryptonite: overdraft fees, the word masks, arm hair, Quinn Fabray's storyline.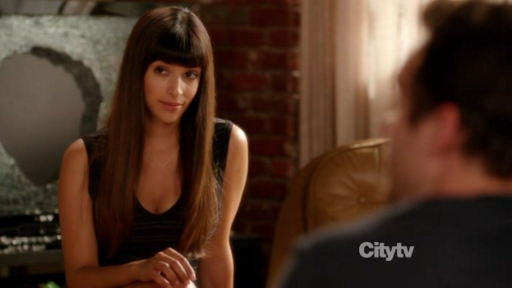 Jess has to work up the courage to confront her boyfriend and guess who shows up when there's a problem (because that's the only time you really need friends). None other than catty racially ambiguous model. It is a low point, not only for me but humanity, when I'm not remotely interested in this woman. I didn't even IMDB her. (Someone I did recently IMDB, Meghan Markle. I recommend.) Anyway, Jess gets her stuff back and there is bonding with her male roommates who continue to save the day/world/our species using threats and violence.
+
Happy Endings
by Brittani
Last season there were a bunch of shows that garnered the obligatory Friends comparison because they had a cast of six. There was NBC's Perfect Couples (shite), Fox's Traffic Lights (meh), and ABC's midseason replacement, Happy Endings (!!!). In the end there can only be one Highlander so Happy Endings was the only show to be renewed.

The cast boasts UCB performer and everyone's favorite chubby skinny dude, Adam Pally, stand-up comedian and Wayans family member, Damon Wayans Jr., SNL vet Casey Wilson, 24 actress and Girl Next Door, Elisha Cuthbert, and Eliza Coupe who previously enjoyed sitcom success on Scrubs. Then there's Zachary Knighton.
The show is about a group of friends that try to maintain their cohesiveness after Cuthbert's character leaves Knighton's at the altar.
Unfortunately, this is the show's biggest weakness as no one really cares what happens to them and I think most people would rather they stay apart. I like this show because they are constantly eating and drinking. So much so that Pally's Max has referred to Miller Lites as M. Lite Shyamalans and Wilson's Penny has ordered a "round of sambucs." Most of the time nothing more is happening than them eating, drinking, and hanging out but it's hilarious. It fully embraces the fact that sitcoms have tenious premises to begin with and their strength lies in character development and chemistry. The strength of the ensemble allows them to couple characters off in different pairings while three different, sometimes outrageous, stories progress simultaneously. Impressive when some shows struggle to keep their minor plots entertaining.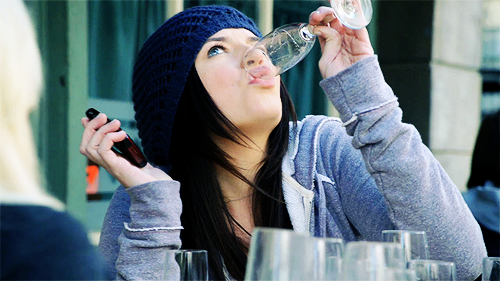 You'll also be glad to know there is a gay character. Max guarantees there are gay jokes every episode. In the first season we learned that Coupe's Jane had a lesbian phase in college. A looong one.
The season opener made me realize just how much I'd missed the show. Penny, arguably the show's most hilarious character, puts her season one catchphrase "a-mah-zing" to rest and introduces us to the Year of Penny.
Max and Brad are up their usual antics which cause Max to try and prove he can be black and later on, professional when Brad is spending less time with him to hang with his black friends. This is one of the reasons I love the show. They don't tokenize the black or gay character and they have two of the main characters in an interracial marriage. They don't try to slip a character of color/queer character in hoping that no one notices. And now you're probably thinking, "Why do they have to acknowledge that characters are of color/are queer? Shouldn't they be treated the same as the rest of the cast?" Sure, I guess. Can you CC that memo to everyone in the real world?

If you haven't seen Happy Endings, you should give it a try. It may not be everyone's cup of tea but at least there are a half dozen cute cats in this episode.
+
Big Bang Theory
by Lizz
The single most important part of this week's episode of Big Bang was that in the first few minutes Bernadette wore a dress I have! Guys, I'm famous.
Bernadette and Howard leave the other characters for their own boring "hetero marriages are hard" plot line and Kunal Nayyar was obviously not on pay roll for this episode or something. Moving along to characters I care about, I think Amy Farrah Fowler might be my favorite new character on Big Bang. At this point, I even like her better than half of the regular cast. Probably my feelings are mostly just really related to how excited I was when I found out that Blossom got a PhD on TV and in real life. This week was all about Amy as she and Leonard went to a wedding together. Why didn't she take Sheldon? Oh this is why:
Leonard: This wedding just reminds me of my kind of sort of girlfriend nine thousand miles away
Amy: Well I have a kind of sort of boyfriend who's playing with a model train right now and you don't near me bitchin' about it.
Leonard is a bit dreary at first because, you know, he's on a date with his awkward friend's awkward girlfriend. Because sitcoms love tropes, this episode falls right in to Give Geeks a Chance and Leonard realized Amy's actually really fun. No like, in love with her fun (because he's still pining over Priya/Penny/Other girls that are too hot for Johnny Galecki, just like Oh Sometime It's Okay To Have Fun and Dance Even When You're Really Dramatic All The Time. Upon hearing about their lovely evening (and a slightly misunderstood pulled-groin reference) Sheldon decides Leonard must have made a move on Amy– and Spock karate chops him in the shoulder. It was all very adorable (he was wearing a conductor's hat at the time).
Similarly, Amy inevitably decides that Leonard has fallen in love with her as she was "charming, supportive and, let face it, in this dress the perfect combination of virgin and madonna." She's not interested in him, of course, because boys are icky and smelly. Amy even has a hilarious moment where she almost makes a pass at Penny. Not a full blown pass, but I'll be curious to see if the writers actually take us somewhere with this. Big bang is typically a show that pushes the boundaries of acceptable closeness in non-sexual relationships (Howard and his mom, Howard and Rajesh, Penny and Sheldon) and perhaps their intention is to extend that to Amy and Penny's relationship. It seems pretty unlikely though– my guess is their intent is to make Amy seem rather like a little kid obsessed with her babysitter's long hair.
Epically Wonderful moment:
Amy: Oh Penny, as much as I would treasure knowing the two of use had been defiled by the same man, Leonard just doesn't get my motor running.
Penny: So, um, what are you going to do, do you want me to talk to Leonard, let him down easy?
Amy: No, I'll let him have tonight. Then, in the morning, I'll send him an email letting him know this body is never going to be his wonderland… I mean frankly you've got a better shot than he does.