Hello! Welcome to the second installment of Music Is Our Hot Hot Fix. I'm Crystal from Australia and I've written most of this high on cold & flu tablets and so right now my inner voice sounds a little like Mary Murphy yes it does! Waaaahhhooooo! Are you ready? It's time to don our best band t-shirts, compare playlists and talk about who and what's getting us all hot and bothered in the world of music.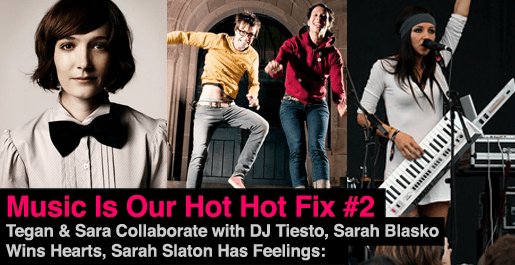 In last month's Music is Our Hot Hot Fix, Intern Emily did a superb job of introducing us to new music, and now this month it's time to learn about the musical preferences of Intern [Hot] Laura! Laura's from Philadelphia, which I've only recently discovered is a city and not a state. But let's not get caught up in details, 'cause all we need to know right now is that Philly is Laura's hometown and also the birthplace of music greats such as Boyz II Men (well, Motown Philly specifically for them), John Coltrane, Joan Jett and my future bride.
But before we jump in – last month y'all introduced me to awesome artists that I may not have heard otherwise, including but definitely not limited to Dance Yourself To Death, St. Vincent and My Dear Disco. So do me a solid and keep the recommendations rolling, I'm all ears.

In the News
First and foremost, the legendary Les Paul died. If you're unfamiliar, Les Paul invented the electric guitar thereby making rock 'n roll possible. He worked with Gibson to produce the world's most beautiful guitars, played by the world's most beautiful guitarists including Allison Robertson (The Donnas), Joan Jett, Madonna and according to twitter poll, Tegan of Tegan & Sara. These are my all time favourite guitars and as I cannot play nor afford one, I date a musician who lets me hold hers.
Speaking of guitar heroes, Johnny Cash will join Shirley Manson as a playable character in Guitar Hero 5, which is set for release September 18.
The Red Hot Chili Peppers are getting back together after the silence that has followed 2006's Stadium Arcadium. RHCP haven't exactly wow'd me since Blood Sugar Sex Magik in '91, but I have faith they'll bounce back. Remember Under the Bridge? That was a good song.
Thom Yorke from Radiohead thinks that making albums has become 'a bit of a drag'. In other news, Radiohead's Thom Yorke has become a bit of a drag.
My inner thirteen year old wants to show you this photoshoot that Aussie pop twins The Veronicas did for my all-time favourite retail outlet, Hot Topic.

Tegan & Sara Watch
: Stereogum is streaming 'Feel It In My Bones', a collaboration between Tegan & Sara and DJ Tiësto. T&S released a cute little video from a shower stall in which they appear fairly chuffed about the collaboration and rightly so.
T+S+ Tiësto from Tegan and Sara on Vimeo.
Tiesto's upcoming album Kaleidoscope will additionally feature Jónsi (Sigur Rós), Kele Okereke (Bloc Party), Nelly Furtado, Sneaky Sound System and my latest Canadian crush, Emily Haines from Metric.

Laura's Hot Music News like Patrick Wolf, Lights, The National & More!

Patrick Wolf announced that he'll be performing at the London Palladium later in the fall. Even tiny Patrick Wolf shows involve at least 2 costume changes, so when he promises a gospel choir, a full string section, and a magic show, I'm guessing it'll be OOC. (Check out more on Patrick Wolf in this month's Out Magazine).
"A lot of those artists could make you feel something very, very saliently without hitting you in the face with volume or anything like that. They use their words, and sweet melodies and things like that." William Fitzsimmons was interviewed on NPR last month and talked about his most recent album, breakups, and growing up with blind parents.
I'm all kinds of excited for Lights' new album, The Listening, which comes out next month. If the video for 'Saviour' is any indication, it's going to seriously deliver in the nerdgirl department.
The National are going to be part of a compilation album benefiting Mark Mulcahey. To be honest, I was just excited that The National were doing something new and didn't know who Mark Mulcahey was, but it turns out he did the music for Pete & Pete. You can listen to their cover of 'Ashamed of the Story I Told' at Pitchfork.
Crystal requested more music news on the lesbian front, so I'm here to tell you that Mirah is on tour and is probably coming to a city near you.

Crystal's Listening To: Dead Weather, Lisa Mitchell, Rachel Yamagata
I finally got my hands on The Dead Weather's new album, Horehound. I had a feeling it would be good, but what I didn't expect was to experience a whole new level of dirty, sweaty, sleazy rock 'n roll. Best listened to while wearing a wife beater and riding a mechanical bull. Highly recommended.
In Australia everyone's talking about Lisa Mitchell and having finally heard her debut record, Wonder, now I know why. Check out her single, Neopolitan Dreams.
Last month, reader Leah told us that Rachael Yamagata was her latest obsession – and now she's mine! I've purchased Rachael's latest album Elephants… Teeth Sinking Into Heart and I love it, it's a dark, elegant, moody record that's cleverly split into two parts, the heartbreak and the bounce back.

Laura's Listening To: Sarah Slaton, Bloc Party, Lydia
The kind of music I listen to on a regular basis usually involves heavy doses of Jesse McCartney, but today I'm taking a break to tell you what else I've been listening to this summer.
Sarah Slaton is a fantastic gay lady with feelings and a guitar. As if that's not enough, she covered my number one boyfriend, Justin Timberlake. Swoon. Somebody get this girl a tour and a record deal stat.
My love for Bloc Party was recently renewed when my little brother gave me a copy of Intimacy. It's great chaos music for nights that are too hot to live because the combination of suffocating heat and loud loud noise inevitably leads to dancing.
In other news, I'm listening to Lydia, who sound like rainy days and also make me excited for fall.

On Stage
Crystal: As a favour to a friend, I attended the solo show of LIVE front man Eddie Kowalczyk. I wanted to be pleasantly surprised, but I wasn't. All he bought to the stage was a stool and an acoustic guitar, and if it weren't for all the pseudoephedrine I'd consumed then I might have been lucky enough to have slept through it. There is no doubt that Mr Metaphor Eddie (or "EK", as he'd like the kids to call him) is a talented musician and to be fair, if I wrote as many hits as he did then I'd probably have a healthy ego too. But the concert felt too much like a church congregation, and being told to 'stand up and dance for Jesus' is not my idea of entertainment. Also, he came out for TWO encores. Seriously.
Laura: I've never really listened to Matt and Kim before, but Kim's arms and that one song from the Bacardi commercial were enough to get me out to their show. I was not disappointed; it was LOUD, HOT, and GOOD. They did a great job of masquerading as a straight couple during their set—Matt talked about Beyoncé and Kim talked about girl power and periods—and I spent a lot of time staring at the rest of the audience and playing everyone's favorite party game: "hipster or gay?" oh, kids these days.

Our Number One Musical Feelings Right Now:
Crystal: Australian singer songwriter Sarah Blasko first won my heart as a relatively unknown artist by wearing Converse hi-tops to the ARIA Awards (Australia's Grammys). She's also the creative genius behind my all time favourite music clip – Planet New Year – in which she falls in love with a piano named Keyth. Now Sarah's released a new album, Day Follows Night, and it's a strong contender for album of the year. For a taste, check out her new single 'All I Want'.
Laura: Owl City is perfect music for biking, driving, walking, or flying. The things he sings about are intensely obvious—things like colors, weather, and the stars—but the songs are the cutest you've ever heard. If you haven't heard them yet, I'd suggest grabbing a nice girl and listening to 'Fireflies,' 'Meteor Shower,' and 'Fuzzy Blue Lights.'

What are you listening to this summer? What are you excited about for fall? Who rides the beat of the turns of the wheels of the spokes of your bicycle? Which artist is your number one feeling this month? Tell us!