It's that time again! Music is Your Hot Hot Fix, and this week Crystal & Intern Laura update you on Tegan & Sara, Patrick Wolf, Sarah Blasko, Rachel Yamagata and so! much! more!
Also Ten Lesbian Movies That Don't Suck! Top Ten Lesbian Fashion Icons and hey! In our continuing effort to provide you with season-appropriate galleries of hot girls, we present Hot Girls in School-Inspired Styles! We are trying to find a way to say "hot schoolgirls" that sounds sophisticated. Thoughts? Hot Girls Rock Prep School Chic! Hot Girls! You guys, history Hot girls!

+ Arts & Culture
LOHAN'S PROJECT RUNWAY: Lindsay Lohan did a guest-judge spot on Project Runway's Season Six premiere on Lifetime. She made valuable contributions, looked pretty, and offered genuine insight for the "red carpet" challenge. The allegedly not-gay contestant Ari Fish that we queerstioned a few weeks back got sent home last night, despite (or perhaps because of!) her incredible resemblance to Samantha Ronson.
LADY KISSES ARE SO GAY: That's so Gay does the Lady Kiss story! You know, how ladies kiss ladies on the television and then are like, "that was okay" but the lovelorn feelings-filled young lesbian thirteen year old has already muted that part and uploaded the rest & played the kiss on loop 40 times on an animated gif on their myspace profile? Righhhtttt?
OCTOMOM: Grim & Grimmer: Nadya Suleman's 7-Year-Old Says Something Awful – excerpts from the two hour documentary on Octomom are weird, confusing, just like Octomom. (@jezebel)
PHOTOGRAPHY: Gender Roles: This body of work explores the power dynamics inherent in the questions asked of transgender and transsexual people.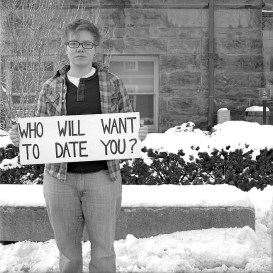 LESBIAN MOVIE SEX: In the movie Black Swan, Natalie Portman and Mila Kunis have ecstasy-induced hungry aggressive angry sex.
AMANDA BEARSE: Married With Children's Amanda Bearse came out BeforeEllen: "My first manager, ironically a gay man, almost threatened me. He basically said, 'You read like a dyke and you need to watch that.' I've always been sort of a tomboy, but I thought, 'I can act and I can play straight people.' That was a little scary." (@watermark)


+News & Politics
THIS IS HOW TO START A RUCKUS: If people over 65 in each state made the laws, 0 states would have gay marriage; if people under 30 made the laws, 38 states would have gay marriage. (@truth/slant)
WOMYN IN BUSINESS: Feministing objects to Fast Company's story on the 100 Most Creative People in Business – "Only 24 of the top 100 Fast Money's "Most Creative People in Business" list were women. Really Fast Company? Women are launching businesses at twice the rate of men … Between 1997 and 2006, the number of majority women-owned businesses increased 42%." (@feministing)
HEY HO WE WON'T GO: We have been obsessed with the truth on this matter for some time and now it is here: How Much to Protests Matter? (@nytimes freakonomics)
CANADUH! Stratford, Ontario is the Gayest little town in Canada. Really it is. (@cnews)
FACTBOX: U.S. laws on gay marriage, civil unions – A cheat sheet. (@reuters)
SAME SEX MARRIAGE: Same-sex marriage lawsuit: Too much,Too soon? If the federal constitutional lawsuit doesn't succeed, will Mr. Olson and Mr. Boies return to their high-powered law practice, leaving it to gay rights organizations to pick up the pieces? (@huffington post)
HOMELESS GAYS: Gay youths say street, not shelters, are the only option. (@the star)

The Modern Family Award – Sophie T on Daily Fix 8.17: "We used to go on family outings to an ostrich farm when I was little; one time took an ostrich egg home to eat. Its possible I had an odd childhood."
That is All Obvs Award – Peanut on Daily Fix 8.16: "RE: Masculinities —Real-life penises are kinda small. That is all."
Erotica Award – Haviland on Daily Fix 8.17: "Whoever is responsible for the ragging on MAD MEN, please see me immediately in the principal's office."
Interns Come Out, We All Come Out Award  – Thorton on Daily Fix 8.19: "This thread makes me want to come out to my parents. I want in on the outness."
Best random mid-comment all caps remark that sums up everyone's week even if you don't know what it refers to goes to MsNJS for Music is our Hot Hot Fix: I LOVE FEEL IT IN MY BONES


from Intern X:
I'm playing to the nerd contingency today. Do you like owls, bears, and small children? Well this web-comic Daisy Owl is about an owl who finds two orphaned children and raises them on his own. Also he has a friend names Steve who is a bear and works for a honey company. Do you need further convincing? Didn't think so, go check it out!
++
+


from Crystal:
I stumbled across this interesting video about the making of True Blood.
+
+
+
+


from Riese:
My favorite fiction writer Lorrie Moore is interviewed in Elle Magazine about her new novel!! You could go buy Elle, or you could save your money for the novel and read about the interview on Jezebel.