Because everyone in the U.S. with half a brain has already team picked Wendy Davis as a Senator and badass super human, I will do everyone a feminist-comedy-solid by team picking the Amazon Reviews of Wendy Davis's sneakers.
A little bit of back story in case you didn't stay up until 3 am with me on Twitter a few nights ago, watching the live-feed – on June 25th, Texas tried to pass one of the more strict abortion regulations in the United States. The bill, called Senate Bill 5 (or SB 5), would have closed all but 5 abortion clinics in Texas, thus making some people drive 100 miles or more, or even head to Mexico, for abortions. It had to be passed before midnight on June 25th. Legally, it had to be passed that day and not the next day. Those are the rules.
HULK STAND, SHOULDER TO GREEN SHOULDER, WITH WENDY!

— FEMINIST HULK (@feministhulk) June 26, 2013
Democratic Senator Wendy Davis filibustered the legislation for 13 hours to insure they wouldn't get to vote on the legislation, certain to pass, before midnight. A Texas filibuster means that the senator could not sit, lean, pee or eat. For 13 hours. And at the end of the 13 hours, the GOP tried to change the rules and pass the legislation after midnight (Ann Friedman has a really good representation of a lot of humans' collective feelings). Then they tried to change the timestamp on the vote to say that it had taken place before midnight.
The Senate's revisionists are very fast. Nine minutes earlier, these showed the record votes on 6/26. #txlege #sb5 pic.twitter.com/OBECM4wIYA

— Texas Tribune (@TexasTribune) June 26, 2013
And, though no major cable news networks covered the event (CNN was doing a piece on blueberry muffins at the time), 200 thousand people watching on YouTube kept Texas accountable. Wendy Davis won.
And she did it in these sneakers.
Now of course, Eternal Slimeball Rick Perry is trying to push the bill through again on July 1st, and it will probably pass. And some news sources feel the need to mention Wendy Davis's outfit and sneakers and not mention her name until the 17th paragraph. So the world isn't all sunshine and snuggles. But at least we can have a good go at patriarchy-smashing humor à la Bic Pens For Her. Just ignore the attempt at humor from reviewers who agree with Perry (they're just not as clever as the pro-women's-rights reviewers).
Here are a few of my current favorites: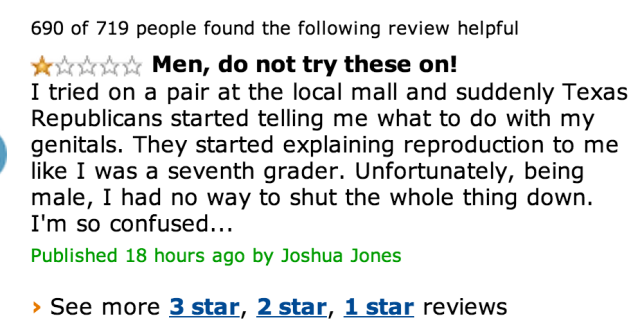 Head over to Amazon to check out more reviews. They're getting better by the minute.