I discovered independent comics in college. It was some of the first queer media I'd ever engaged with – Dykes To Watch Out For, Dar!, O Human Star, and, eventually Grease Bats (as well as countless others) were an accessible window into a community I didn't yet know I belonged to.
I've never identified as hard with fictional characters as I do with the folks in Grease Bats. Every one of them is just like one of my best friends, and Ari is so much like me that it's really unsettling. Does Archie Bongiovanni have a subspace connection into my brain? Probably not, but it sure as heck FEELS like it!
Whether or not you've read Grease Bats, or PURCHASED THE GREASE BATS BOOK that just came out, you'll probably find one of the crew who's your comic character alter ego. Want to find out which one? Take this quiz!
As usual, count up how many times you answer A, B, C, or D. And find out at the end what it all means!
1. How would you describe your fashion sense?
A. I wear a t-shirt with the arms ripped off that says "EAT ASS 24/7″ on it basically every day.
B. I try to wear something that draws as little attention to myself as possible.
C. I love a cute thrifted vintage dress!
D. I try to be as comfortable as I can; fashion is secondary.
2. What's your technique for flirting with someone?
A. I make out with them in a dark corner of the bar and find out their name later!
B. I avert my eyes and start sweating.
C. I walk up, shake their hand, introduce myself, and tell them I think they're cute!
D. Flirting, crushes, and dating are overrated.
3. What's your preferred Halloween costume?
A. I dressed up as my best friend!
B. When I'm in a relationship, a super corny couples costume. If not, something nerdy.
C. HIGH FEMME GLAMOUR is my wave – maybe like an iconic celebrity look recreated painstakingly for months, and goddess I look so hot!
D. I throw together something that's super easy because Halloween is also overrated.
4. Who do you want to date?
A. I want to fuck every single person I meet; they're all hot in their own way and sex is so fun!
B. I keep falling for straight girls, usually, but I'm too hung up on my ex from a year ago to even really… wait, did that girl flirt with me? Am I in love?
C. As long as they treat me with respect, have ambitions, and fulfill at least 8 out of 10 items on my compatibility checklist, I'll give them a try!
D. Who cares? Dating is not my priority now or ever.
5. How do you feel about astrology?
A. I'm kind of not into it, but I'll indulge your interest! Sometimes?
B. Please tell me that the stars and planets have insight into my miserable dating life!
C. I will do your reading and explain to you, at LENGTH, exactly what everything in your chart means!
D. I have no birthday; I arrived in this universe fully-formed just before we met. Please don't ask again.
6. Your primary Tinder photo is…
A. Me, drunk and dirty, making an ugly face while holding a feral raccoon I found that's about to scratch my eyeballs out.
B. A standard selfie that I took 2,339,4928 versions of but still am not really satisfied with.
C. A professional-style really cute headshot!
D. A black and white photo from the 60s of an old woman beating a Nazi over the head with her purse.
7. Your Tinder bio says…
A. "genderqueer leather daddy looking for homosensuous hookups and non-monogamous sexy drunken party partners!"
B. "Sensitive, kind introverted monogamist looking for something long-term. NO HOOKUPS PLEASE."
C. "Intersectional feminist. Bisexual activist. No transphobia, racism, or other fuckery. MEN you'd better come correct or I'll publicly shame you on Reddit, you've been warned!"
D. an original line from an unpublished poem, and below that: "if you don't know what this is from don't bother."
8. What message do you carve into your Halloween pumpkin?
A. BE GAY, DO CRIMES
B. FUCK TRUMP
C. GOLD STAR BISEXUAL
D. CAPITALISM KILLS
9. What's your New Year's Resolution?
A. Get laid, have fun, do drugs!
B. Work on self-acceptance and meeting new people!
C. Go on dates with at least three men, three women, and three non-binary people per month!
D. Resolutions are a construct based on a faulty understanding of the true nature of time.
10. If you HAD to pick a label…
A. Sissy butch punk gender terrorist!
B. Soft butch lesbian.
C. High femme bi top!
D. Low femme asexual trans person.
Find out your results on the next page!
If you got mostly As, you're Andy!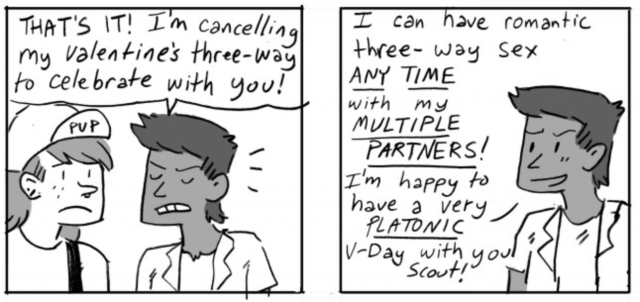 You are a sexy mess but you have a heart of gold! You love and are devoted to your friends even though they frustrate you when they don't just wanna do exactly what you want to do exactly when you wanna do it!
If you got mostly Bs, you're Scout!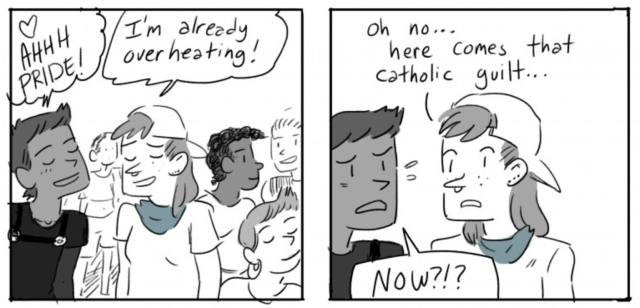 Anxiety mixed with hopeless romanticism makes a tough mix. You have too many feelings. You'll get over your ex eventually, stay strong! By the way, it's really cute how you don't realize how cute you are!
If you got mostly Cs, you're Gwen!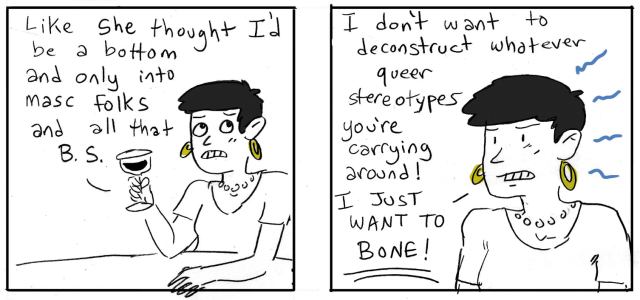 You're successful, opinionated, and don't take shit from anyone – but you're also so kind and understanding! You might worry that you don't look "queer enough" or don't "fit" into the "community," but screw that. You know who you are and so do your friends!
If you got mostly Ds, you're Ari!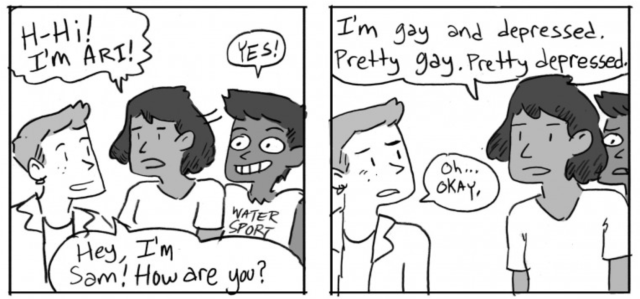 Being human is exhausting and bizarre and you have a critique for every institution. You mostly want to be left alone but treasure your few close friendships. You're comfortable with your introversion and have never experienced FOMO.
Pages: 1 2See entire article on one page