Hello and welcome to another edition of Autostraddle's College Lesbianage: a glimpse of college life through the wide eyes of six freshly fallen snowflake first-year queers. This month's update will be given individually! Today we've got Ithaca College's Sunny with some thoughts on "queer privilege."
---
Happy GAYPRIL! This month is filled with LGBT events in and out of school. Last week alone, I went to a Unitarian Church downtown to see Jennifer Finney Boylan talk about her book She's Not There: A Life Between Two Genders, attended Ithaca College's Rainbow Reception, went to Pride Prom, and afterwards arrived at Cornell's biggest LGBT/sex-positive party, Filthy/Gorgeous.
Before I begin elaborating on all the events I just mentioned, I'd first like to talk about going to Planned Parenthood with my friend, Dex, who got his first testosterone injection to begin his gender transition! I received a text message from him early in the morning: "BRO," and he asked if I wanted to go with him to his first T-shot appointment. I said of course as fast as I could. I was proud and honored to get to share the experience with him.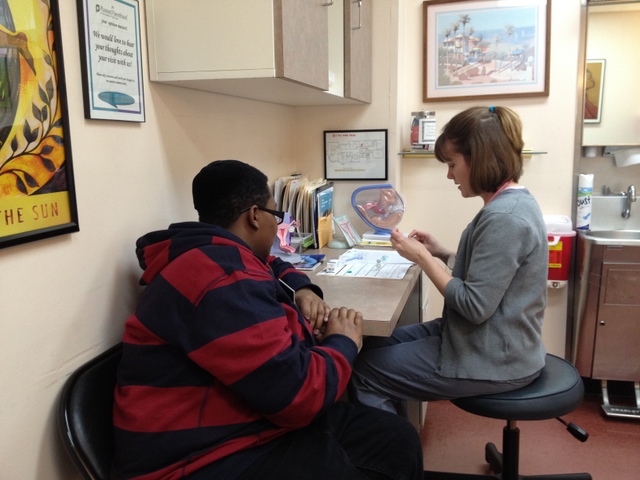 We arrived at Planned Parenthood shortly after taking the bus downtown. It was disguised in a suburban blue house, and walking inside I felt like I was visiting a relative's place. It was comforting and kind,but foreign. Dex was hyped up and couldn't stay still. After a few minutes of waiting, his name was called and we jerked up from our seats, ecstatic. We were led to an examination room where the nurse prepared the injection. He was clearly nervous and excited at the same time, and asked the nurse intricate questions about how to do testosterone shots by himself over the summer. The shot itself was quick and simple, and in no time we were out of the building. Dex walked out looking the most confident and jovial I've ever seen him. We went to Jennifer Boylan's reading at the church afterwards, and it was like nothing and everything had happened for Dex. His day continued like any other, but he had begun a long-awaited journey. He is currently fundraising for his top surgery, so please check out his site here for donations! There are prizes and any extra money will go to other transitioning people.
This year is the 11th annual year of the Rainbow Reception in Ithaca College. The reception is for honoring graduating LGBT students and allies with awards and rainbow-colored tassels. I arrived intending to leave to go to another event afterwards, but was so engaged with everyone's speeches that I stayed until the end. There were parents (and people who volunteer to be someone's parents for the night because their actual parents cannot attend), grandparents, alumni, students, and professors lovingly clapping at the students who went up to receive their tassels. The environment was beautiful because there was absolutely no hate or judgment. It was purely an appreciation of individuals. I watched the seniors I knew and admired go up to the podium and say their thanks, and all I wanted to do was go up to the podium and thank them for being so damn awesome.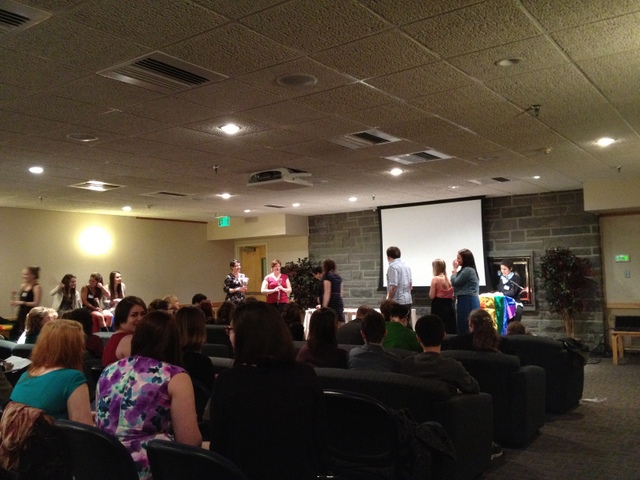 A day after the Rainbow Reception was Pride Prom and Cornell's Filthy/Gorgeous party. I wore a dark green blazer, gray trousers, and heeled brogues to the LGBT-themed prom. Although at the time of my high school senior prom I was comfortable with wearing a dress, getting to show up in pants was the ultimate cure to my nervousness when attending such events. There was no lingering anxiety in the air of people being forced to wear what they didn't want to, and I didn't feel nervous about how people looked at me. After prom, I went to Cornell with my friends. Filthy/Gorgeous is a huge annual dance party advocating the LGBT community and a sex-positive environment. This means that you can attend with extremely minimal clothing (my friend arrived in denim shorts, a bra, and her phone number written across her tummy) and grind on errrrybody. A few years ago Cornell funded the party for $27,000 which goes to show how massive the event is. I enjoyed seeing other people have the time of their lives being carefree. Like attending Pride Prom, the whole experience was liberating. There was no need to feel insecure about what I wore simply because it was a festivity of expression and you were the odd one out if you weren't loosening up. I'm definitely going again next year! Cheers.