Hello, friends and former lovers! I think a huge hurricane is headed in my direction but I don't even care because pizza.
And did I mention there's a a ton of good news just waiting to be consumed from the outside world that is relevant to your life? There is. It's Sunday Funday, after all, and Obama (still) loves you – pinky promise – and your grandparents are finally coming around. Plus, Pride in Taiwan was totally crazy, dude! I have pics.
Grab a slice and stick around.
Taiwan's Pride Boasts 50,000
It was a dance party waiting to happen: the 10th annual gay pride parade in Taipei, Taiwan.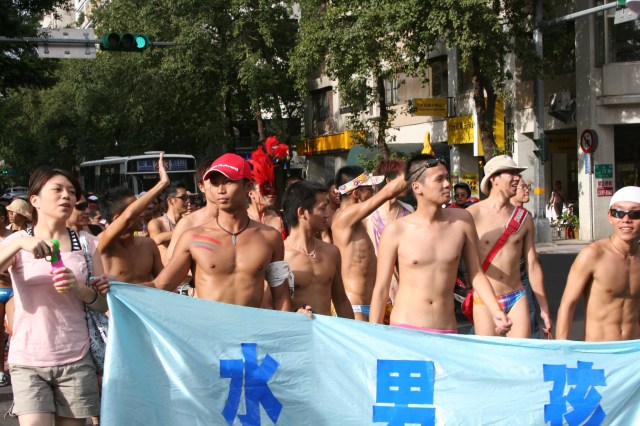 This year over 50,000 homos and allies came together to march for marriage equality:
"The theme this year is to fight for equal rights on marriage. Gay people are also tax-paying citizens and we demand the same basic right as any heterosexual couples," said Mu Chuan, one of the organisers of the rally. […]
"Even though marriage is a very personal choice, I think gay people should not be stripped of the right to choose to get married," said Mi Feng, a software programmer from Taipei dressed in white and holding a bridal bouquet.
"I just want to tell the world we have the right to love equally like others," said Kongpaphop Panya, a 30-year-old doctor who came from Thailand with three friends.
Obama Still Supports Gay Marriage, Just In Case You Forgot
Fear not. Obama still wants to repeal DOMA.
In fact, he's asked that the Supreme Court hear a challenge to DOMA and use the case to contemplate if a federal definition of marriage limited to straight people is constitutional! Challenge accepted, you brilliant man, you. Nice dog.
Gaga Marries The Night In Her Robe
Lady Gaga didn't feel well during a recent concert in Mexico. So she just kind of put on her pajamas and sang to herself on stage. And it was fantastic.
Family Values
+ You know that recent surge in the polls relating to whether or not your sexuality is a-ok with the world? Your grandparents (and other old people) totally swung that poll in your direction – because they love you.
It is true that younger Americans are more likely to favor marriage. In fact, a person's likelihood of supporting marriage grows 0.8 points by each year of birth, meaning a person born in 1981 is 16 points more likely to favor marriage than someone born in 1961. But youth is overrated. When you break down the proportion of how much of the overall shift came from generational change versus changing hearts and minds, the numbers are stark. A full three-fourths of the movement since 2004 is attributable to the latter, meaning 12 of the 16 points we've gained came from Americans reconsidering the issue and changing their minds.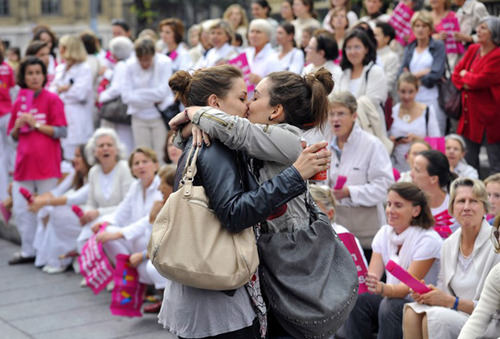 + Evangelical and otherwise extremely religious Christians can find peace with gay people, if they look in their hearts. Promise.
Allyson Robinson Takes on SLDN, OutServe with Pride
Allyson Robinson is the new Director of SLDN and OutServe, two massive groups focused on queers in the military undergoing a current merger into one massive Super Group For Equality. She may be the first transgender leader of a broad-focused LGBT group, and she's certainly unprecedented in her role. So let's sit back and appreciate her, okay?
The case she will make is the one that SLDN and OutServe, formed in 2010, have been making since the repeal: Troubling issues remain when it comes to LGBT military service. In addition to benefits issues for same-sex couples, open service for transgender people, whose own sense of their gender does not match the sex with which they were born, was not addressed in the repeal of the 1993 ban on open service and remains a reason to be discharged from the military today.
"We have not achieved full equality for LGBT servicemembers, and I think that's something that Americans care about. I think they care about the way that our troops and their families are treated," she said.
These Storm-Ready Animals
I didn't buy anything for the storm except Ramen. Should I be buying a six-pack or something? These 11 animals are more ready than I am.