Happy Sunday, cuddle buddies! How are your finals going? Got any Art History to study? Would you like any Beyonce with that?
I was having the worst week ever until Friday, when y'all put me over the edge of my SPARK fundraiser and someone else offered me my dream job. And it gets better for us all this Sunday as queer families gain respect, A$AP says he has our backs, and trans* ladies get the go-ahead to apply to Smith!
After all, it's Sunday Funday! GET INTO IT.
For Queer Mamas
In Iowa, the state's Supreme Court unanimously declared that Heather and Melissa Gartner, two lesbian moms from Des Moines, both be listed on their daughter's birth certificate. (Emphasis mine:)
Heather and Melissa… married after the Iowa Supreme Court legalized marriage equality in 2009, but when their daughter was born later that year, DPH officials listed only Heather on the infant's birth certificate, according to the Associated Press. The "father" line was left blank, and officials told the couple they would need to go through a second-parent adoption in order for both women to be listed on their daughter's birth certificate.

The lawsuit filed by the Gartners and Lambda Legal argued that DHS deprived the child of the protections and benefits of having two legal parents present from birth, reports AP.

The court issued its ruling Friday, in a decision backed by all six justices who considered the case. Justice David Wiggins said the state was unable to come up with a "constitutionally adequate justification" for treating lesbian parents differently that heterosexual parents. 
Hopefully someone gives the lovely moms a special card for queer mamas from Strong Families this Mother's Day.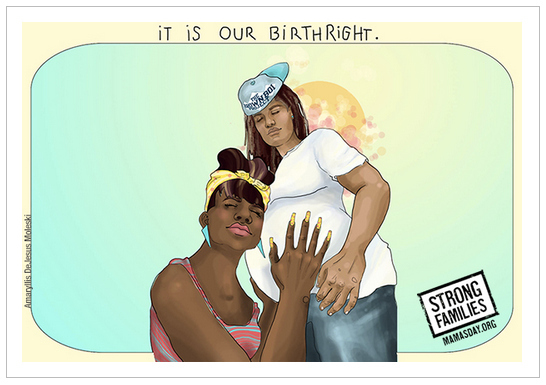 Trendsetters
Fran and Anna Simon were the first civil unionized homos of them all in Colorado, clocking in with their ~vows of everlasting love~ at 12:02 AM this past Wednesday.
Queering Sports
Homophobia is being removed from the field for foul play in the AFL, where players are speaking out against anti-gay slurs being used at games.
A$AP Rocky Thinks Gay People Pretty Ok
Harlem rapper A$AP Rocky recently stopped by Washington D.C.'s WKYS 93.9fm radio station. During the interview he discussed his red lipstick controversy, touring with Rihanna and his opinion on Jason Collins, the NBA player who came out earlier this week.

The "Goldie" rapper and fashion muse said that he respects men who come out, as The Advocate pointed out.

"I respect men more for coming out," he said. "They joke on Frank Ocean a lot, but at least he ain't out here frontin.'" He went on to note, "I respect gay men who identify it and they out with it. I don't have a problem with gay people at all."
And if that isn't enough, peep this quote from a March interview, now being re-linked everywhere:
"So now that I'm here and I've got a microphone in my hand and about 6,000 people watching me, I need to tell them how I feel. For instance, one big issue in hip-hop is the gay thing. It's 2013, and it's a shame that, to this day, that topic still gets people all excited. It's crazy. And it makes me upset that this topic even matters when it comes to hip-hop, because it makes it seem like everybody in hip-hop is small-minded or stupid—and that's not the case. We've got people like Jay-Z. We've got people like Kanye. We've got people like me. We're all prime examples of people who don't think like that. I treat everybody equal, and so I want to be sure that my listeners and my followers do the same if they're gonna represent me. And if I'm gonna represent them, then I also want to do it in a good way."
Trans* Chicks At Smith!
In September, Smith College will convene a committee to fix its fuck-ups w/r/t letting trans* women apply for admission at their university. And in the meantime, they're allowing trans* women of all shapes, sizes, and FAFSA categories to apply.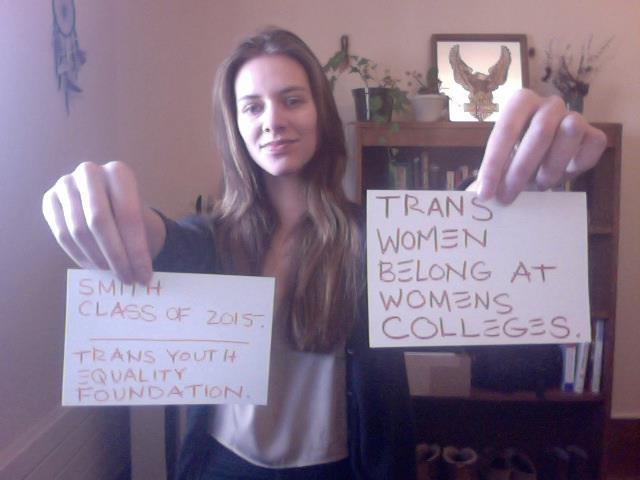 The Shero Section
+ Tig Notaro is awesome. Duh.
+ Alexandria Law sees superheroes differently.
Law draws superheros based on costumes worn by little girls. Because young girls want to preserve the spirit of the superheroines but obviously can't don exact replicas of their hypersexualized outfits, they have to find creative ways to reimagine the uniforms. In Law's words:
One of the main reasons I like these girls' costumes is because of how simple they are. Often times when artists want to re-design female superheroes to be less sex-objecty they end up changing a bunch of unnecessary stuff. It doesn't have to be like that.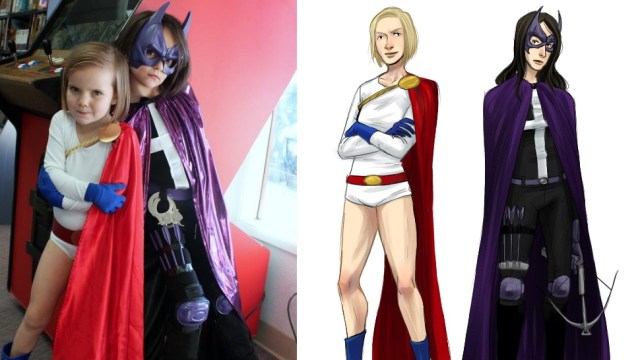 + Ashley Kolodner knows the face of the LGBT movement very personally.
"GayFace" is a current collection of works by New York City photographer and artist Ashley Kolodner (pictured at left). Gay rights, as human rights, have long been thrown aside by American society. Sexuality cannot be defined as black and white for all. There are many LGBTQ people who do not identify with just one label. Queer culture is most often portrayed as radical, quirky, offbeat, even unserious or detrimental to social and familiar norms. The goal of this project is to break barriers that LGBTQ people have lived under. The purpose is to give them the voice they deserve and the power to speak their truth. This collection of works is done to portray the innovative, personal, and participatory face of the gay movement and American culture at large and in the home.
Doods Aren't Funny
Oh, sure, there are men who truly make us laugh. None come to mind at the moment, but I know history has provided us with a few. Euripides was sort of a jokester. English poet John Donne got off a corker every once in a while. But in general, the male species' sense of humor seldom rises above the enjoyment of watching one of their own take a swift shot to the testicles.

It makes sense. Men are genetically programmed to hunt and gather. It is they who must impregnate the herd and protect the collective. And so it's only logical that their brains would need to possess lower humor standards in order to pass the hours entertainingly with their cohorts while stalking that night's dinner or standing guard against the enemy. Imagine if they had to amuse their fellow warriors with jokes and banter that were actually funny. That impossibly high standard would leave them in such despair that they would become easy prey.
Puppies That Hate Work, Too