Happy Sunday Funday and happy holigays, crushed red pepper flakes! I know it doesn't feel like the most wonderful time of the year, but I've come bearing some good gay news and other warm and fuzzy links to try and make it all better. If this doesn't help, probably a healthy serving of time spent in our Holigay Open Thread will! And if all of that still fails, my best advice is to text your exact location to the person you're in love with and tell them to come thru. What more can you lose? We're all about to die! If I've learned anything from doing The Desire Map a second time three years after the first, it's that everything we want is possible if we want it enough and holding back is garbage. Just saying.
Now let's get to the good stuff.
Meet Avery, NatGeo's Historic Cover Girl
9-year-old Avery Jackson is the first trans person to appear on National Geographic in the magazine's 128 year history. She's amazing. Also, their issue on gender is similarly amazing, go buy it.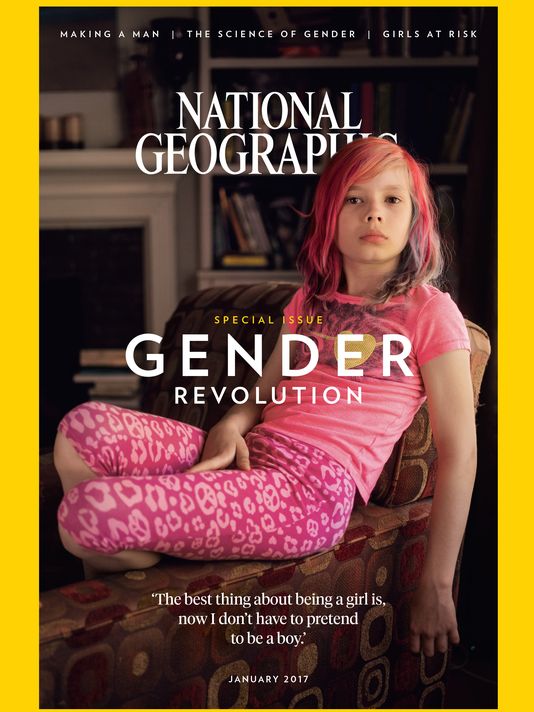 One day when they were walking through Target on a holiday shopping trip, Jackson said Avery turned to her and said: "You call me a boy, you think I'm a boy, but you know I'm a girl on the inside, right?"

What followed were pediatrician visits, sessions with a genetic therapist and the decision to let Avery dress as a girl on the weekends.

And then came another pivotal moment, Jackson said. Avery was going to a birthday party on a Sunday afternoon and her mom asked her to put on boy clothes for a few hours. "No," Avery said. "I don't want to pretend to be a boy." Avery dressed as a girl and none of her friends "batted an eye," Jackson said.

On Monday morning, she dressed for school "in pink head to toe," Jackson said. "And she was excited about going to school for the first time in months."
We Are All This Woman
Queer women, I'mma let you finish your adorable proposal and your whole "being in love" thing, but this woman's reaction to your love is the greatest thing of all time.
https://twitter.com/AreYouShook/status/810334310700109824
Drag Queen Story Hour Has Begun
Grab a seat, y'all. This is about to be magical as fuck.
Remember That Time 2016 Didn't Suck
These are reminders of thirteen not-shitty things that happened in Australia for LGBT folks this year. Were we ever so young or full of hope and excitement? Probably not, since I am now aged and preparing to die in a nuclear winter.
Overwatch Revealed Their Lesbian Character
Tracer from Overwatch is gay and in love with her partner, Emily. I don't know what Overwatch is, but I know that now it's banned in Russia!