Happy Sunday Funday! As much as I enjoyed taking Eli trick-or-treating yesterday, I'm here to admit that today is a wonderful day in my eyes because Halloween is finally over and that means the holidays are on, motherfuckers. But while you're still finishing off that sack of chips and chocolate bars, here's some good queer news to keep your spooky heart happy.
Meet Anry Fuentes, Trans Cheerleader
Anry is shaking things up at Denair High School, even in the midst of some personal turmoil. Also, she's a certifiable badass.
"A lot of people have been telling me that I'm pretty strong for letting that go by because anybody would blow up, but I can't because I'm not going to force it upon them. If that's how they feel, then I can't change their opinion."
Well, Well, What Do We Have Here
Ireland, Meet Marriage Equality
Marriage equality has finally become the law of the land in Ireland.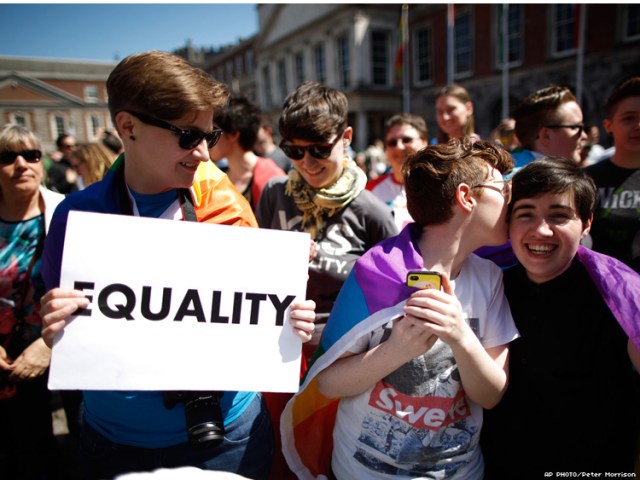 The Obama Administration Loves You Even More Today Than Yesterday
+ Two federal agencies and two major LGBT organizations are standing up for trans teen Gavin Grimm.
+ The State Department is changing up their interpretation of the term "spouse," and it's a difference in policy that could save the lives of queer refugees.
The government announced in the report that refugees who are already qualified to enter the U.S. will now be permitted to apply to bring their same-sex partner along, even if they are not legally married.
"It's life-saving, honestly, for people who are fleeing persecution," Sharita Gruberg, Senior Policy Analyst for the LGBT Research and Communications Project at the D.C.-based Center for American Progress told NPR…
"This policy will help insure that people seeking protection in the U.S. don't have to choose between their safety and their loved ones," Gruberg told NPR.
Who Will Be Houston's HERO
Hillary Clinton, Sally Field, Michael Sam, and even more celebrities and public figures are demanding Houston's Equal Rights Ordinance become law next week. These are the folks on our side.
Sometimes You Wanna Go Where No One Knows Your "Legal Name"
Facebook is switching out their awful "real name" policy for an "authentic identity" policy beginning in December.
Microsoft Not Down With Anti-LGBT Charities
Microsoft will not donate their products to charities with discriminatory hiring practices, because it's ten for us and none for them in a just and true world.
Microsoft offers donated products such as Windows 10, Office 365 Nonprofit and other training and resources to nonprofit charity organizations as part of its Microsoft Corporate Citizenship Charity Sales program, which donates $2 million in software every day to charities.

But, according to the company's "nondiscrimination policy," Christian nonprofits need not apply for the donated software – that is, unless they're willing to hire gay, lesbian and transgender employees, a move that such ministries may see as directly conflicting with their biblical beliefs regarding traditional marriage.
America's Final Word on Kim Davis: No
A majority of Americans want Kim Davis to issue marriage licenses to same-sex couples. Presumably, they (like me) also wish they could erase all memory of her existence from their brains Men-In-Black style.
Cuties with Cats
I missed National Cat Day, but some things are forever. Like these sixteen photos.