Hello, scrumptious rock shrimp! I got a new pair of fleece leggings from TJ Maxx the other day and I'm so happy. Leggings as pants all year round! How are you keepin' it cozy?
---
Alexandra Chandler is Running for Congress
Alexandra Chandler is running for Congress in Massachusetts. When Alexandra Chandler transitioned on the job in 2006, she became the first transgender person to serve in the Office of Naval Intelligence. She's also a working mom—she and her wife have two kids—and she's running on family issues and economic issues. If she wins, she'll be the first openly transgender person to serve in Congress!
---
Two Lesbian Couples Among the First to Legally Wed in Australia!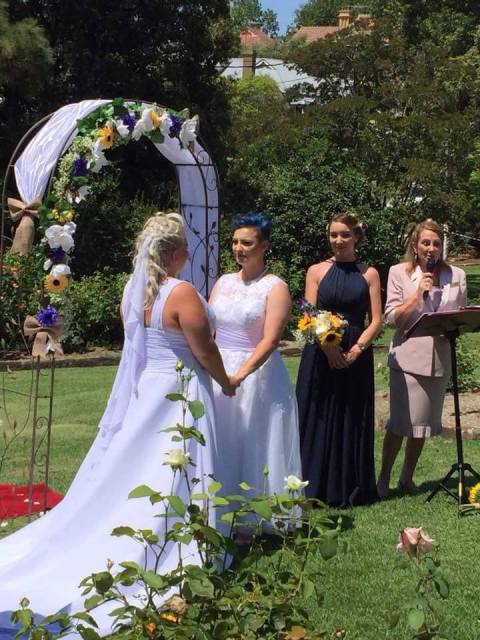 Amy Laker and Lauren Price were among the very first to get gay married in Australia. They'd originally planned to hold a commitment ceremony at the British consulate. But when the new marriage law was passed, they sought an exemption from the normal waiting period because Price's family had already traveled to Sydney.
Another lesbian couple, Amy and Elise McDonal, wed a few hours later.
---
Here, Queer, Etc.
---
Here's an otter for you!
---
Before you go!
It takes funding to keep this publication by and for queer women and trans people of all genders running every day. We will never put our site behind a paywall because we know how important it is to keep Autostraddle free. But that means we rely on the support of our A+ Members.
Still, 99.9% of our readers are not members.
A+ membership starts at just $4/month.
If you're able to, will you join A+ and keep Autostraddle here and working for everyone?
Join A+