AWKWARD STOCK PHOTOS:
For those of you who need to waste an entire Sunday afternoon, or for those of you who have criticisms of our choices of images for our posts: we bring you Awkward Stock Photos, our newest tumblr obsession. Stock photography is hilARIOUS!
Well firstly –who knows what stock photography is raise your hand. Okay – Teachable moment: Stock photography agencies pay photographers for unlimited royalty-free usage of their images, and then publishers/magazines/websites purchase memberships to said agency's website where they can access heaps of hypothetical situations, acted out by models. Work arguments! Walking on the beach! Wedding parties! Homosexuals! Children drawing with crayons! It's like b-roll, but for print! Popular choices include Getty Images, Corbis, Photos.com, Shutterstock, Thinkstock, or our personal favorite, Queerstock.
Ever wondered — where have I seen that photo of the two girls almost-kissing before? The answer: EVERYWHERE. Any of these look familiar to you?
Exhibit A: Most. Popular. Lesbian. Stock. Photos. Ever.
The funniest part of Getty stock photography is that you get a little purview into what mainstream photography studios anticipate lesbians will need for their media.
Awkward stock photography? Oh honey. We've got plenty.
Exhibit B: Leaving Nothing Up to the Imagination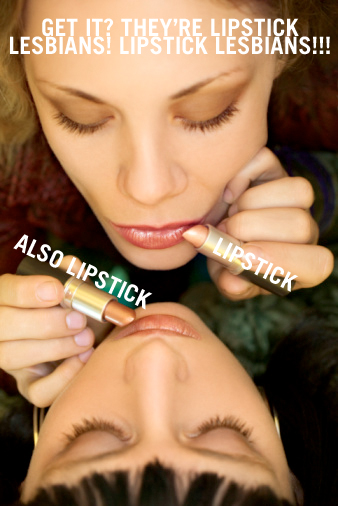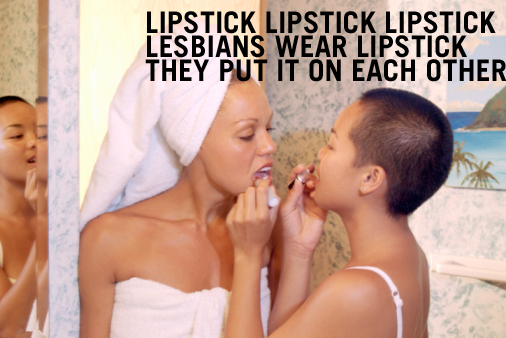 Exhibit C: "Female Homosexual Couple Romancing"
These two chicks are EVERYWHERE. Must have been a fun photo shoot. Hey, did you know that lesbian sex involves closing your eyes, staring longingly at bra straps, rubbing noses, and tugging uncomfortably at one another's clothing? WELL IT DOES.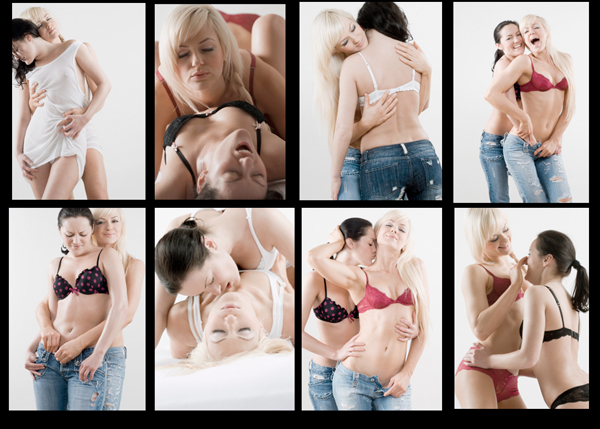 Exhibit D: Lesbians Like Holding Hands
Along with "we're in bed on our laptops!", "our kid LOVES his gay parents!" and "wedding cake with two chicks on top"; "holding hands" is a key lesbian stock photography trope.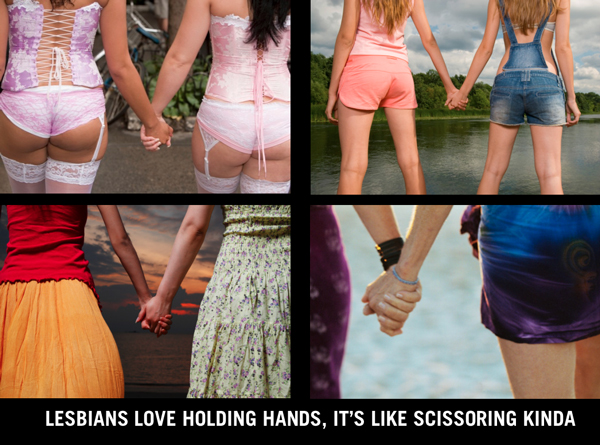 +
Exhibit E: Just Awkward
Sometimes it's just awkward.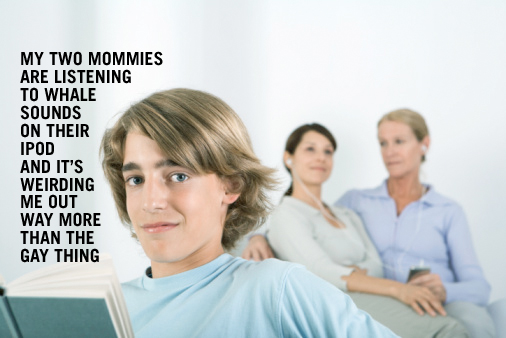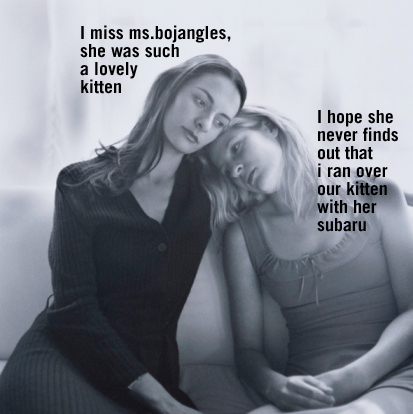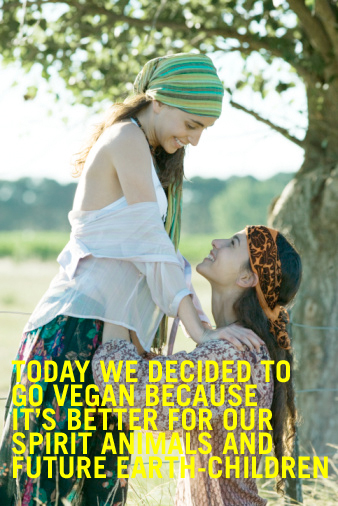 Well, that was fun. Now onto the rest of the daily fix.
In Which Rachel Breaks the Moratorium on Lindsay Lohan Posts Without Executive Permission
MICHAEL LOHAN:
I'm unclear on whether this breaks our Lindsay Lohan Moratorium, but I'm really hoping Riese lets me keep it because honestly, you guys, this is kind of amazeballs or whatever you kids say nowadays. Remember when Lindsay posted that song on youtube for her "ex-father" and you were torn between kind of laughing a little because who posts a song on youtube to express their feelings to their estranged father and feeling weird and sad for her because really, who posts a song on youtube to express their feelings to their estranged father?
ANYHOW, now you can experience this whole range of feelings once again, along with the feelings of "disgust" and "disbelief" and "possible spit-takes from laughing." Basically what I am trying to say is that Michael Lohan has recorded his own song, to say in really schmaltzy words on tape to Lindsay what he could never say in words that were not set to music and relayed by a lawyer.
Highlights include, "A father's love will never die / See things through / No matter the reasons why." and "If you need me, dear/my love is still alive." Enjoy, and feel free to memorize the lyrics for karaoke night this weekend. And then record and upload the results. JUST SAYING. (@gawker)
KRISTEN STEWART:
In the constant public conversation about KStew's "bad attitude"/dislike of paparazzi/inability to conduct interviews, the latest important point is made by KStew herself – would people still feel that way about her if she was a dude? "Being a public figure, I'm supposed to present myself in a certain way, but it's hard and you're never going to be able to tell people who you are properly,wp_postsshe said. "It's sort of impossible. It's much easier for a guy to say what he wants and not to be cute and funny all the time, but, if you're a strong sort of woman, you're just, for lack of a better word, a bitch." Well played! (@ontd)
SUCKER PUNCH:
I hadn't heard of this movie before, and while that doesn't mean anything because I mean I've never even seen Titanic, I thought maybe there was a chance you haven't either? It's called Sucker Punch and it has a lot of girls with guns and short skirts and it's being called "Alice in Wonderland with machine guns." Obvs Dorothy Snarker has the breakdown for you at AfterEllen. (@afterellen)
OIL SPILL:
We don't know what to do about it either, but we did find this video of the Kinsey Sicks, a drag a capella quartet, singing about it. So there's that. (@advocate)