ARIZONA:
Once upon a time in a land of low humidity and snakes, a state governor named Jan Brewer tried to cancel legislation put in place by former governor Janet Napolitano, which allowed gays and lesbians to receive domestic partnerships benefits. (The same legislation also dealt with several other issues, like claiming children of domestic partners or full-time students between the ages of 23 and 24 as dependents.) Her motivation for doing so was kind of unclear; we know only that Brewer was very grateful that "God had placed her in this powerful position," and thus enabled her to protect her state from the fire and brimstone that would be unleashed if one lesbian could have her medical bills covered. (@towleroad)
Fast forward about a year and meet District Judge John Sedwick, who last week issued a preliminary injunction that requires the state to continue providing health insurance to the families of gay and lesbian state employees. Right now there's not a lot more information available about Sedwick or where his ruling might lead – one thing we're fairly confident in, though, is that there are plenty of tirades about "activist judges" and the havoc that they wreak upon all that is truly American just waiting to be unleashed. Are you excited? Because we're excited.
I realized I wasn't 100% sure what people meant when they got all up in arms about "activist judges," so I Googled it like a responsible journalist. According to the Law Enforcement Alliance of America, who has a lot of feelings on this issue:
"…a judge's most important task is interpreting the law. Since the law (whether a statute, a regulation, or the Constitution) already exists, interpreting it is simply determining what it means… A restrained judge believes that the meaning of these words already exists, that the meaning came from the legislatures or the people who enacted those words into law in the first place, and the judge's job is to find it. Activist judges, in contrast, pursue their own agendas and believe they can give those words any meaning they choose… A restrained judge takes the law as he finds it, while the activist judge believes he can make it up as he goes along, usually as a way of reaching the results he wants."
To me, someone who admittedly has zero background in legal or judicial theory, there are some obvious confusions and contradictions with this definition:
If the difference between a "restrained" (i.e. "good") judge and an activist one is that the former comes up with an interpretation of the law that reflects the correct meaning of the legislature and the latter makes up their own meaning, then it follows that there already is a static and verifiable meaning of the law – that there already is a "right" answer to the question being decided in court, and the difference between a good judge and a rogue judge is that the good judge somehow knows the "right" answer, perhaps through augury or rune-casting, and stays true to it.
The question, of course, is where that correct answer comes from – traditionally, the way legal questions are decided are by looking at previous legal precedents – which are really just other judges' decisions. Do you see the catch-22 here? It's bad to make up your own idea of what the law means; the only right way to do it is to meditate deeply on other people's ideas about what the law means. No one's opinions are supposed to ever enter into a legal decision, but if no one had ever had any opinions, how would anyone ever be able to make any legal decisions ever?
If it's not obvious already, the answer is that opinions in the courtroom are biased and "activist" when they seem to be liberal-leaning, or when they benefit gays, poor people, people of color, women, or any other underrepresented minority. As Allison Kellikan writes in the op-ed she published during the Sonia Sotomayor confirmation hearings:
"Two of the biggest partisan hacks on the court, Clarence Thomas and Antonin Scalia (both Republicans) are wildly ideologically biased, and yet they are never labeled as "activist judges."
Scalia could be called a gun activist, since he is a gun owner, and went beyond defending the Second Amendment in his ruling during District of Columbia v Heller. He said self defense is a "central" constitutional right that requires the ownership of guns (specifically handguns) be permitted so that it can be fully exercised. Crowbarring "handguns" into the definition of "right to bear arms" might have opened up Scalia to accusations of being a "right-wing activist," but luckily, he avoided such inconveniences.
Clarence Thomas, Scalia's younger, crazier cousin, is the definition of an activist judge. Check out his dissent in the voting rights case Northwest Austin Municipal Utility District No. 1 v. Holder. Thomas was the only one of the nine justices who wanted to throw out Section 5 of the 1965 Voting Rights Act as an unconstitutional intrusion on states' rights."
That said, we queermos have a lot to thank activist judges for. As the Prop 8 trial established, a lot of legal decision-making processes, especially voter referendums, are heavily biased against gays and other minority groups. Politicians (COUGH Barack Obama and Harry Reid COUGH) may be morally and politically aligned with our goals, but their career concerns often hinder them from helping us as much as they could; they need to keep in mind poll statistics and voter blocks as well as lofty ideals like equality.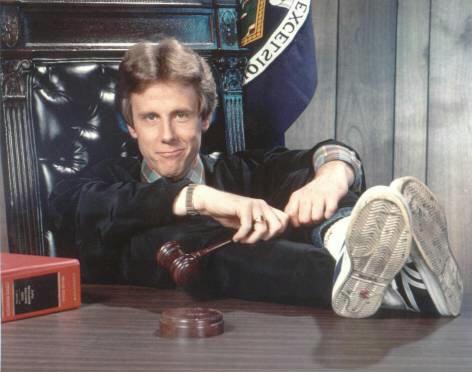 Most judges, however, are not quite as restrained; many of them are appointed for life, so they can rule as their legal conscience dictates without fearing that they'll lose their seat in the next election. This has been the case for many civil rights and human rights movements; the recent court case decriminalizing homosexuality in Delhi is a great example of legal progress being made even though cultural acceptance lags behind somewhat. Some more familiar activist judges might be Judge Tauro, who recently challenged DOMA's constitutionality in a ruling in Massachusetts, and Chief Justice Margaret Marshall, who led the ruling for gay marriage in Massachusetts in 2003.
So regardless of the potential fallout with Judge Sedwick's ruling, we'd like to be one voice applauding all judges who rule as their understanding of the law dictates, even if that legal interpretation has the effect of benefiting a group besides rich straight white men. Because isn't making people angry and giving equal rights to all basically what America was founded on?