BIG WEEKEND: If you are a famous person, someone took your picture this weekend somewhere. The Hope for Haiti Fundraiser on Friday night raised $57 million dollars, and featured performances by The Roots with Jennifer Hudson, Madonna, Justin Timberlake, Jay-Z & Rihanna & The Edge & Bono, Alicia Keys, Beyoncè, Bruce Springsteen, and more. You can purchase the Hope for Haiti album at iTunes and all profits go to Haiti!
Sundance is happening (The Runaways will premiere there tonight) all the way in Utah, and in Los Angeles the Screen Actors Guild Awards happened and once again Glee won for Best Comedy Series.
Mini-gallery of the weekend's festivities:
+
ALTERNATIVE LIFESTYLE HAIRCUT: We thought it would be funny to post this tweet from Kim Stolz. Is it funny? She's so cute!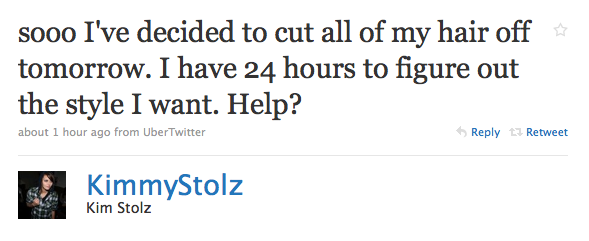 90S NOSTALGIA: Salute Your Shorts: Where Are They Now? (@celebuzz)
CIVIL UNIONS: It looks like civil unions are on track to happen in Hawaii, one of the first states to approve a gay marriage ban in 1998. "We're very pleased that the Hawaii State Senate took action and passed the civil unions bill today,wp_postsTambry Young, co-chair of Equality Hawaii, said in a statement. "The Senate acted with great courage, conviction and integrity. They did the right thing for all Hawaii's families." (@ontopmag)
CONAN: Regardless of what you think about Conan and Leno and NBC and Tina Fey's glasses, I think we can all agree this is a pretty classy farewell on Conan's part. Add him to your list of People You Could Probably Have Very Mature And Adult Breakups With!(@huffingtonpost)
STARLITE: I have never heard of the Starlite Lounge before this, and am now v. upset about it.
"Why shouldn't there be a bar in Crown Heights that is popular with white and black, gay and straight people, where gentrifiers and locals with long lineage drink the special punch next to one another on bar stools, where young, beautiful club types sweat it out to house music alongside 50-something veteran party organizers and standard-issue retirees who happen to live down the block? Doesn't every place have one of those?"
Sadly, Starlite's days may be numbered because of new management, which is TRAGIC because it sounds like they have many pretty girls and were one of the first black-owned establishments that didn't discriminate against gays and also, most importantly, have a killer drag show on Friday nights. Get your drinks there while you can, ladies! You don't have to go home, but you can't stay here! (@nytimes)
JUSTICE: Remember Lindsay Harmon, the 29-year-old lesbian who was stabbed in the freaking eye while leaving Roxy's Bar in Buffalo, NY on New Year's? An arrest has been made in connection with her case – "Suzanne Grover, 21, a former Buffalo resident most recently living in Florida and who is now being held on $75,000 bail after being charged with 2nd degree assault." Also, there will be, um, "enhanced lighting" in the area where she was attacked, and a memo sent through the police department saying hate speech is not ok! Baby steps, I guess. (@wgrz)
PORN STARS: We've been attempting to ignore this story for about a week now BUT IT WON'T GO AWAY. It's like a strange rumor gone mad… Porn star Alexia Moore, who has been arrested for prostitution, may or may not try to argue in court that, based on the fact that much of her porn has been "of a Sapphic nature," she is actually a lesbian and therefore did not solicit a man for sex. Um, lesbianism is not a defense against prostitution! We know lots of lesbian sex workers, Aside from whether or not this is inherently, well, ridiculous on its own, can we talk about this article? "The curvy Moore, whose real name is Cassandra Malandri, was "dancing" at New York's "Big Daddy Lou's Hot Lap Dance Club" in 2008 when she, along with fellow stripper Falynn Rodriguez, allegedly offered an undercover NYPD officer a "threesome" for big bucks." Is that funny to anyone else? Defense lawyer Ikiesha Al-Shabazz has been quoted as saying this plan "doesn't even make sense." Also, here is Moore's picture, apparently from Facebook. (@cbsnews)
ROSIE: It looks like Rosie and her new lady, Texas-based artist and activist Tracy Kachtick-Anders were on Oprah. Oprah asked if the couples' plans included living together, Rosie said "Yes, as soon as we can arrange the kids' thing where she lives in Texas, you know." By "kids" she means all 12 of them, which is how many she and Tracy have combined. That is so many! (@shewired)
TWEETS: If even our Prop 8 trial recaps are a little too much for you – for example, if you were one of several commenters who said Mr. Tam had literally driven you to drink – you might be interested in following @protectmawwiage, the account that's running an awesome parody of the official ProtectMarriage twitter. (@queerty)
NOH8: Adam Bouska and Jeff Parshley, the creators of the NOH8 photo campaign, appeared on MSNBC to discuss their silent but powerful campaign against Prop 8 and of course Cindy McCain as the latest/most titillating addition to the project. Also: I think they might have some NOH8 billboards in the works!
+
MORMONS: Right on the heels of Outrage, there is another important-looking film released about gays & politics, and this one is narrated by our BFF Dustin Lance Black! 8: The Mormon Proposition "contends that The Church of Jesus Christ of Latter-day Saints built on decades of anti-gay teachings to justify its political activism and tried to hide its role as the driving force behind the coalition of conservatives that helped pass Proposition 8." Church spokespeople do not seem excited, saying "it appears that accuracy and truth are rare commodities in this film," but I guess they wouldn't be, would they?(@abcnews)
FASHION: Apparently a) Berlin has a Fashion Week and b) yesterday, designer Patrick Mohr put on a show called "Are We Shaved?" I really want everyone who thinks Lady Gaga's clothes are "weird" to watch this and rethink that. Other feelings I have: this is the EXACT OPPOSITE of the Victoria's Secret Fashion Show. (@gawker)
CAPRICA: Do you watch Caprica? Are you still a little sad Starbuck wasn't gay? Me too, but apparently Caprica is supposed to feature a gay dude (Sam Adama, Joseph Adama's brother) and a bisexual lady character, Sister Clarice Willow. "However, executive producer Jennifer Espenson said gay is not a word Caprica will use. 
"Why do you have to have a different word for who they fall in love with?" Espenson asked on AfterElton.com. "Having a different word for a same-sex relationship struck me as something this culture wouldn't have thought of since those relationships were just considered on a par and unremarkable." What an interesting idea! (@advocate)
ANGELINA & BRAD: We're not into this story about how they're splitting up, except that it'd mean she'd be back in the running to be our next girlfriend. It's actually kinda fascinating how quickly this story spread despite any verification from the source or even a reliable publication. Yeah?
GAGA: HI HELLO THESE ARE LADY GAGA COOKIES. There are ten pages of them. You're welcome. (@queerty)