O HAI TABLET: In case you live under a rock stacked under an infinite pile of other rocks, the Mac Tablet will (with 99.9% likelihood) be announced at a press event in San Francisco this Wednesday. Just please let it not be called the iPad. I just can't bear to own a thing called that.
STREET VIEW PSYCHADELICA: If you ever doubted that Wayne Coyne of the Flaming Lips was actually as batshit-awesome in real life as he is on stage, an amazing Google Street View photo of Coyne captured by sheer chance showing him in costume in a bathtub in his front lawn will make you a believer. Love him!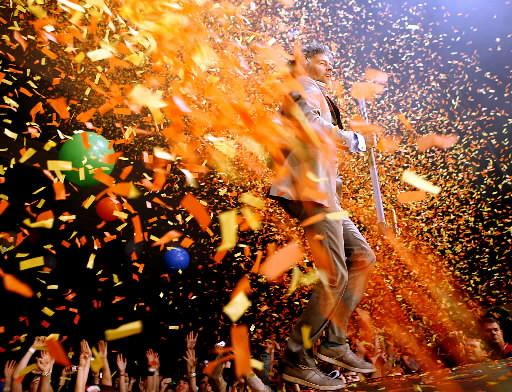 FAKING IT: A dude who won Wildlife Photographer of the Year in National Geographic's high profile contest is probably a dirty liar, it turns out.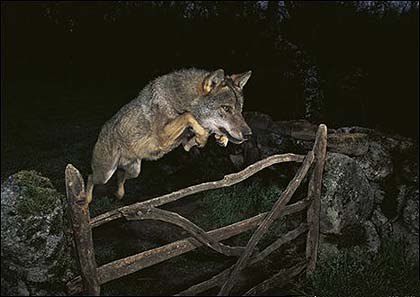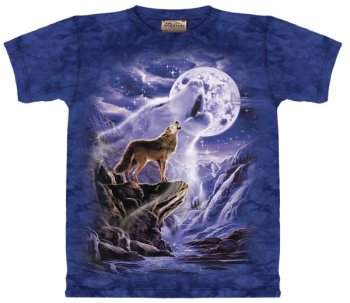 His seemingly awesome photo of a "wild" wolf jumping a fence like some kind of show pony is about as wild and exotic as the photos you take of your dachsund wearing various seasonally-themed outfits. The photog in question allegedly got a loaner wolf named "Ossian" from a zoo near Madrid and put a steak in front of it or something to get it to do the fence hop pictured above.
This case of a faked photo refreshingly doesn't involve digital manipulation, but it's still pretty lame to rent a wolf and make it do tricks for the camera. Especially when one of Nat Geo's contest rules clearly states that you can't rent wolves.
On a semi-related note, hey guys, did anyone else own one of these sweet tie-dyed 4th-grade-earth-mother-t-shirts?
IN THE BUFF: Research suggests that research may some day suggest that spending more time naked is good for you. Tell me something I don't know! Also, if I knew "gymnos" was Greek for naked I might actually work out every now and again.
POKEGASM: Someone please, please help Pokemon-paraphenalia collector Lisa Courtney before she actually suffocates to death under a deadly rainbow sea of ever-multiplying stuffed animals! Also, how amazing is this picture?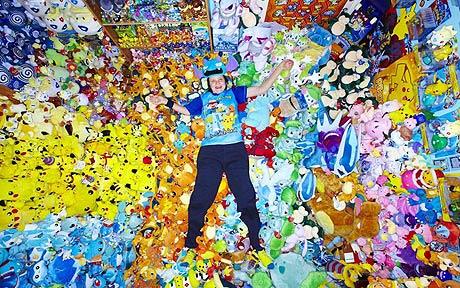 TWITTER HERMITS: Five journos will shut themselves up in a cabin in the Perigord region of France and report the news solely based on input from Twitter and Facebook.
This is a pretty awesome idea for a social media experiment, assuming the journalists don't get fed up with RTing and the "like" button and go all Donner Party on eachother. Also, go ahead and start propagating bizarre misinformation, you little devils.
SCANNING FOR PTSD: Researchers appear to have discovered preliminary evidence of a neural activity pattern unique to Post Traumatic Stress Disorder sufferers. This study, conducted by the University of Minnesota and the Minneapolis VA Medical Center, can only help to further legitimate an often stigmatized psychiatric disorder and could likely be implemented to keep PTSD-diagnosed veterans out of the battlefields.
See? "Soft science" isn't always so soft, jerks.
LEAVE THOSE KIDS ALONE: In a study that will unfortunately be cited by reactionary anti-gaming technophobes for years to come, British kids are increasingly turning up in doctor's offices with rickets, a condition linked to a vitamin D deficiency.
And since vitamin D is linked to sun exposure, the logical conclusion is that all of England's children are probably locked in dark rooms playing Halo, plotting violent crimes and experimenting with gateway drugs.
But like, don't a lot of things happen inside? Like, you know, all of the things that go along with living in a modern-day shelter with a roof? Those kids probably don't study for their spelling tests and brush their teeth outside. But maybe I am jumping to conclusions here.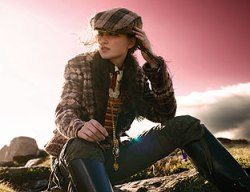 Coincidentally, rickets is also linked to living in Victorian-era England, speaking with a cockney accent and wearing those funny little street-urchin newsboy hats thatmodern-day lesbians love.
So watch out for that, also.