Stephin Merritt, eccentric singer-songwriter for The Magnetic Fields, prefers to wear clothing only in shades of brown. He has a pet Chihuahua named Irving, after Irving Berlin. And due to a hearing condition, he performs concerts like recitals, rarely interacting with his audience and preferring minimal applause. Oh, and he's gay.  So is Claudia Gonson; manager, vocalist, pianist, and occasional drummer for The Magnetic Fields. Sam Davol (cello), John Woo (guitar), and Shirley Simms (vocals) round out the outfit.
For a band with two, out gay members and often gender-bending lyrics, The Magnetic Fields' fanbase is surprisingly not gay. By this, I mean that unlike a band like An Horse, a lesbian is no more likely to have heard of them than any other music fan.
Not this girl. I first encountered their groundbreaking 3-disc set 69 Love Songs in high school, and I've been hooked ever since. Merritt's ironic lyrics about love and loneliness, combined with his striking bass voice, were nothing like I'd ever heard before.
+
This Tuesday (Jan. 26), The Magnetic Fields release their tenth studio album, Realism. While every song from their previous 2008 album Distortion was saturated in — you guessed it — distortion, Realism is a return to folk.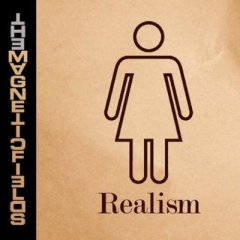 The instrumentation is crystal clear and organic, and Merritt's smartly crafted lyrics return to familiar topics like love and break-ups. If another band had released this album, I'd probably say it was fun and unexpected.  But because Merritt and The Magnetic Fields have set such a high bar for themselves, I can't award such easy praise. Realism is solid, but it lacks the pop appeal that's consistently been present in The Magnetic Fields' previous releases. And while they realism-distortion dichotomy, I occasionally found my senses assaulted with unwanted instruments – particularly the tuba in "Seduced and Abandonedwp_postsand the bell-like sounds in "Painted Flower."
Still, I continue to listen to this album again and again. I absolutely love the jangly starts and stops of "The Dada Polka.wp_postsIt's whimsical and spacey and, like all good songs should, it encourages dancing.
If you're bored by what's on your iPod and are looking for a band that will suck you into a rich discography, The Magnetic Field's Realism is a good place to start.  And if you're a Magnetic Fields fan, well, you probably already pre-ordered this album.
The Magnetic Fields kick off their U.S. Tour on Feb. 4th in Washington, DC. Find the full list of dates here.
You can hear the entire album at The Magnetic Fields' Official MySpace.
Favorite Tracks: "Walk A Lonely Road,wp_posts"Everything Is One Big Christmas Tree," "The Dada Polka"
Skip It: "We Are Having a Hootenanny"
You can pre-order Realism on Amazon.
If you haven't heard 69 Love Songs, you probs should: Amazon or iTunes