HATE CRIMES: Lindsay C. Harmon of Buffalo, New York, was stabbed in her right eye after she and two friends were attacked by two gay-bashing women outside a downtown club following a New Year's Eve celebration.
29-year-old Harmon and her two friends were leaving the nightclub around 2 a.m. to head home when two women, accompanied by four men, began shouting gay slurs at them. Harmon's girlfriend, Nichole Bauer and her friend Dina Coniglio had already gotten into their car when the women began shouting. Bauer got out of the car and Dina told the girls to 'shut their mouths.' At that point Bauer was punched in the face and fell to the ground.
At this point, Harmon tried breaking up the argument:
I said, "Let's go home. Let's get out of here.' I was walking away, and she [the attacker] came behind me, and I got nailed. I thought I'd been punched, and I fell. I just sat there waiting for her to kick me or something," Harmon said.
Dina & Nichole attempted to go after the woman but were restrained by a man who told him that the attacker had a knife. Lindsay 'kept saying, "Dina, I can't see out of my eye." She has now undergone three hours of surgery and does not have vision in her eye. They're unsure if she will ever regain vision and currently has seven stitches in her right eyelid and eye, alone with several stitches in her right cheek and left arm.
Harmon said this was the first time she has ever been attacked because of her sexual orientation.
"I just remember saying, "What did you say?' " Harmon recalled of the moment the attackers began shouting the slurs. "It's just crazy to me. I'd never think anyone would say that in the main gay area of Buffalo. I've been going to Roxy's for like 10 years."
Nichole has started a facebook group for Lindsay Harmon (Please Help Lindsay Harmon and Stop Hate Crimes!) to help them find the attackers. JOIN IT!
"I hope the police catch the woman who stabbed me. I want to sit in front of her and ask her how and why you do this," Harmon said. "I don't understand it. I really don't know why anyone at all would attack someone. I wonder how somebody brings themselves to attack another person."
AIRBRUSHING: Miss Universe 2004 and model Jennifer Hawkins agreed to pose nude and un-airbrushed on the cover of February's Australian Marie Claire, but some are slamming the magazine's anti-Photoshopping efforts, claiming Hawkins does not represent real women. That's silly. It's still a magazine, we just want this airbrushing madness to end! It's hard enough to compare ourselves to actresses and models, but we understand they sell magazines so can we just compare ourselves to actual actresses and models instead of shiny plastic faces and missing limbs and stomachs that vaguely resemble humans? BRAVO AUSTRALIA YOU WIN. (@huffpo)
Editor Jackie Frank told The Australian that the images were inspired by a survey of 5500 readers, which showed that only 12 percent of women were truly happy with their bodies. Marie Claire put Hawkins on the cover to make a positive statement about body image and the photographs of Hawkins will be auctioned later this month, with the proceeds donated to the Butterfly Foundation, an eating disorders support group.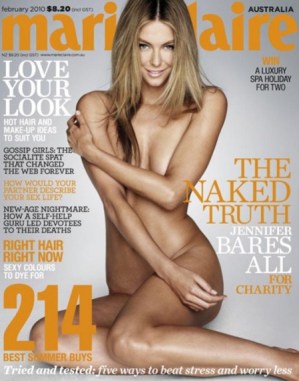 HOME DECOR: Is Apartment Therapy racist? "I wanted to take a comprehensive look at how this important site has treated race and class, pointing out a history of problematic posts." It's a really eye-opening piece, and one of the AT editors responds to OGH in the comments. (@onegrandhome)
SEX: Yes, Virginia, There is a G-Spot. There's more to say about those mystery G-spots so let's keep talking. Unless you're Betty Dobson, because she's bored with it. Violet Blue has some fun ideas about this study: "It would be like rounding up 2,000 straight guys and asking them if they thought they had a prostate. Most would say no, because admitting to knowing he had one means that he's saying he's played with his ass for pleasure. Few women are going to outright state that they've explicitly played with themselves sexually to find a controversial, different way to orgasm." (@thedailybeast)
SONIA: Towards A More Perfect Nation: Sotomayor Navigates A Race, Gender, And Class Minefield In Pursuit Of Justice. (@jezebel)
DENIM: Gap has expanded their boyfriend jean line from lesbians women to babies. When will they realize that the only people who wear "boyfriend" clothes are people who don't have boyfriends? (@jezebel)