In the entertainment industry — where any movie that has been out for longer than three days is considered old news — Sundance, having retreated three eternal weeks into the past, is already ancient history. The denizens of Hollywood, having fulfilled their "pretending to care about independent cinema" quota for the year, have gone back to rewarding the straight white male protagonists of this year's prestige pictures for their diversity (hey, some of the leads of this year's Oscar frontrunners wore glasses instead of contact lenses!).
But I'm not quite ready to shift gears away from Sundance just yet, and here's why: Sundance was SUPER FUCKING GAY THIS YEAR, YOU GUYS. Trust me, I was there. SO GAY. And in the stampede to move on to discussing the Academy Awards, a bevy of incredible queer cinematic offerings has been left in the conversational dust and I, for one, WILL NOT STAND FOR IT. As such, I present to you my Super Gay 2014 Sundance Film Festival Recap—and only 18 days late, which, like, we're running on queer time, you guys, it's totally fine. In fact, I'm practically early!
For those of you who aren't up on your U.S. regional stereotypes, Utah is pretty much known as Mormon country  — to the extent that establishments without a "club" license (different from a regular liquor license) are forbidden from mixing drinks in view of the customers, which basically means that instead of sitting at a bar across from a bartender, you're pretty much just staring at a wall until a drink magically appears in your hand. More importantly, the only retail establishments allowed to sell alcohol are state-licensed liquor stores, so obviously my first move after arriving at my lodging was to immediately head back out into the cold in pursuit of such a location.
And let me tell you, I have never seen so many alternate lifestyle haircuts in such a small place as I have taking public transit around Park City, except for maybe that one time I went to an open mic night at the anarcho-feminist bookstore café where I used to volunteer. They were everywhere — usually in pairs, as I repeatedly learned every time I started gazing longingly at some hyper-attractive queer individual only for their partner to sidle on up beside them. More on that later.
(Side note: Park City's offerings on gay Tinder were pretty disappointing. I thought a tiny town flooded with independent film people would boast a decent enough array of queer visitors from L.A. and New York for Tinder browsing to be worth my time, but it was not so. I was greatly amused, however, by how many Salt Lake City queerfolk had ended their Tinder bios with the disclaimer "not LDS"—or, alternately, "LDS, but I'm cool, I swear!")
At any rate, let's discuss my big gay lineup from Sundance 2014.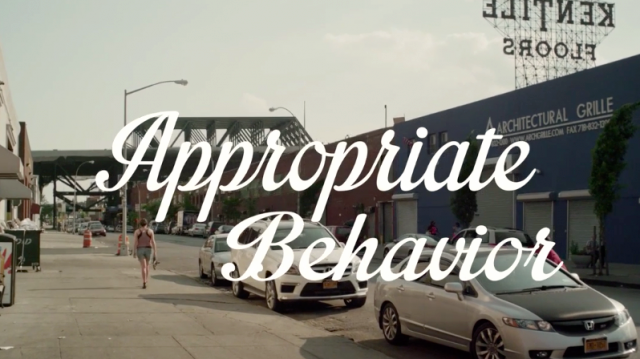 Appropriate Behavior
I know y'all have heard of or watched The Slope, Desirée Akhavan's webseries about "superficial, homophobic lesbians" (although Akhavan's character is technically bisexual). Some of you probably also remember that she was working on a feature that would serve as a sequel to the series. Well, this is that movie! And it's not a sequel anymore, just its own thing! Appropriate Behavior is a movie about Shirin (played by Akhavan herself), a bisexual Persian woman in her late twenties who is deeply closeted to her family. In the wake of a horrendous breakup with her girlfriend Maxine, Shirin belatedly attempts to get her life together: she moves into a new apartment in which her roommates may or may not be necromancers, gets a job teaching a "young filmmakers" class whose students are five years old, and stumbles through a series of sexual misadventures while trying to win back Maxine — all this interspersed with glimpses of their relationship and the reasons it went wrong. It's a bit of a disjointed effort, comprised as it is of largely isolated scenes that don't quite seem to add up to a coherent movie, but Akhavan is a tremendously hilarious and talented writer/director/actor, and representations of bisexuality in American culture thus far haven't gotten much better than this.
---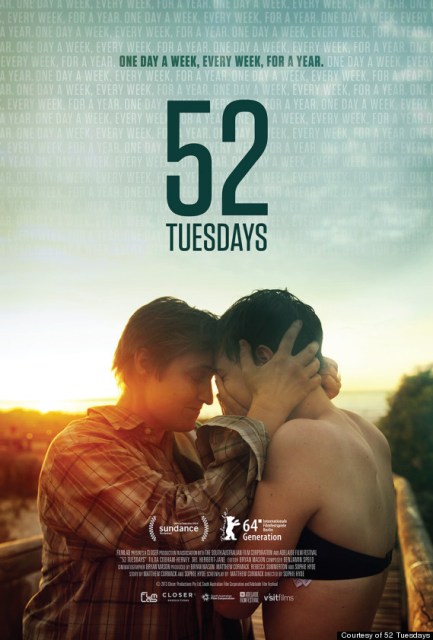 52 Tuesdays
You guys, this movie is precious. Shot every Tuesday for a year, 52 Tuesdays is an Australian film that chronicles how much (and how little) people can change over time. Ever since she can remember, 16-year-old Billie and her mother have been thick as thieves, so when she learns that her mother is planning on transitioning from female to male — and, more importantly, that Billie will be living at her father's house for a year while her other parent, who has decided to take the name James, deals with the ramifications of this — Billie is blindsided. As a compromise, she and James decide to set aside every Tuesday afternoon as "them" time—and in the meantime Billie begins experimenting with her own sexuality. An exploration of both how painful and how liberating change can be, 52 Tuesdays — which, with its projected release date of late 2014, is the only film in this article presently slated for U.S. distribution — is an innovative and heartfelt piece of cinema.
---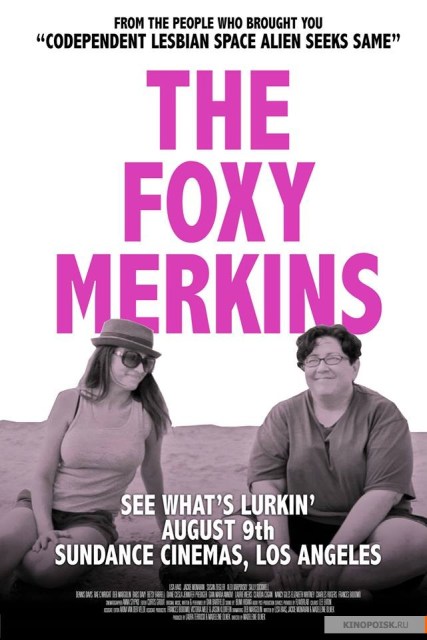 The Foxy Merkins
A couple of years ago, a beautifully bizarre movie called Codependent Lesbian Space Alien Seeks Same made the festival rounds. This year the director, Madeleine Olnek, is back at Sundance with round two: a quasi-mockumentary buddy comedy about two lesbian hookers. Margaret is new to town and new to the business, so Jo, a beautiful (and purportedly straight) hooker with more experience under her belt, takes Margaret under her wing. To save the rent money they don't have, they sleep under a tarp in the bathroom at Grand Central; to pick up the female customers who are apparently waiting all over New York City for a piece of female sex worker action, they solicit in front of an uptown Talbot's. Blue is the Warmest Color this is not; The Foxy Merkins is something far more fun. This is an assertion with which every queer girl in Park City would appear to agree, by the way, because I swear to god they were all at my screening (with their partners, mind you, because us chronically-single folk can never have anything nice ever) and I'm pretty sure I scared a couple of them by staring too hard.
---
My Prairie Home
This screening was about an hour and a half after The Foxy Merkins at the same theatre, and pretty much all the aforementioned audience queers stuck around for My Prairie Home — with which I totally sympathize because THIS MOVIE IS SO GOOD Y'ALL. Malaika already gave you the lowdown on this beautiful film, but for those of you who need a refresher (or an incentive to keep it in your thoughts until it lands distribution outside of Canada), it's a documentary musical about non-binary trans Canadian musician Rae Spoon which also happens to involve lots and lots of dinosaurs. Boom. Done. Movie of the year.
---
Those were the films I saw, but there were plenty of other queer (or queer-adjacent) offerings at the festival, including: The Case Against 8, a documentary following the fight to repeal California's Proposition 8; Love Is Strange, a movie about two men who finally marry after 39 years together, only for one of them to lose his job as a result; Stranger By The Lake, a summer-love-gone-wrong thriller about a love triangle between three men in the lush, remote French countryside; and Drunktown's Finest, a movie about a group of young adults living on a Navajo reservation, one of whom—Felixxia—is a young trans woman who dreams of getting off the reservation so she can become a model.
Over at New Frontier, the art-focused portion of the festival, there was the interactive documentary I Love Your Work, which chronicles the private lives of nine women who make lesbian porn. And, though it doesn't technically fit the topic, I would be remiss without mentioning the German flick Wetlands, easily the weirdest film I've ever seen, which follows a teenage girl named Helen who, for the past several years of her life, has thought of herself as "a living pussy hygiene experiment" — until she winds up in the hospital for cutting herself while shaving her asshole. In one scene, Helen (who largely seems to identify as straight) recalls the time she hired a female hooker "just to try it" — whether the "it" she's referring to is hiring a sex worker or having queer sex is unclear — and the whole thing is presented very matter-of-factly, probably because that's the most normal thing Helen does throughout the entire movie.
Anyway, there you have it: the queerest mainstream film festival lineup in probably the history of ever! It was kind of hard to believe that I was at the same festival as Zach Kickstarter-Exploiter Braff, actually, because the Sundance I attended was teeming with creative individuals eager to tell stories that push the boundaries of life, love, and sexuality. Yeah, okay, maybe this is just a temporary trend — I've learned better than to hitch my wagon to any seeming glimpses of hope in mainstream culture, especially not in showbiz — but if so, well, I sure hope it sticks around a while.