For real though. Stop wasting your cash. Stop wasting plastic and paper. And for the love of Griner, stop wasting the opportunity to feed yourself really fucking delicious food. Just because you work in an office doesn't mean you need to eat like a schlub. Because let's be honest, that Chipotle burrito doesn't make you feel so hot by 3pm and you don't make enough money to be spending on $14 salads every day. And even if you did, the planet would be so sad at all the takeout containers and other shit you toss away after eating them. Is my Jewish guilt working on you yet?
Does the idea of spending an hour in your kitchen after a long day preparing some hippy brown bag lunch sound horrible? Yeah, it does to me too. Who wants to sit over a pot of boiling quinoa when we have so much to catch up on? Guys, with one trip to the grocery store and one to your nearest TJ Maxx, you can turn your work sitch into a fully functional kitchen and pantry that is just waiting for you to raid it.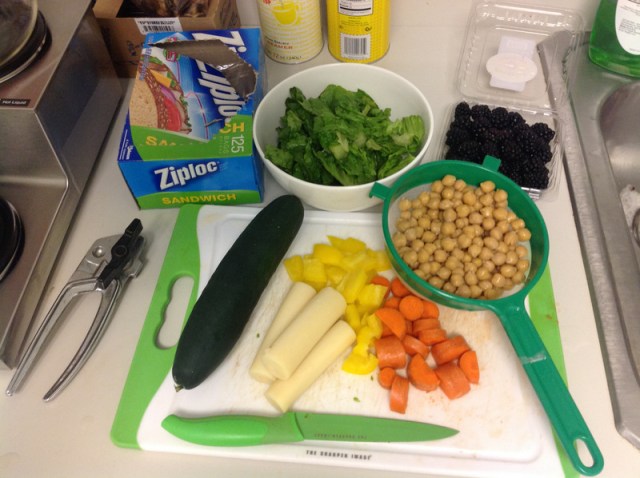 Below are some lists of what you need to keep around in order to make healthy/cheap/easy/delicious salads, sandwiches and snacks at work whenever you like. All you need is a teensy bit of space in your cubicle or office, to carve out a spot in the communal (and most likely terrifying) fridge, and like one trip to the grocery store every so often.
The Hardware – I got almost all of my stuff at TJ Maxx and The Dollar Store for less than $10. This stuff will live in an empty drawer or filing cabinet in your office or cubicle. Nobody has to know. So profesh.
1 microwave safe bowl
1 plastic cutting board
1 sharp knife
1 strainer (for canned goods)
1 can opener
1 bag of Ziplocs/a few reusable containers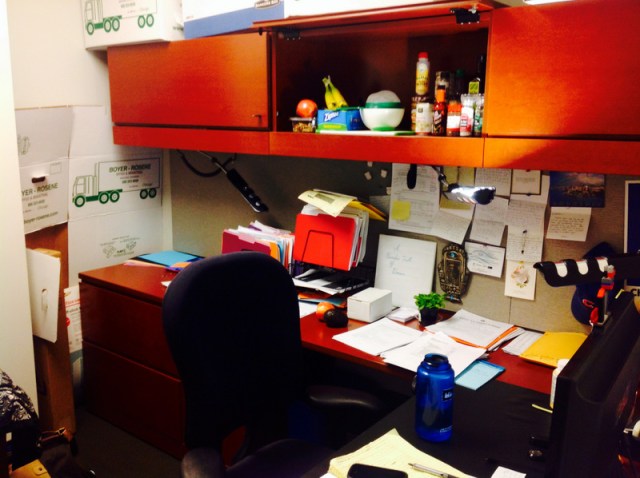 The Pantry – This list is really just a suggestive jumping off point. Anything that doesn't have to be refrigerated and that you might like to add to a salad or sandwich goes in the pantry. And it all lives in the same place as your hardware.
Condiments: a bottle olive oil, a bottle vinegar, peanut butter, soy sauce
Cans of things you like on salads (I'm into hearts of palm, garbanzo beans, and artichoke hearts)
Salt & pepper (and other dried herbs you might be into)
Dried fruit, nuts, or seeds
Peanut or almond butter
Crackers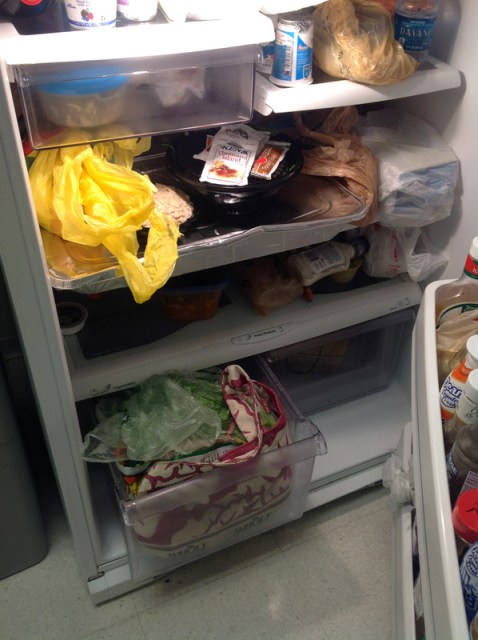 The Fridge – Here comes the endless salad bar and sandwich station of your dreams! Below is a list of what I generally keep in my work fridge, but don't let it stifle your lunchtime fantasy. The only trick here is muscling your way into a communal office fridge and finding some space for your stuff. You can see above that I just took over an entire crisper drawer with my bag because, let's face it.
Lettuce/greens (I like romaine, fresh kale, or spinach)
Bell pepper
Carrots
Hummus
Sprouts
Cheese
Tortillas/bread
Mustard
Deli meat/veggie slices
Fresh fruit (berries, melon, cherry tomatoes, etc)
Cucumber
Hardboiled eggs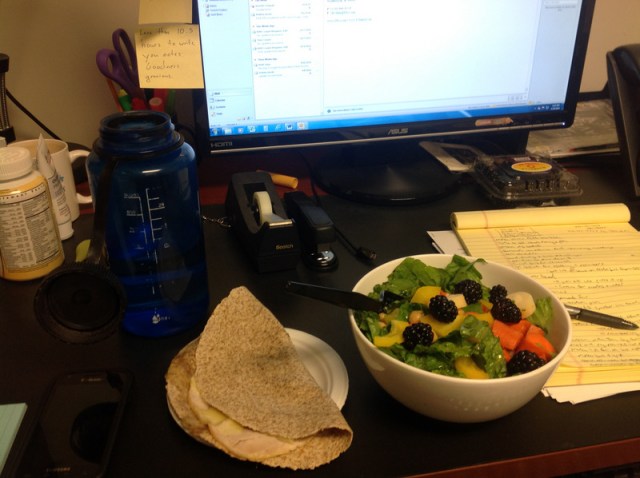 Once you have your hardware set and a good stock of pantry and fridge items rotating, you can eat exactly what you like every day! Maybe you want a hummus wrap with fresh veggies one day, and maybe you are into a chopped salad with avocado and cheese the next. Oh, you're trying to eat more protein? Make lettuce wraps with some romaine and a few deli slices/hard boiled eggs/chickpea salad.
See how easy?!