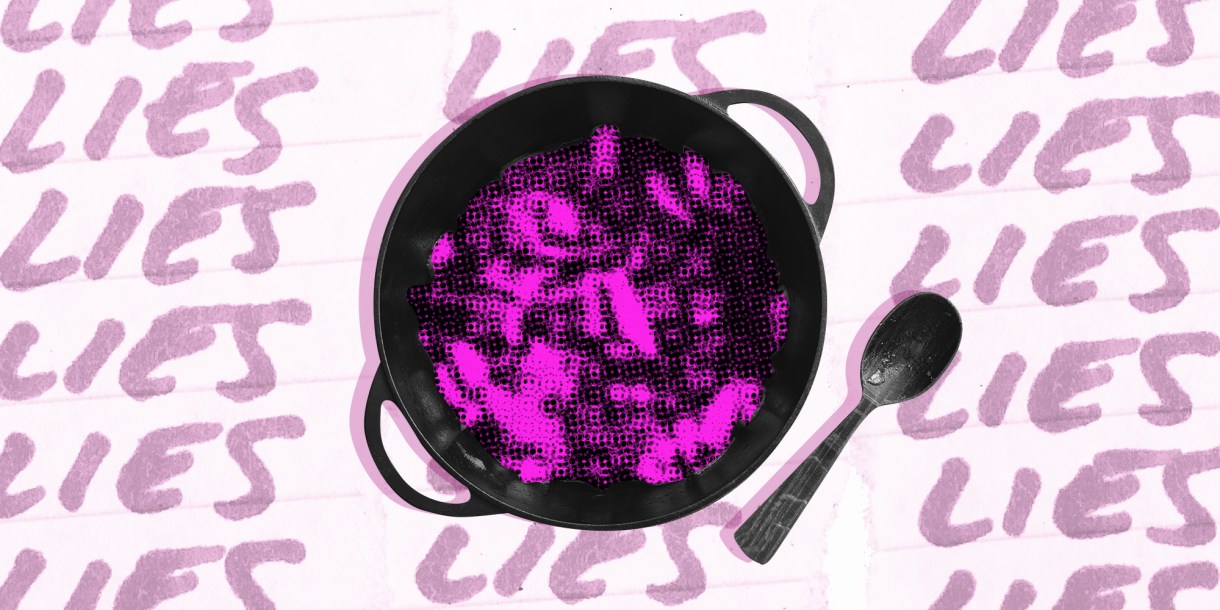 It's the small victories, the small viciousness, that make proper revenge. I'd started cooking as soon as Sarah had called ahead and said, "We need to talk." It felt good to have a knife in my hand, to have a project to focus on. If the end was happening, I wanted to taste it.
For the previous two years we'd been together, Sarah had loved my Irish stew. Based in a Guinness gravy sauce with soft red potatoes, celery, carrots, and slow-cooked steak marinated in a homemade roux of stout, balsamic vinegar, and freshly rubbed sage, the stew filled the house with its aroma, simmering for hours, sweet and savory. A signature.
If this was going to be the last time Sarah saw me, I wanted that hazy perfume to fill her nostrils the second she walked in. I wanted her to taste what she was leaving. The pot was full; there'd be leftovers. I planned on packing them up and letting her smell the decision her whole drive home.
This stew, once my gift, was now my weapon. I wanted it to say the things I'd never said when our intimacy began its fade into the fog of isolation.
While I chopped the onions, the vegetable's stout bite rising, I imagined every small sting, every little statement that hurt. Chop. The day she told me she had never been in love with me. Chop. The way she told me, with fragrances and soaps that I didn't want, that she thought I smelled (I didn't). Chop. The slow recede as she stopped touching me, kissing me, holding me – the blade came down so swiftly I checked to make sure I'd missed my fingers. Swiping little sour bits into my hand and adding them to the pot, I allowed myself to cry.
When I was a child, one of my favorite books by Arnold Lobel was about an owl who made tear water tea. He fluffed his brown feathers, sat in a wicker rocker, and thought of the sad things: spoons lost and gone rusty, songs that couldn't be sung because of forgotten words, sunrises missed because everybody was sleeping. In the story, Owl conjures these images, weeps big cartoonish drops, and then once the pot was full, stops crying and puts the kettle on. The magic of the book, of course, was that in speaking about these sad things, the author actually gave them voice – illustrating the beautiful sunrise so it could be seen, a brilliant orb breaking through misty clouds above a sleepy English town – and by doing so, negated some of the sadness. Once Owl's tea is made, he sips it contentedly in his fluffy armchair, thinking to himself "It's a bit salty, but tear water tea is always good."
Whatever larger lesson about catharsis or letting go was at the heart of the book, it flew above my childish head. Rather than identifying with Owl, as I suppose Lobel meant, I saw myself in the forgotten things, the words lost to memory, the spoons left to their slow decay. Perhaps it's a bit melodramatic for a four-year-old, or however old I was then, but I'd felt like I had been forgotten. My parent's marriage was too complicated, messy. The kids were in the background of the growing disaster their lives together had become. We existed tried to pick up pieces of their love amidst the wreckage of their hatred. My songs, sunrises, were secrets and someday someone would love me and we'd share these things. Someday. Someone.
The process of making the breakup stew was nowhere as controlled as Owl's tea. Unlike a fluffy fantastical beast made for children, I am a human adult; I like to think I'm not melodramatic, but I am mean when hurt. This stew, once my gift, was now my weapon. I wanted it to say the things I'd never said when our intimacy began its fade into the fog of isolation.
It's hard to remember in a relationship that you aren't required to be in it. A relationship isn't a marriage; when you're dating it's supposed to be casual. Like trying on somebody to see if they fit. If someone says to you, early on "I'm not in love with you," then you have the choice to leave, to find somebody who could be. You don't need to stay, to see if you can fix the problem. When someone doesn't like you, it isn't a challenge to become what they want – you admit you don't fit, and that's it. Even if you are married, as my parents' divorce proved to me, it may be better to end it before it goes down in flames. In theory. Relationships can be practice for the one that someday works.
I learned a lot from my parent's marriage, but I never learned to leave. Growing up in a house that's haunted, you shouldn't be surprised if you walk away touched with darkness. After years of my parent's fighting, breaking each other, breaking furniture, breaking us – the cracks had healed, but like a dish that's glued back together, in the right light, the lines show. I'd imagined the pieces of my heart were stronger for the wounds they had, the organ a calloused pair of hands. That I could use these hands to fix and build, even when everything seems hopeless. This was naïve. My parents' marriage, like all bad examples, taught me what not to do by showing me exactly how to do it. Even though I rarely indulge the knowledge, I still learned how to make bad things last, make my words sweet when my heart was sour, make anything a weapon, even food.
Once the stew was simmering, I decided to add soda bread to the menu. Normally, I only made it on St. Patrick's day, an association I knew Sarah wouldn't miss. I put a pinch of brown sugar in it, a wink of sweetness. The bread crumbs falling in the gravy stew, a golden dust, complete the meal. I timed the baking so it would be fresh and warm in Sarah's hands.
When we began, Sarah and I, I remember being happy. I remember the first time I heard her voice; she called me the day before we met in person, on my birthday. She had a slight East Texas twang, and her long vowels carried sunshine, lit me up. I felt like my own candles, aflame with hope and this deep seated knowing that this would be different. She was different. The other girls, the boys, before – we'd met in bars or through well-meaning but short lived friendships – and Sarah, we'd gone about things slowly. For over a month we sent messages online and then a few chaste text messages here and there, politely asking each other about our days. I wanted the relationship to mean something, go somewhere. I didn't want to throw myself into her, baggage and bones, and wait to see if she could make sense of it.
Sarah and I were good together before we went bad. We kissed in the rain, made love to thunder while the dogs whimpered by the bedside, and even travelled to Ireland. We were wandering the streets on St. Patrick's Day, our faces painted with green, white, and orange like Yank tourists, holding hands and listening to the roar of drunks and fiddles. I leaned in to kiss her and she turned away, without words, her face impassive.
I looked down at our entwined hands, squeezed her fingers, hoping for a response. She did not squeeze back. My stomach dropped from my body onto the cobblestones, mixing with discarded streamers and piles of vomit.
That's when I asked her, the question laced with Guinness, "Are you in love with me?"
"No," she replied without pause, walking on. She did not say why, she did not say when it had stopped, did not attempt take the bite from the word.
Maybe she thought if she acted like the question wasn't important, her answer wouldn't be so devastating. She held my hand, still, and for all the world to see it looked like we were as we'd been before.
I couldn't look at her, stopped hearing the crowds around us, just followed her meekly, starting at our linked hands. My Claddagh ring had its heart inward, the symbol of the wearer's affections being spoken for. I felt foolish for believing that.
If you weren't paying attention, you might not notice Cork is an island. The River Lee separates the city center from surrounding hills, tendrils of water and bridges cutting the stone to show the waves beneath. Our hotel, on the hillside of one of these bridges, rose in front of us and Sarah let go of my hand to swipe an entry key.
As soon as her fingers left mine, I ran.
At night, we slept on opposite sides of the bed and traded chaste kisses on the cheek. I'd lie there and think about the difference between loving someone and being in love with them, telling myself the distance between Sarah and I didn't matter.
I spent that night in the bus station, crying while the phrase "stand clear, luggage doors in operation" repeated in the air so many times that to this day it's one of the only things I can say with a convincing Irish accent. I turned my Claddagh around, hoping the gesture would make me feel less bereft. There was no comfort in the station. It was a place for people who belonged nowhere, and that's how I felt then.
The next day, I watched the doors of the hotel until Sarah left and then went in. The room was neat, as Sarah required everything to be tidy. I wanted to leave behind more than my absence, show Sarah she'd torn something out of me. I took my diary, found each day that mentioned her and my growing feelings and I tore out the pages, writing "LIES" across each. I left them in a pile on top of the bed.
Sarah emailed me a few days later. I'd fled up the coast and was staying in a hostel in Galway. She said she was sorry, that just because she wasn't in love with me didn't mean she would never be, that this wasn't the sort of thing adults did to each other if they really cared.
I went back.
You're probably wondering, why wasn't that the end? How could I have dated, loved, someone for years while knowing they didn't feel the same? The truth is I wasn't sure I could be loved by anybody, that maybe asking for that was too much. Sarah's modest affection was comforting. There is a superficial solace in settling, otherwise so many people wouldn't.
Our relationship looked wonderful on the outside. I had someone to spend my nights grading papers with, to cook better dinners than I made when I was alone, and she had someone to watch her dogs, bring to company parties. We pretended. Our relationship was as stable and sterile as I'd always wanted my parents' to be. She said the words "I love you," when we ended a phone call. She signed cards with a bubbly heart next to her name. At night, we slept on opposite sides of the bed and traded chaste kisses on the cheek. I'd lie there and think about the difference between loving someone and being in love with them, telling myself the distance between Sarah and I didn't matter.
I often wonder whether trauma encodes into our being like altered DNA. This is probably because I've never felt able to completely change my behaviors, even after therapy taught me to recognize them. Sarah's demands on me, the soaps and the cleaning supplies, were her way of addressing the problems she thought we had. If she wasn't in love with me, it was because I was too messy, so she tried to clean me up. A literalist, to the end.
The void in the relationship, that emptiness at the heart of the lie Sarah and I told each other, I was so sure if I tried hard enough I could fill it. That this was a thing that could be fixed, a puzzle to solve or a bridge to build. The foolhardy despair felt more familiar to me than the love that I craved. Maybe I've never been able to distinguish between the two. The feelings are as complex to me as the spices in my stew – sweet, ruby darkness.
The knock at the door came just before the bread was ready to come out of the oven. I forced a smile, let Sarah in. It had been a year and a half since our trip to Cork and I'd gotten good at pretending.
She kissed me on the cheek, her light blue eyes and round face only close for a second. We're about the same height, but she slumped. She walked into the house, gaze downward, twisting her rings instead of saying anything.
"I made you stew," I said. I feign innocence.
"I'm not hungry," Sarah replied.
"Then you'll have to take it with you," I said, "I imagine you're not staying long?"
Sarah didn't move. I scooped the stew into the container I picked out earlier. My hands were trembling, but my voice was steady, "Don't worry, Sarah. I know what you're going to say. It's not me, it's you. You wish this could work, but it won't. We need to stop forcing it."
I handed Sarah the container, and she turned her face upward, looking like she was about to say something.
Then I smelled the bread burning.
I turned away and went to the oven. I grabbed the mitts and pulled out the tray, but the bread had already blackened.
When I turned around again, Sarah was gone and the stew was on the table. Sarah had figured out my stew was not kindness. The container was meant to be a burden, a reminder, and the rich taste of its contents a smug self-proclamation of how good our relationship was supposed to have been. She was rejecting that, choosing not to engage with it, not allowing me this last unspoken, cruel word.
The problem with revenge is that retribution implies there is someone to whom the blame can be neatly assigned. That the wounded party is owed. Life doesn't work like that. What did Sarah owe me? I had been too proud to let her go, too stubborn to admit I'd made a mistake in going back and staying. Our crumbling façade was as much my fault as it was hers.
I made it to the door just in time to yell out her name, to see her climb into her truck. "I'm sorry," she called back to me, "I'm sorry."
It sounded like she meant it. And then she was gone.

---
This piece was originally published on Chicago Literati and has been republished here with permission.
---