Welcome to Soggy Bottoms, where, lacking a tent in the British countryside, Autostraddle writers attempt to bake things inspired by The Great British Bake Off in their own homes, to varying degrees of success. This month, Stef and her friend Kate made mini pear pies.
---
When my good friend Kate told me she had become obsessed with a British baking show, I brushed it off as just another one of her weird obsessions. Like me, Kate has a tendency to get wrapped up in the most ridiculous aspects of pop culture, and her minor obsessions tend to be very different from mine (her proclivity for celebrating major American holidays at chain restaurants like Red Lobster and Hooters, for example). However, when she sat me down and told me I had to watch an episode of this baking show, I figured I'd give it a shot. Not ten minutes later, I was completely engrossed in the gentle, beautiful world of the Great British Bake Off. It was nothing like any American reality show I'd ever seen. The contestants were respectful, even kind to one another, and the hosts made goofy puns while displaying genuine affection for the bakers in question. Everything they made looked amazing, but Kate and I were particularly smitten with the first technical challenge that came up that episode: mini pear pies.
"I've never poached a pear," 17-year-old contestant Martha gushed adorably, and come to think of it, neither had I. As Paul Hollywood and Mary Berry sliced into the pie they'd presented as an example, I couldn't help drooling a bit as I wondered how hard it would be to recreate such a tasty concoction.
Some things you should know about me: I do like to bake, and I'm actually very good at it when I have the time. I make a mean blackberry bramble, and I've been known to garnish my cupcakes with homemade red wine frosting. The other thing you should know is that I am determined to veganize all sorts of crap that nobody ever wanted to make vegan in the first place.
It didn't take a lot of coaxing to get Kate on board for this grand experiment, but we made a couple of minor errors, the sort of thing I could hear Mel Giedroyc's voice pointing out in my head: "What the bakers don't know is that going to the grocery store half-drunk after having only vaguely skimmed the recipe is a terrible idea."
In lieu of the recipe presented on the BBC's website (which involved lard), Kate and I opted for a vegan recipe that seemed much simpler. We neglected to read many of the important instructions, which turned out to be a huge mistake. Today we will illustrate for you the correct way to make puff pastry dough, and the very incredibly wrong way.
---
Ingredients:
For the crust:
1 ½ cups bread flour
1 ¼ cups all-purpose flour
1 ½ teaspoons salt
½ cup Earth Balance or other non-hydrogenated stick margarine (not tub margarine) cut into 1/2 inch pieces
1 cup ice cold water
1 ½ teaspoons lemon juice
For the butter square:
1 ¼ cups cold Earth Balance or other non-hydrogenated stick margarine (not tub margarine), cut into 1 tablespoon-size pieces
1 ¼ cups cold vegan shortening, cut into 1 tablespoon-size pieces
¼ cup all-purpose flour
For the dough wash (optional):
1 tablespoon soy milk
1 tablespoon amber agave syrup
For the pears:
6 large, firm pears, preferably ones that are straight and tall
1 1/3 cup caster sugar
500ml/18fl oz dry white wine
2 cinnamon sticks
orange zest
Right off the bat we ran into a couple of problems. We forgot to buy a lemon, but reasoned we could use the orange juice in its place. We had forgotten about the dough wash entirely (which seemed fine), and we figured we could probably replace the shortening (which had completely slipped our minds) with more Earth Balance. Sounds fine, right?
We had also decided that in lieu of the "dry" white wine the recipe called for, we'd just buy a box because then we could drink a bunch of it. What kind of amateurs are we?! The box of wine we chose inexplicably cost $18, and was so sickeningly sweet that neither of us could manage to choke down a single gulp.
---
First, combine your flours (make sure to say "flours" in your best Mary Berry voice) and salt, then add your ½ cup of margarine. We didn't do this — we added 1 ¼ cups like it says for the butter square, and immediately wondered if something was wrong. Next, add your ice water and lemon (or in this case orange) juice. Our dough was a gloopy mess, and clearly not what we'd been aiming for. We realized the error of our ways far too late to correct it. Anyway, if you did this correctly you're supposed to mix the dough until the butter is no longer visible, then transfer to a lightly floured surface and knead the dough quickly until butter starts coming off on your hands (not very long). If it's too gloopy, you can add additional flour in 1 tbsp increments until you reach the desired texture. This was not an option for us; we had already failed.
Next, roll your dough into a ball and cut an X into the top, reaching halfway through your dough ball. Cover it in saran wrap and place it in the fridge for at least two hours. Presumably, some kind of science is supposed to happen, but we'd already made a mess of things so it really didn't matter anymore. We felt Paul Hollywood staring at us with the sharp, majestic blue eyes of a Siberian husky, radiating catastrophic disappointment. Didn't stop us.
While you wait for your dough to do whatever it's supposed to do, you can bake up some tater tots and watch a bad horror movie. Additionally, you can prepare your butter square.
Grab a mixing bowl and add the 1 ¼ cups butter/margarine, the shortening, ¼ cup all-purpose flour and mix it together on low. Put your buttery goo on a sheet of plastic wrap and shape it into a 6″ square. Wrap it completely in plastic wrap and then refrigerate for one hour (We had already given up by this point, and ignored this entire process).
Roll your dough out on a lightly floured surface, sprinkle a little flour on your rolling pin and roll your dough along the X to about 12 inches square, using long, even strokes. Emancipate your butter square from its plastic wrap prison and place it diagonally on top of your dough. Fold the dough over the butter square as though you were wrapping it in envelope. Pinch the ends of the dough together to seal it. Then use your rolling pin to tap at the dough and roll it out even larger, to about 14 inches square (adding flour as necessary).
Fold the dough in thirds (this is apparently called a "turn" in the "laminated dough world," a world that exists), then turn it 180 degrees and fold into thirds again, so it's sort of a highly stacked square.
We basically just kneaded a bunch of extra Earth Balance into our gloopy dough and hoped for the best. VeganBaking.net has some really beautiful pictures of what your dough should look like. Honestly, ours looked like this:
For a moment, we considered throwing a docile temper tantrum like Iain and tossing our monstrous creation in the trash, but we'd come this far and damn it, we had to see this thing through. We soldiered on.
Wrap the dough in plastic wrap again and refrigerate another hour. Science will tell you that the refrigeration relaxes the gluten in the dough and resolidifies the fats, which makes your dough nice and stretchy and ready to wrap its sweet self around some pears (ideally you'll stretch your dough out again later and do even more turns!). We decided not to even bother, and instead to get to work on poaching our pears.
First, peel your pears, but keep the stems intact. In a pan large enough to hold six friggin pears, combine your sugar, wine, cinnamon sticks, orange zest and 400 mL of water, and slowly bring it to a boil, stirring all the while. It may shock you to learn we did not have a zester, so we just used small pieces of orange peel. Nothing matters anymore. The white wine mixture smelled horrible, or as Kate described it, "like Christmas garbage."
When your sugar is dissolved and the mixture is boiling, add your pears and coat them generously in the mixture. Reduce your heat to a simmer and keep stirring for about 15 minutes. At this point, Kate described the smell as "burning cleaning products." I remained tentatively optimistic.
After you remove the pears, boil the syrup rapidly for another 10-15 minutes until it's reduced by half and has become a lot thicker and stickier. As the pears cool, use a melon baller to core them.
On the show, there was a lot of drama surrounding the temperature of the cooling pears vs. their ability to hold puff pastry wrapped around their syrupy little bodies. We did not have this problem, probably because we obeyed none of the rules and nothing was as it should be.
This seems like as good a time as any to preheat your oven to  200C/400F.
Roll your dough out again and cut into thin strips. Seems simple enough.
Brush your pears generously with the syrup and then wrap the strips of pastry around them, like one of those pots you made in ceramics when you were in first grade. The recipe also recommends that you save some of the dough to shape into little leaves, but we decided we weren't kidding anyone. If you do happen to make little leaves, you can stick them just below the stem of each pear.
Place your coated pears on a baking tray. You could brush your pastry with a beaten egg, or you could use more of your syrup (or the dough wash we'd forgotten all about). Sprinkle a little more sugar on top for good measure. It's absolutely impossible to get these things to stand up.
Bake for 25-30 minutes, then let the pears cool for 10-15 more.
When I took our pears out of the oven, only one had remained upright, and that one was beautiful. The rest of the pears looked kind of like the poor unfortunate souls from The Little Mermaid.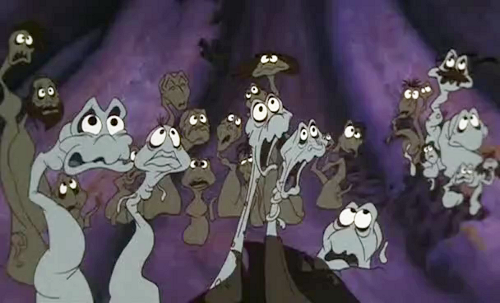 I covered the bottom of a bowl with a layer of syrup, then placed the solitary goodlooking pear in the middle and brought it into the other room for a taste test. To our absolute shock, that little dude was absolutely fucking delicious. We hadn't made puff pastry, that's for damn sure, but we'd made some kind of delightful, buttery pie crust, and that was just as good. The pear on the inside was soft and flavorful, and the syrup on the bottom added an extra sweet kick.
Was the bottom soggy? Well, yeah. It was sitting in a pool of its own syrup. That's kind of the point.
In the end, we decided that while we'd completely botched the recipe, we thought the end result was excellent enough that we probably wouldn't have gotten kicked off the show this week. We wouldn't have been star baker, that's for sure, but we decided Paul and Mary would have placed us solidly in the middle of the pack. Considering what we were up against, that seemed like a perfectly acceptable place to be.