When I first realized that nearly every queer woman I know played soccer at some point, I was perplexed. After all, you can't use your hands and that sounds like a deal breaker. Despite this you peeps seem pretty psyched about the Women's World Cup: 2011 edition. I'm starting to think the last time this came around you never missed a night because your dream in life is to be a footballer's wife.

Set in the land of every gaydar's worst enemy, Germany, this year's tournament is packed with talent and absurdity. I know you're excited for the 26th to roll around but first let me make you sad with a roundup of some of the dramaz going down in the world of women's soccer.
Five players from Germany's U20 team posed for Playboy. This might cause glee until you realize this is just what Sepp Blatter, President of FIFA, wants for all female players.
The Iranian team was banned from the 2012 Olympics for violating FIFA's ban on religious displays.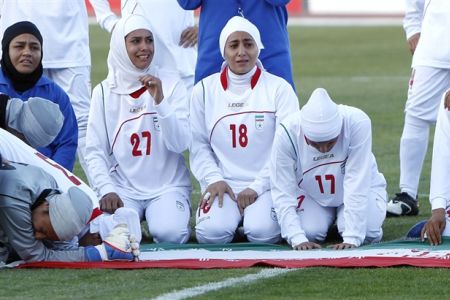 Nigeria's coach is actively attempting to rid the team of lesbianism — you can sign this petition to tell FIFA to take a stand on the issue:
For the past two years the Nigerian Football Federation has conducted a witch-hunt to kick women off the national team who were suspected of being gay. And the team's coach just bragged to the New York Times that she has dealt with "the big problem" of lesbianism.
FIFA, soccer's world governing body, has a powerful record of fighting discrimination. Now as Nigeria takes the field in the Women's World Cup opening game,FIFA needs to give coach Uche the red card: publicly condemn systematic discrimination and take the necessary steps to end homophobia in the league.
The United States barely qualified for the sixth World Cup even though they're the number one ranked team in the world.
Equatorial Guinea dropped Salimata and Bilguisa Simpore because of a dispute over their "true sex."
Now that that's over, let's have a look see at some out players in the tournament. That's always fun.
Linda Bresonik – Germany – DF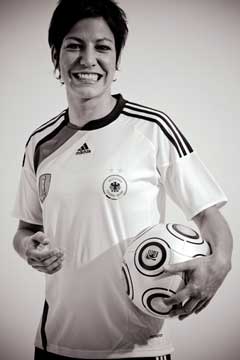 +
Inka Grings – Germany – FW
+
Jessica Landström – Sweden – FW
Germany and the USA are the favorites but there are plenty of players worth watching. Who are your favorite players and what team floats your gay boat?