When you're sick, the last thing you want to do is whip up a huge meal. This soup is not only easy, but it is quite filling as well. And the best part is that you can easily get all of the ingredients at Trader Joe's… aka mecca.
All of the ingredients in this soup are specifically geared towards strengthening your immune system.
Garlic detoxifies and is a powerful antioxidant. On top of that it fights respiratory diseases, strengthens the immune system and has recently been found to reduce the risk of certain cancers in several population studies. So eat as much garlic as you can handle, lezbehonest, you're not kissing anyone with your sick mouth anyway.
Black beans have the highest amounts of antioxidants of any beans, just about as much as cranberries. They are also high in Folate (B6), molybdenum, fiber, and magnesium.
Spinach is jam packed with the Vitamin C, Vitamin E, beta-carotene, manganese, zinc and selenium. It also has 337% of daily allowance of Vitamin A which strengthens and protects mucus membranes, respiratory, and intestinal tracts and is a key component of lymphocytes which fights infection.
Red pepper flakes, or other varieties of spicy peppers, are also high in the antioxidant rich Vitamin A. They are also a good source of capsaicin which is a natural inflammation fighter. And it's a great way to open up clogged sinuses and relieve congestion. So go hot, or go home.
Black Bean and Spinach Soup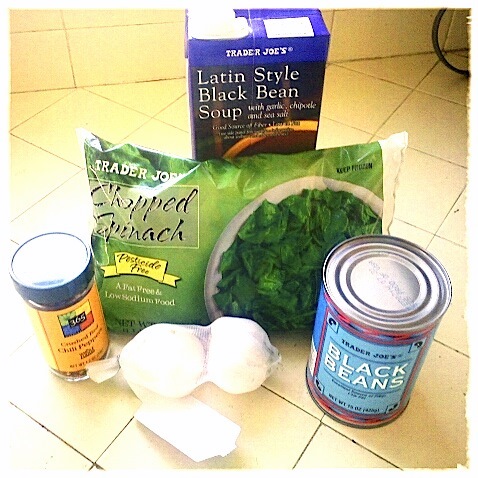 Ingredients:
+ 2 cups spinach, frozen if you're lazy
+ 1 can black beans (15 oz)
+ 3/4 cup TJ's Black Bean soup
+ 1/2 cup water
+ 3 cloves garlic, sliced
+ salt, pepper, red chili flakes to taste
Seriously you guys, this is so simple. You're welcome.
1. Microwave the spinach for about 4 minutes and drain excess water out.
2. Meanwhile combine black beans, black bean soup, water, and spices in a pot and put on high heat until it boils.
3. Once boiling, turn down to simmer until the beans are fully heated – around 15-20 minutes. Stir every now and then. If the soup is too thick for your liking, add more water.
4. About ten minutes before the soup is finished add the garlic and the spinach.
5. Pour into a bowl, enjoy, and feel your body start to heal!