First and foremost, let's talk about Gabby Douglas.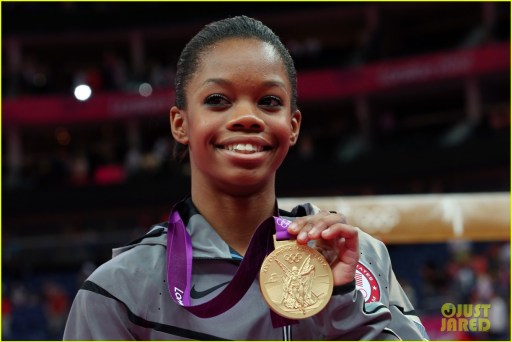 When Gabby Douglas won Olympic gold I was so deeply moved by her that I immediately began to search for .gifs of her mother crying in her brother's arms at the ceremony. You know, for Tumblr. I thought about what it would mean if I began to call a 16-year-old girl my hero at the age of 22, but I was honestly so partial to her fuschia Olympic uniform that I gave up on whether or not it was embarrassing. Gabby Douglas is amazing. She made history, and she is amazing. End of story.
Only not.
While I perused the Internet for the best high-quality photos of the USA Olympic Gymnastics team for my blog, countless others turned to Twitter for a different kind of conversation about Gabby Douglas. This conversation was about her hair. About her hair, and whether or not it somehow disqualified her from her historic achievements. This woman's mother went into bankruptcy to get her daughter to the Olympics and all these haters on the Internet can do is wobble around in their desk chairs and make fun of her hair:
I mean, can you even imagine?
A conversation on Douglas' hair, however, wasn't had. Even the lamestream media couldn't join in on this one, and writers started using it as a punch line. The conversation ended mostly with everyone pretending it had never happened before. Because Gabby Douglas is a black 16-year-old girl and she won the Olympics and no one has ever made fun of a black 16-year-old Olympian's hair before, and isn't the fact that Douglas had the opportunity to excel in front of millions of people and have her hair mocked for it really the important part? End of story.
Only not.
I don't find anything weird about an Olympian pulling and gelling her hair back before a competition, and I don't think anyone else really does either. That's because there's a missing piece here. That's because this isn't about an Olympian's hair. This is about Gabby Douglas' hair. If Russia had won nobody — not one person — would have found it noteworthy that those girls were wearing some heavy eye shadow, okay? But Gabby Douglas is different. Her hair doesn't quite look like everyone else's. And this incident is just one more exemplification of the idea that natural hair on a person of color is weird, unseemly, unacceptable, worth laughing at, worth pointing out, worth dwelling on. It isn't the first time people pretended natural hair wasn't a thing anymore, or that nobody has it anymore. It isn't the first or last time people felt entitled to use public space to mock a person of color for being a person of color — especially when they've outperformed everyone else in the room.
Do you not believe me? Then ask me. Ask anybody who walks around like me. Ask anybody who walks around with me. Gabby Douglas is right to be astonished that people give a fuck about an Olympian's hairdo. I'm still astonished every time people talk to me about mine. I have a little bit of a fro situation going on.
The first time my afro needed touching-up, I walked into the salon like I owned it, sure everyone inside would be excited to see someone with such unique and creative locks. I was on some Kanye shit. But the woman at the desk looked up when I coughed, dropped her pen, and then looked back down. She gestured to a coworker to come speak for her. She was laughing at me. A man appeared to help her, and he started laughing too. As I set up my appointment out of mostly desperation, he asked me to repeat everything up to five times because he was so distracted by it, by the volume and the depth and the slightly-tilted spherical shape that was my hair, that he literally couldn't function. He was taking deep breaths. Eventually, he sprinted away.
Months later I was put up in a hotel in Midtown of New York City for a conference. I was living the high life. I was on some Ke$ha shit. I wore a green jacket, skinny jeans, and my fro – at its highest. I was there to speak at a conference about girls' empowerment. I was there because at the age of 20 I'd already done some incredible work around women's rights. But one woman, when she was boarding the elevator I had just gotten off of in the Hotel Bentley, did a double take. She looked at me as if I was begging her for change. She paused before passing through the open double doors. "Good god," she muttered.
Later that day when I walked to the conference buildings I noticed people pulling their children away from me on the street.
Having had my afro now for over 2 years, this is all commonplace. It's not that these incidents have stopped, or have gotten easier or better. I'm merely desensitized. I'm so used to the pointing, the staring, the whispering, the giggling, that I sort of just exist in spite of it, or next to it, or a few feet away from it. Sometimes, if I'm on my Drake shit, I merely feed off of it. I strut through it. Once my friend Libby just shook her head while we were walking down the street. "God, it's like you just aren't even allowed to exist." And yet I do.
This kind of shit is typical. It happens almost daily, at least weekly, sometimes multiple times in one day or in one room. But until now we haven't been talking about it on the Internet like we should. Gabby Douglas had the opportunity to respond to those tweets, to that horrible ignorance that even started those tweets, and she did it well:
"I don't know where this is coming from. What's wrong with my hair?" said Douglas, the first U.S. gymnast to win gold in team and all-around competition. "I'm like, `I just made history and people are focused on my hair?' It can be bald or short, it doesn't matter about (my) hair."
Douglas uses gel, clips and a ponytail holder to keep things in place while she competes, a style she's worn for years.
She added she has no plans to change her hairstyle anytime soon.
It kind of got me thinking that maybe posting a list of the all-time stupidest shit anyone has ever said to me about my hair would make me feel better. Like maybe I could finally end the conversation on my terms by giving them back one ounce of the embarrassment they tried to give me.
From now on I will always be on my Gabby Douglas shit.
Sh*t People Said About My Hair
1. Every single person in existence ever on the planet: "Can I touch it? I'm sorry I just had to touch it. Haha! Did you even feel that? I was touching it. God, how do you get it to do that?" "
My second hair stylist, mid-shampoo: "Why don't you just wear a wig?"

My mother's friend: "So, how was the eighties dance party last night?"

An old white dude caught laughing at me and pointing at me from approximately five feet away on the metro with his two white, blonde, blue-eyed little girls: "Sorry, sorry, I just… is that even real?"

A random boy at the party I threw in 2010 when I turned nineteen, and had had my hair for only 2 months: "You need a perm."
6. My third hair stylist: "So you want me to blow it out straight, right?
Dude at a bar, who I ignored multiple times and attempted walking away from and didn't know, not even at all, and spoke whispering into my ear: "God, your hair is amazing. I just – it makes me want to do such dirty, unspeakable things to you. I would break that 'fro in half. Because you fucking suck."
My fourth hairstylist: "Oh my God, you know who you remind me of? Oh God, I can't even think of her. Her name, I – I can't remember it but you look just like her. She was in charge of the Black Panthers once. You look just like her." (This hairstylist asked me emotionally why I never called back, weeks after.)
9. The four Megabus operators operating the bus after mine, which I had missed, as I got my things out of my suitcase outside to bring on board: "Look at her on her Michael Jackson shit. Look at that fucking Michael Jackson bush!"
10. The man following me swiftly on the sidewalk and screaming after me one morning while I'm on the phone and walking to the Metro: "Ma'am! Ma'am excuse me – ma'am, I just – where are you from?"